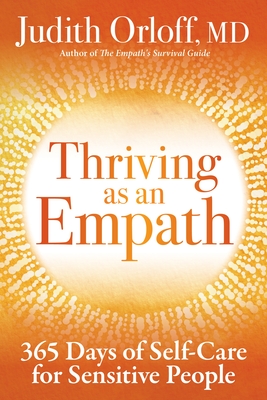 Thriving as an Empath
365 Days of Self-Care for Sensitive People
Hardcover

* Individual store prices may vary.
Other Editions of This Title:
CD-Audio (12/3/2019)
Description
Dr. Judith Orloff offers 365 days of self-care meditations, reflections, and journaling suggestions as daily inoculations against stress and overwhelm

Empaths have so much to offer as healers, creatives, friends, lovers, and innovators at work. Yet highly sensitive and empathic people often give too much at the expense of their own well-being—and end up absorbing the stress of others. "To stay healthy and happy," writes Judith Orloff, MD, "you must be ready with daily self-care practices that work." With Thriving as an Empath, Dr. Orloff provides an invaluable resource to help you protect yourself from the stresses of an overwhelming world and embrace the "gift of being different."

If you want daily tools to put into action, this book is for you. Building on the principles Dr. Orloff introduced in The Empath's Survival Guide, this book brings you daily self-care practices and support for becoming a compassionate, empowered empath, including:

• Setting strong boundaries
• Protecting your energy
• Inoculating yourself against stress and overwhelm
• Self-soothing techniques
• Knowing that it is not your job to take on the world's stress
• Breaking the momentum of sensory overload
• Tapping the vitality of all four seasons and the elements
• Deepening your connection with the cycles of nature
• Moving out of clock-based time into "sacred time"

Thriving as an Empath was created to help you grow and flourish without internalizing the emotions and pain of others. "These self-care techniques have been life-saving for me and my patients," writes Dr. Orloff. "I feel so strongly about regular self-care because I want you to enjoy the extraordinary gifts of sensitivity—including an open heart, intuition, and an intimate connection with the natural world."
Praise For Thriving as an Empath: 365 Days of Self-Care for Sensitive People…
"Judith Orloff, a psychiatrist from UCLA, advises physicians on improving their intuitive powers. Her simple but powerful message is 'Listen to your patients.'" —New England Journal of Medicine

"...an effective practical tool for sensitive people looking for daily meditations." —Publishers Weekly

"In Thriving as an Empath, Dr. Judith Orloff shows you how to embrace your empathic gifts and share more love and caring with the world. It's a book of inspirations for sensitive people who want to learn how to lead empowered lives and savor the joy of being alive." —Deepak Chopra, author of You Are the Universe

"Thriving as an Empath supports you in honoring yourself each day of the year as a sensitive person so that your gifts of empathy and intuition will flourish. Practicing loving self-care is the key to your empowerment. This book shows you how." —Iyanla Vanzant, #1 New York Times bestselling author and host of Iyanla: Fix My Life

"Thriving as an Empath is a wonderfully written book of daily wisdom that offers profound insights and practical tools to free your mind, body, and soul. This book is the true manual for anyone who wants to keep their heart open in life and thrive while doing it! Judith Orloff, MD, teaches you how to master your inner empathic world." —Dr. Joe Dispenza, New York Times bestselling author of You Are the Placebo: Making Your Mind Matter

"Sensitive people aren't weaklings or victims. Dr. Orloff, an empath herself, shows you how to be sensitive, strong, and clear—and to say 'no' to the energy suckers in your life. Read this book every day to stay centered in your personal and spiritual power." —Caroline Myss, New York Times bestselling author of Anatomy of the Spirit

"Lovely and wise daily prompts for tending your life." —Jack Kornfield, author of A Path with Heart

"Powerful daily readings to free empaths from limiting beliefs so they can re-take control of their lives. This book is a precious resource and companion to keep nearby and refer to again and again." —Bruce Lipton, PhD, cell biologist and bestselling author of The Biology of Belief

"We take on so much as empaths! This inspiring day book helps us navigate the stress we absorb from the world and to set boundaries." —Rosanna Arquette, Emmy® Award–nominated actress and film producer

"Dr. Judith Orloff succeeds again, in her unique and inimitable way, to present empowering and practical tools for radical self-care. She blends a psychiatrist's logical training with the heartfelt sensitivity of the empath. This book is the key to success inside and out. It reminds us, 'I recognize authenticity. I thrive on kindness. I cultivate a graceful lifestyle. I am the power of love itself.'" —Margot Anand, author of Love, Sex, and Awakening

"...a superior daily read." —The Hollywood Digest
Sounds True, 9781683642916, 392pp.
Publication Date: October 22, 2019
About the Author
Judith Orloff, MD, is a leading voice in the fields of medicine, psychiatry, and intuitive development. An assistant clinical professor of psychiatry at UCLA, her bestselling books include The Empath's Survival Guide, Emotional Freedom, Positive Energy, Dr. Judith Orloff's Guide to Intuitive Healing, and Second Sight. Find more inspiration at Dr. Orloff's website drjudithorloff.com. ;