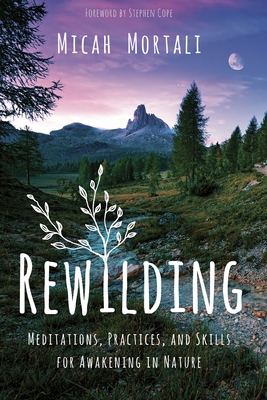 Rewilding
Meditations, Practices, and Skills for Awakening in Nature
Paperback

* Individual store prices may vary.
Other Editions of This Title:
Digital Audiobook (1/27/2020)
Description
Reconnect with your wild essence as you awaken your innate bond with the natural world

"Rewilding is a return to our essential nature. It is an attempt to reclaim something of what we were before we used words like 'civilized' to define ourselves." —Micah Mortali

In his long-awaited book Rewilding, Kripalu director Micah Mortali brings together yoga, mindfulness, wilderness training, and ancestral skills to create a unique guide for reigniting your primal energy—your undomesticated true self—and deepening your connection with the living earth.

For hundreds of thousands of years, humans lived intimately with the earth. We were in the wild and of the wild. Today, we live mostly urban lives—and our vital wildness has gone dormant. As a result, we're more isolated, unhealthy, anxious, and depressed than ever, and our planet has suffered alongside us.


With Rewilding, Mortali invites us to shed the effects of over-civilization and explore an inner wisdom that is primal, ancient, and profound. Whether you live in the middle of a city or alongside the woods, the insights and practices on these pages will bring you home to your wild, wise, and alive self.


Highlights include:
* Practice-rich content—mindfulness exercises, guided meditations, yoga and pranayama, inward sensing, forest bathing, and much more
* The "life-force deficit"—explore how our separation from nature affects us physiologically and spiritually
* Ancestral skills—such as tracking, foraging, building fires, and finding shelter
* Develop a sense of calm, clarity, connection, and confidence in both your daily life and the great outdoors
* What you can learn from nature's teachers—lessons from mountains, rivers, trees, and our animal kin
* Rewild in the wild—guidelines around safety, preparedness, appropriate gear, and packing lists
* A mindful rewilding flow—put everything together in an immersive, step-by-step rewilding experience
* Awaken your authentic spiritual connection with the natural world as you come home to your true self
* Understand the relationship between our health and the health of our planet—and how we can begin to heal both

Part celebration of the natural world, part spiritual memoir, and part how-to guide, Rewilding is a must-read for anyone who wants to embrace their wild nature and essential place in the living earth.
Praise For Rewilding: Meditations, Practices, and Skills for Awakening in Nature…
"Rewilding is a vital resource for restoring and deepening connections to the primal world with joy, wonder, and confidence." —Foreword Reviews

"Those looking to bring more intention or spiritual connection to their engagement with nature will enjoy this actionable guide." —Publishers Weekly

"Climb a tree, roll in the grass, wander in the woods. Rewilding is a reflection, an invitation, a poem, a reminder that reawakens our senses." —Jack Kornfield, PhD, author of A Path with Heart

"Rewilding is packed with beautiful information and practices to take you straight to the beating heart of true enlightenment—a willingness to be with Nature as it is, as our greatest teacher. Truly, Micah's book represents the next generation of authentic spiritual inquiry—a space where the wildness of communion with Nature can coexist with the etheric realms of our human heart. This book is a great gift to anyone interested in a transformational journey that brings us down into the roots of who we are and where we come from. I can't wait to start reclaiming my ancient skills." —Katie Silcox, New York Times bestselling author of Healthy Happy Sexy: Ayurveda Wisdom for Modern Women

"Rewilding addresses perhaps one of the most urgent issues of our time—a global nature deficiency disorder that is linked to a host of health concerns, including imbalances found in Nobel Prize-winning science on our circadian rhythms. This is must-read!" —John Douillard, DC, CAP, bestselling author and founder of LifeSpa.com

"Rewilding reads as easily as a mountain stream—go ahead, open any page and notice how you feel." —Gordon Hempton, author of One Square Inch of Silence and founding partner of Quiet Parks International

"With tenderness and insight, Micah Mortali leads us in ways to reconnect with our living earth. Rewilding is an essential first step to restoring our souls—so we can, in turn, restore our sweet, green, broken world before it's too late." —Sy Montgomery, author of the New York Times bestseller How to Be a Good Creature: A Memoir in Thirteen Animals

"Through this inspiring and insightful book, Micah Mortali reminds us of the importance of connecting to the earth and the surrounding environment as a teacher of deep meditative wisdom, as well as for health and well-being. The reader is invited to re-discover that they are part of the cycles and dynamism of life. This recognition of our inherent relationship to the world is particularly relevant today as we have begun to learn both the adverse health effects of isolation and the healing benefit of connection—particularly to our environment." —Marlysa Sullivan, PT, C-IAYT, assistant professor, Maryland University of Integrative Health
Sounds True, 9781683643258, 240pp.
Publication Date: December 3, 2019
About the Author
Micah Mortali is director of the Kripalu Schools, one of the largest and most established centers for yoga-based education in the world. An avid outdoorsman, mindful wilderness guide, 500-hour Kripalu yoga teacher, and popular meditation teacher, Mortali has been leading groups in wilderness and retreat settings for 20 years. In 2018, he founded the Kripalu School of Mindful Outdoor Leadership. Mortali has a passion for helping people come home to themselves and the earth, and he is finishing his Masters at Goddard College on nature awareness and mindfulness practices. He lives with his wife and children in the Berkshires. For more, visit kripalu.org/about/kripalu/faculty/micah-mortali.

Stephen Cope, MSW, is the founder and former Director of the Kripalu Institute for Extraordinary Living, the largest yoga research institute in the Western world. He is a Western-trained psychotherapist who writes and teaches about the relationship between Western psychological paradigms and the Eastern contemplative traditions. Scholar-in-Residence and Kripalu Ambassador in Lenox, Massachusetts, Cope is the author of several bestselling books, including Yoga and the Quest for the True Self, The Wisdom of Yoga, The Great Work of Your Life, and Soul Friends.