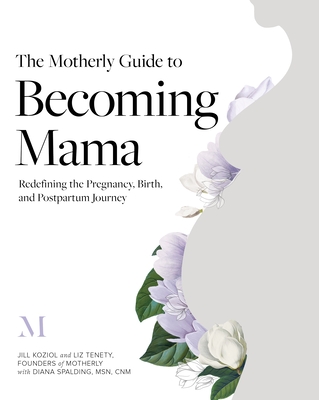 The Motherly Guide to Becoming Mama
Redefining the Pregnancy, Birth, and Postpartum Journey
Paperback

* Individual store prices may vary.
Description
An inclusive, holistic, evidence-based guide for pregnancy, birth, and the postpartum journey—created for modern moms by the experts at the Motherly online community.

Pregnancy isn't just about creating a baby. It's also about the powerful transformation we go through on the journey to becoming "mama."

We created The Motherly Guide to Becoming Mama to coach and inspire you each step of the way. This is the pregnancy book we wish we'd had when we first became mothers—a mama-centered guide that doesn't just focus on your baby's needs, but honors and coaches you through this profound life change.

Here's the most important thing to remember: you are a phenom, and you are going to rock this.

And you don't have to do this alone. At your highest highs and your lowest lows, there is a village of professionals and peers to traverse this path with you.

This book won't bog you down with demands, give you more to be worried about, or tell you what to do. It's impossible to know exactly what to expect during your pregnancy—after all, you are your own amazing woman with unique dreams, experiences, and needs. Instead, we've filled this illustrated guide with the best knowledge, wisdom, and support we have to offer, including:

• Getting pregnant—planning, conception, fertility challenges, and finding the right care provider and birth strategy for you
• Pregnancy month by month—how to understand, nourish, and support your own body and your baby's health throughout your pregnancy
• Giving birth—everything you need to feel empowered and prepared through the four stages of labor
• The "fourth trimester"—helping you heal, process your experience, and thrive in the super-important and often ignored postpartum period
• Tests and complications—no scare tactics, no intimidation; just good, well-researched information about the ways you can best prevent and prepare for challenges
• Partners, friends, and family—our best tips for your whole support team
• The many faces of mama—adoption, surrogacy, fostering, and the beautiful variety of motherhood experiences
• Answers to the most common questions mamas have about finances, maternity leave, baby gear, relationships with family, nutrition, fitness, and much more

Whether this is your first baby or your fourth, whether you're still deciding about pregnancy or have an unplanned baby on the way, becoming mama involves your body, mind, emotions, lifestyle, relationships, schedule, spirituality, worldview—and most of all, your heart.

This is an unprecedented time to embark on the journey of motherhood. You are part of a new generation of women elevating empowerment in all its forms. The Motherly Guide to Becoming Mama was made for you—a loving and supportive embrace of your unique motherhood journey in all its power, complexity, and beauty.
Praise For The Motherly Guide to Becoming Mama: Redefining the Pregnancy, Birth, and Postpartum Journey…
"With consideration of every step along the whole journey of motherhood, body, mind, emotions, lifestyle, schedule, spirituality, and worldview, this will prove a must-read for many." —Library Journal

"During a time of renewed awareness of the need to improve maternal health and wellness, The Motherly Guide to Becoming Mama provides a resounding response. Mothers around the world deserve the guidance that this book offers: unconditional support and access to expert-backed, non-judgmental information. This book is the first of its kind to support the whole woman through the whole journey from getting pregnant, to birth, postpartum, and beyond. The maternal wellness revolution has arrived." —Christy Turlington Burns, founder, Every Mother Counts

"Motherly is leading the conversation about how pregnancy, birth, and postpartum transforms a woman's world—and The Motherly Guide to Becoming Mama is their greatest contribution yet. Women deserve all the support as their bodies, minds, and lives transform, and this book delivers it with so much heart." —Katrina Scott, cofounder, Tone It Up

"The Motherly Guide to Becoming Mama is like having an entire birth team on your nightstand. So many of us are in our bodies, completely body illiterate and unaware of its complexity until we find ourselves trying to conceive and/or be pregnant. Becoming Mama gave me so much insight into all (and I do mean all) the layers of pregnancy. But more than that, it offers grace, empowerment, and support for however and wherever you find yourself on the becoming mama journey." —Anthonia Akitunde, founder and editor-in-chief, mater mea

"THE essential guide to pregnancy and birth has finally arrived. The Motherly Guide to Becoming Mama is the only book you need to get you through this adventure. It's woman-centered, warm, and informative . . . it's the book I wish I would've had, and the one I'm so excited for you to have." —Natalie Gordon, founder and CEO, Babylist


"This epic book is a cross between an encyclopedia and a wise aunt. In this thorough and comprehensive resource, the Motherly team offers equal doses of wisdom, love, and cold hard facts so that each new mother can develop the confidence that she desperately needs on her pregnancy and motherhood journey. A soulful and dependable guide for all women." —Kimberly Ann Johnson, author of The Fourth Trimester
Sounds True, 9781683643555, 576pp.
Publication Date: April 14, 2020
About the Author
JILL KOZIOL is the CEO and cofounder of Motherly. She resides in California. For more, visit mother.ly.

LIZ TENETY is the Chief Digital Officer and cofounder of Motherly. She resides just outside of New York City. For more, visit mother.ly.