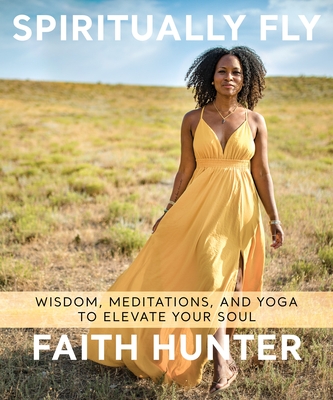 Spiritually Fly
Wisdom, Meditations, and Yoga to Elevate Your Soul
Paperback

* Individual store prices may vary.
Description
From next-generation yoga teacher Faith Hunter comes a real-world guide to feeling more worthy, vibrant, and alive.

"You were born with the fullness of your most epic life within you. Knowing your true worth. Feeling vibrant with each breath and magically alive as you navigate the unexpected. When you peel back the layers of crusty emotional baggage and old subconscious loops that keep you small, you are able to step into the brilliance of who you are in your soul, and that makes you Spiritually Fly™." —Faith Hunter

Global yoga and meditation teacher Faith Hunter is known for her ability to help others remember their inherent worth and live more soulful, joyful lives. Here, Faith shares the seven principles behind her life philosophy—the "Spiritually Fly Sutras"—inspiring each of us to embrace our unique flow, on and off the mat.

The Spiritually Fly Sutras are dynamic, sacred principles grounded in movement, breathwork, sound, and self-reflection. When practiced together, Faith teaches, "They have the ability to inspire and ignite an inner revolution."

Throughout Spiritually Fly, Faith shares the stories that led to each sutra with raw vulnerability. A young Black girl in the South whose brother was dying of AIDS contracted from a blood transfusion, she often struggled to trust in spirit and God. Her own spiritual journey brings a fresh, grounded vibe to her teachings, as she seamlessly blends classic yoga wisdom with modern-day living.

To help you integrate each sutra into your life, Faith provides a wealth of "SoulPrints"—exercises and reflections including yoga asanas and kriyas, journaling prompts, pranayama, chakra explorations, and practices for each of the "three Ms": mantra, mudra, and meditation.

For anyone ready to live their most epic lives, Spiritually Fly offers a radical guide to shift unhealthy patterns, recharge your soul, and fly.
Praise For Spiritually Fly: Wisdom, Meditations, and Yoga to Elevate Your Soul…
"Faith Hunter is the definition of an American yoga teacher, a professional who guides her students toward true healing and wellness through her continued pursuit of learning and maintaining a world-class yoga studio in the heart of 'Chocolate City,' Washington, DC. I have deep respect for Faith as a pioneer for women of color in the yoga industry across multiple communities." —Chelsea Jackson Roberts, PhD

"Faith Hunter is Yoga. Her smile. Her life. Her words. Her movement. Her smile. When I think of yoga, Faith Hunter is the first person who comes to mind, and this has been the case for the past 10 years. As a new yogi, it was Faith Hunter who was the exemplar and role model of how to be and that I could, in fact, be. Her truth inspires us all. Her light illumines the path for those before her and behind her. I am grateful that Faith has shown the world how to be Spiritually Fly through being her authentic self and offering rich affirmations, yoga classes, and meditations, and I look forward to being a student of hers for years to come." —Olivia Scott, creator of Freedom at the Mat

"Faith Hunter has always represented possibility to me. Emerging as a leader in the yoga space, it was very rare to see another black woman sitting at the front of the room. Seeing Faith's beautiful smile and perfectly coiled hair elevate to the stage as she gently led a mindfulness meditation session helped me see what was possible when it comes to representation and how important it is to have black women not only taking more yoga classes but also teaching about the benefits of yoga and mindfulness to our collective communities. With this book, Faith offers us all the opportunity to be Spiritually Fly no matter what we've been through. She offers her personal stories of resilience and the practices she's used to maintain her spiritual connection and overall health. You are in for a treat as you open these pages and allow yourself to be transformed." —Koya Webb, author of Let Your Fears Make You Fierce

"For nearly two decades, Faith Hunter has been an unwavering force in modern yoga. Her teaching and her writing are passionate, focused, and heart-based; her new book Spiritually Fly provides the perfect medicine for our times." —Elena Brower, bestselling author of Practice You, Being You, and Art of Attention

"Faith Hunter is one of those rare souls who can root us deeper into our spiritual origins, while translating these powerful practices into the raw reality of everyday life. If you want to laugh while you learn, cry happy tears as you remember who you truly are, and learn to dance again on the ancient earth and healing practices that are your birthright—then this book is meant especially for you." —Sadie Nardini, founder of Core Strength Vinyasa Yoga
Sounds True, 9781683643753, 184pp.
Publication Date: August 17, 2021
About the Author
Faith Hunter is a globally recognized thought leader, yoga and meditation teacher, author, and SheEO.

She began her practice of yoga and meditation in the early '90s as a way to cope while her beloved brother Michael was dying from complications related to AIDS. Through the mindfulness and personal reflection gained from the practices, Faith was able to release her fears and experience an awakening from within. From that day forward, she committed herself to sharing these practices with the world.

Always eager to learn, explore, share, and build true community, Faith has been mentoring and teaching yoga and meditation since 2003 to practitioners of all skill levels around the globe.

With a BS degree in marketing from Grambling State University and an MBA from Loyola University, Faith is the founder and SheEO of Embrace Yoga DC—a brick-and-mortar yoga and wellness center located in the multicultural nest of Adams Morgan, Washington, DC; Embrace OM—a virtual yoga and wellness space; and ELEVATE—an intimate subscription platform.

All of Faith's companies are Spiritually Fly™ spaces where yoga and wellness meet the culture, where ancient and sacred meet modern tech.

Spiritually Fly is a philosophy that celebrates every moment of life and uses the technology of breath, movement, sound, and stillness in a fresh and modern way to encourage students to live an epic life. The movement is influenced by kundalini yoga, vinyasa, and various forms of meditation. As a next-generation teacher, Faith blends traditional yogic principles and real-world experience into an integrated system that is grounded, radical, and unforgettably Spiritually Fly.

In addition to Spiritually Fly, Faith has also penned a book of poetry and daily inspirations, Shades of the Soul.

Faith is a favorite choice for media opportunities, main-stage appearances, and authentic brand partnerships.

Highlights include teaching the world's largest yoga classes, as well as on the Great Lawn in Central Park and at the White House Easter Egg Roll.

Faith is also a media darling, having graced the covers of Yoga Journal (twice), Om Yoga & Lifestyle, Origin, and Sweat Equity. She has also appeared on The Wendy Williams Show and The Real Housewives of Potomac and in Essence, Black Enterprise, Women's Health, Shape, New York, and YOGA magazines.

Faith is an exclusive yoga and wellness expert for Beachbody, iFit NordicTrack, and Meditation Studio app and has proudly represented endemic brands such as Athleta, Foot Locker, and lululemon, as well as non-endemic brands such as Warner's and Weleda.