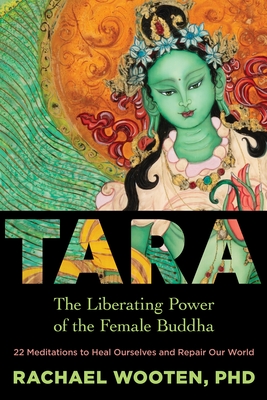 Tara
The Liberating Power of the Female Buddha
Paperback

* Individual store prices may vary.
Description
A practical guide for invoking the power and blessings of Tara, the beloved female buddha of Tibet

Known as "the female Buddha" in Tibet and India, Tara connects us to the archetypal Divine Feminine—an energetic force that exists within us and all around us, and has been available to all humans since our earliest origin.

While there are many books on Tara, this practical guide shows us how those of any tradition can directly access her, through clear instruction and authentic Tibetan Buddhist teachings.

Jungian analyst, scholar, and spiritual practitioner Dr. Rachael Wooten combines the ancient Tara tradition with depth psychology to help us connect with each of Tara's manifestations and access her blessings within ourselves and in the external world.

In her myriad forms, Tara has the power to protect us from inner and outer negativity, illuminate our self-sabotaging habits, cleanse mental and physical poisons, address emotional trauma, open us to abundance, give us strength and peace, help us fulfill our life purposes, and more.

Here, you will explore all 22 manifestations of Tara. Each chapter begins with an epigraph that captures the spiritual and psychological essence of the emanation, explains her purpose, and teaches you specific visualizations, praises, mantra chants, and other ways of invoking her presence in yourself and the world.

"If ever the voice of wisdom and compassion was needed in the form of an awakened female figure such as Tara," writes Dr. Wooten, "that time is now." This book illuminates the way to her healing, blessings, and aid.
Praise For Tara: The Liberating Power of the Female Buddha…
"What a treasure! In this luminous collection of meditations and teachings, Rachael Wooten draws from the perennial wellspring of the sacred feminine and lifts a brimming cup of elixir to help ease our inner wounds and strengthen us to mend the tattered world." —Mirabai Starr, author of Caravan of No Despair and Wild Mercy


"Tara the female Buddha is, to my mind, the meditational deity or archetype for North America. All women are Tara, at heart; this earth is her Buddha-field of lovely lotuses. This is a beautiful (buddhifull!) work that is revealing, useful, and important for our anxious time." —Lama Surya Das, New York Times bestselling author of Awakening the Buddha Within and Make Me One with Everything

"The only medicine for humanity in these turbulent times seems to be an ever growing sense of compassion—towards ourselves, our fellow humans, and especially animals and nature. Rachael Wooten's beautiful book on Tara sparks the flame of compassion and fuels the fire to manifest more of it in our lives. Interesting, inspiring, touching, and in-depth—a precious guide for those of us who long to know the essence of Tara, as well as for those who have long been immersed in the mystic world of Tibetan deities." —Deva Premal, GRAMMY®-nominated singer

"Rachael Wooten's book on the many faces of Tara is a unique and valuable contribution to the practical uses of an ancient tradition. It is like a beautiful house with many doors—whether you enter through the door of religion, psychology, feminism, trauma, neuroscience, or history, the interior is arrayed for your benefit. Rachael weaves a rich tapestry from her own experience and study, while remaining respectful of the original Tibetan Buddhist practice." —Lama Sarah Harding, Tsadra Foundation fellow and author of Machik's Complete Explanation: Clarifying the Meaning of Chod

"The book makes a wonderful picture of Tara. It's very good for the modern reader!" —Lodrö Tulku Rinpoche, spiritual leader of Ganden Chökhor and Samdup Dolma Ling

"Humanity is being drawn—kicking and screaming—into an upward and outward spiritual spiral of expanding wisdom and compassion. An essential sign of this turning is the return of the Divine Mother in many forms. Among the most powerful of these is Green Tara, and among the most powerful ways to work with Her is Rachel Wooten's Tara: The Liberating Power of the Female Buddha. This is a book to be read and guidebook to be followed. I invite you to do both."
—Rabbi Rami Shapiro, author of The Divine Feminine in Biblical Wisdom Literature and Holy Rascals

"It is clear that we are living through a dark period in our society. The escalation of war, famine, political unrest, climate instability, and various forms of hate and fear are doing their job in distracting us from our true enlightened natures. The practice of Tara as both a vehicle to connect to our innate natures as well as the manifestation of the Mother that we take refuge in is one of several antidotes that we must return to as a guiding light through this darkness. Dr. Wooten has touched in to the complex tradition of Tara practice to reveal a profound yet simple and direct means to connect to the liberating path of the Mother Liberator. This book is the light that will illumine many people's path forward." —Lama Rod Owens, MDiv, coauthor of Radical Dharma

"The divine mother archetype—in all her myriad manifestations from the Black Madonna to Isis—appears now in her Tibetan form to guide us during the great planetary paradigm shift from materialism back to the sacred. The rise of the feminine is relevant to all those interested in integrating shadow and light, psyche and soma, East with West, science with spirit. The time has come for you to meet Tara, Tibet's female Buddha, swift and heroic, with the power to heal the divide within you and to dispel the darkness of our age. Dr. Rachael Wooten masterfully employs her expertise in Jungian depth psychology to deliver you into the very heart of Tibet's ancient visualization system, which she has been steeped in for decades. There in the deep well of your own psyche you will find what you have always been looking for: protection, purpose, confidence, and clarity. Don't delay any longer! The world needs everyone to become Tara now. Om Tare Tuttare Ture Soha." —Miles Neale, PsyD, author of Gradual Awakening and founder of the Contemplative Studies Program

"Wooten's exquisite introduction to the Green Tara is powerful medicine for the Age of Anxiety, a treasure house of feminine Buddhist wisdom that illuminates the mind, elevates the spirit, and offers practical tools for cultivating a meaningful, compassionate existence. Combining expertise as a Jungian analyst with decades of spiritual practice, Wooten provides a unique and contemporary portal to these beloved ancient teachings. You don't have to be a Buddhist to benefit from Tara's wisdom. All you need is an open heart." —Mark Matousek, author of Sex Death Enlightenment: A True Story and When You're Falling, Dive: Lessons in the Art of Living

"This is a beautiful, highly original gem of a book that combines the author's knowledge of authentic Tara practices from the Tibetan tradition with her considerable expertise as a therapist and healer of trauma and suffering. Rachael Wooten has been teaching these practices for decades; as one of her most grateful students, I can testify from personal experience that what she offers is a gift to the world." —Miriam Greenspan, MEd, LMHC, author of Healing Through the Dark Emotions: The Wisdom of Grief, Fear, and Despair

"As a Buddhist meditator, psychotherapist, and Jungian analyst, Rachael Wooten has worked for many years on adapting the ancient wisdom of Tara and her twenty-one sisters for our modern daily life. Her book contains many amazing stories about her brilliant work using this method with her clients and in group work. Doing the practices described here could change your life in a healing and liberating way." —Sabine H. Kalff, Buddhist meditation teacher, art therapist, and cofounder of Buddhistisches Zentrum Zollikon

"In Tara: The Liberating Power of the Female Buddha, Rachael Wooten offers a unique opportunity for accessing the universal face of the feminine energy field through the practices of Green Tara and her many emanations. Rachael shows you one way to increase your energy and strength through the cultivation of wisdom and compassion for yourself and all beings. This book will permanently expand your perceptual lens on how you are loved and supported throughout life." —Suzanne Scurlock, CMT, CST-D, author of Full Body Presence and Reclaiming Your Body
Sounds True, 9781683643883, 328pp.
Publication Date: April 28, 2020
About the Author
Rachael Wooten, PhD, is a Zürich-trained Jungian analyst and psychologist who has been in private practice as a therapist for more than 40 years. An enthusiastic interfaith activist, she has studied and practiced in Buddhist, Jewish, Christian, and indigenous traditions throughout her adult life.

Rachael has been mentored by spiritual teachers such as her Tibetan root guru Lodrö Tulku Rinpoche and Rabbi Zalman Schachter-Shalomi. She has taught Tara practices under the authorization of Lodrö Rinpoche for more than 20 years. Rachael has offered Tara workshops through the Resource Center for Women and Ministry in the South, ALEPH: Alliance for Jewish Renewal, and C. G. Jung Society of the Triangle. She currently teaches a monthly Tara meditation group at Pullen Memorial Baptist Church in her hometown of Raleigh, North Carolina. To learn more, visit rachaelwootenauthor.com.