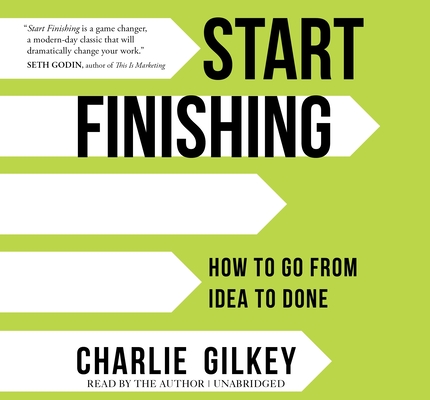 Start Finishing
How to Go from Idea to Done
CD-Audio

* Individual store prices may vary.
Other Editions of This Title:
Paperback (2/15/2022)
Hardcover (9/24/2019)
Description
Discover a Powerful Nine-Step Method to Start Finishing the Work That Matters Most

How much of your attention lately has been focused on things that truly matter to you? Most people's honest answer is: not enough.

Joyous, difference-making ideas are waiting for when the time is right, when the current project is over, when there's more money, or when the kids are grown. They are waiting for someday.

The trouble is someday never comes on its own.

Start Finishing presents a nine-step method for converting an idea into a project by addressing challenges and setting a realistic schedule. The unabridged audiobook will teach you how to practice self-mastery, keep working through stress and overwhelm, overcome stuck projects, and finish strong.

With a few steps, you can change the way you show up, how you plan, and how you respond when things get tough. You can Start Finishing the work that matters most to you.

Includes original contributions from Seth Godin, Susan Piver, Jonathan Fields, James Clear, and other teachers.
Praise For Start Finishing: How to Go from Idea to Done…
"Start Finishing is a game changer, a modern-day classic that will dramatically change your work. Buy two, one to write in and one to give to someone you care about." —Seth Godin, New York Times bestselling author of This Is Marketing

"Charlie Gilkey knows you have little trouble beginning new projects. But finishing them? That's often another story. The good news is that Gilkey is here to help. His terrific book offers a 9-step program to turn those great ideas into finished products—and your dreams into realities."
—Daniel H. Pink, author of Drive and When

"Start Finishing is a heartfelt hug, bundled with a loving kick in the ass, a masterclass in getting unstuck, and a set of tools that finally . . . FINALLY . . . gets you out of your own way and sends you sprinting (and laughing) toward that thing, you know—that ONE BIG THING—that, until now, you've wanted so desperately, but never knew how to make your reality. Read it, do it, done!" —Jonathan Fields, bestselling author of How to Live a Good Life and founder of the top-ranked podcast The Good Life Project

"Start Finishing is a brilliant handbook for professional excellence. Sure, it's inspiring, but it goes way beyond the rah-rah to offer practical, doable, targeted strategies to actually accomplish what you may now think is impossible. Equal parts productivity guru, drill sergeant, and best pal, Charlie gives you exactly what you need to do your work with joy, commitment, and, most of all, to completion." —Susan Piver, founder of the Open Heart Project

"Just like our houses, our work is filled with clutter that's keeping us from what matters most. Start Finishing shows us how to pick the ideas and projects that we want to keep and work through seeing them to completion. If you're ready to get over the clutter of busywork and do the work that'll make you come alive, get this book and start finishing." —Joshua Becker, founder of Becoming Minimalist and author of The Minimalist Home

"Big dreams can feel overwhelming, but in this encouraging book, Charlie shows you how to get started, plan your projects, and just keep going. You don't find the time, you make the time—and Charlie will show you how." —Laura Vanderkam, bestselling author of Off the Clock: Feel Less Busy While Getting More Done and Juliet's School of Possibilities

"If you're wondering what you should do with your life, Charlie has the answer: start finishing your best work. He goes deep into the real challenges that get in the way when you start making things that matter and teaches you proven, adaptable tools to close the gap between you and the person you want to be. Get this book and figure out your purpose, one finished project at a time." —Jeff Goins, bestselling author of Real Artists Don't Starve

"My decades of helping people create their body of work and start businesses have repeatedly shown that the greatest threat to success is the lack of ability to get things done and out into the world. Charlie Gilkey is uniquely qualified to solve this problem, and Start Finishing will fundamentally change the creative and entrepreneurial landscapes. Read this book and reap the rewards for the rest of your life." —Pamela Slim, author of Escape from Cubicle Nation and Body of Work

"Paths are made by walking, not waiting. In Start Finishing, Charlie Gilkey lifts us back up and walks us to the finish line of the important goals and ideas we've been sitting on. The result of this book is quite honestly a life filled with fewer distractions and a greater sense of daily fulfillment. It's a must-read that we will undoubtedly be referencing and re-reading in the weeks and months ahead." —Marc and Angel Chernoff, New York Times bestselling authors of Getting Back to Happy

"Start Finishing offers a step-by-step process to help you get from concept to completed, no matter the project you're trying to tackle. So many books show you how to get going on projects but few focus on how to get beyond the beginning, through the middle, and to the end result. Charlie Gilkey has written a book that does that—and does it in a way that's tried, tested, and true. Start Finishing is a book that, once read from start to finish, will allow you finish anything time and time again." —Mike Vardy, productivity strategist and founder of TimeCrafting
Sounds True, 9781683643906
Publication Date: November 5, 2019
About the Author
CHARLIE GILKEY is the founder of Productive Flourishing, a company that helps professional creatives, leaders, and changemakers take meaningful action on work that matters. He is the author of The Small Business Life Cycle, and is widely cited in outlets such as Inc., Time, Forbes, the Guardian, Lifehacker, and more. He's also an Army veteran and near-PhD in philosophy. He lives in Portland, Oregon. For more, visit productiveflourshing.com.
or
Not Currently Available for Direct Purchase