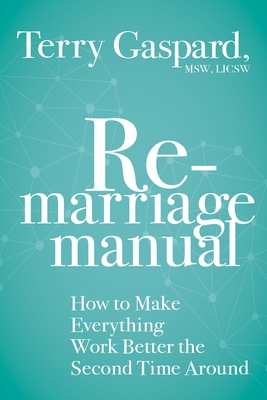 The Remarriage Manual
How to Make Everything Work Better the Second Time Around
Paperback

* Individual store prices may vary.
Other Editions of This Title:
Digital Audiobook (4/12/2021)
Description
The 10 Keys to a Successful Remarriage

Winner of the 2022 Independent Publisher Book Award in Gold for Self Help

Winner of American Book Fest's 2020 Best Book Award in "Self-Help: Relationships"

Based on the author's personal experience, over 30 years of clinical practice, knowledge from leading marriage and remarriage researchers, and 100 in-depth interviews of remarried people, The Remarriage Manual offers 10 essential keys to a successful remarriage:

1. Build a Culture of Appreciation, Respect, and Tolerance. Negativity is toxic. Personal growth and love are possible when you can express appreciation through positive words and actions.
2. Make Your Remarriage a Top Priority. Never underestimate the power of intentional time with your partner to increase physical and emotional intimacy.
3. Ditch the Baggage from Your First Marriage. Learn ways to be more reflective and less reactive to triggers that hit raw spots or vulnerabilities stemming from prior relationships.
4. Don't Keep Secrets about Money. Remarried couples face complicated financial issues such as unequal assets, child support, alimony, and education costs for children and stepchildren. Honesty and full disclosure about finances are essential.
5. Don't Let Mistrust Stop You from Being Vulnerable and Emotionally Intimate. Learn that vulnerability and trust go hand in hand and the steps you can take to be authentic and intimate with your partner so you can achieve long-lasting love.
6. Get Sexy and Fall in Love All Over Again. Given the stressors of a second marriage, it can be particularly challenging to stay sexually intimate. Yet moments of connection, such as touching, talking, or making love, are all part of the glue that holds a second marriage together.
7. Don't Make a Big Deal about Nothing . . . but Do Deal with Important Issues. Differences in beliefs, expectations, and conversational styles can cause you to blow things out of proportion and tune each other out. Effective communication will help you overcome these types of misunderstandings.
8. Manage the Flames of Conflict. You can't avoid disagreements entirely. What you can do, however, is learn how to manage them successfully to avoid the "blame game" so that they can nourish rather than drain your remarriage.
9. Embrace Your Role as a Stepparent and Create Positive Stepfamily Memories. There is no such thing as instant love in a stepfamily. When biological parents are involved, the relationships can get even trickier. Learn to adjust to your role as a stepparent—the chances of a second marriage succeeding go way up when both partners adopt an attitude of "we're in this together."
10. Say You're Sorry and Mean It. Studies show that apologizing to your partner for hurting their feelings and granting forgiveness are crucial to the success of a second marriage. It's essential that remarried couples learn the value of sincere apologies and forgiveness.

Drawing on the experiences of dozens of couples and remarriage scenarios, Terry Gaspard shows you how to bring each key home and set up your relationship for lasting success.

Whether you are thinking of remarrying and concerned about going the distance or are already remarried and struggling, The Remarriage Manual provides the expert advice, practical tools, hope, and inspiration you need to prevent challenges from becoming deal breakers. The 10 keys provided here will help put you and your spouse on solid footing; keep the flame between you burning bright; and build a deeply trusting, loving, and sustainable connection for the long haul.
Praise For The Remarriage Manual: How to Make Everything Work Better the Second Time Around…
Winner of the 2022 Independent Publisher Book Award in Gold for Self Help

Winner of American Book Fest's 2020 Best Book Award in "Self-Help: Relationships"

"Should be required reading for anyone who wants to make their second marital go-around work. It is a treasure chest filled with essential and practical information, guidance, instruction, case examples, and tools. I most appreciate how it gives voice to marriage number two's unique challenges, while connecting to the latest social-emotional trends, challenges, and even cultural shifts. Reading the book made me feel like I was getting advice from a best friend who just happened to be an expert in marriage and relationships." —Ross Rosenberg, MEd, LCPC, CADC, CSAT, author of The Human Magnet Syndrome: The Codependent Narcissist Trap

"Second marriages often pose challenges more difficult than first marriages. In this wise and well-written book, therapist Terry Gaspard provides empathy and guidance for those seeking to overcome the predictable but often daunting obstacles that can occur. Save yourself a lot of time, headaches, and heartaches and read The Remarriage Manual." —Joshua Coleman, PhD, psychologist, senior fellow, Council on Contemporary Families, and author of When Parents Hurt and Making a High-Conflict Marriage Work

"This practical, well-written manual provides sound advice, and addresses the challenging issues of remarriage. Using examples from interviews, Terry Gaspard identifies common issues for remarried couples. Sure to be helpful to couples planning on remarriage as well as those who are living in remarried families." —Constance Ahrons, PhD, author of The Good Divorce and We're Still Family

"If you're remarried, and hoping to stay that way, you and your spouse should make this book your bedtime reading. Drawing on research, clinical expertise, and her personal experience, Terry Gaspard lays out the most common problems vexing remarried couples and presents actionable steps to help them successfully navigate the complex terrain of marriage the second (or third) time around. I will be recommending this reader-friendly manual to all my remarried clients." —Virginia Gilbert, MFT, author of Transcending High-Conflict Divorce: How to Disengage from Your Ex and Find Your Power

"Sensible, practical, and loving advice from someone who has walked the same path. Instead of crossing your fingers and hoping love will save the day, open this book and hone your skills for making your marriage and new family work." —Andrew G. Marshall, marital therapist and author of I Love You, but I'm Not IN Love with You

"When divorced people find love again, they naively assume everything will work out perfectly the second time around. However, without a down-to-earth roadmap, relationships falter. Terry Gaspard's new book offers couples the tools they need to overcome the unique challenges of remarriage and make their relationships loving and everlasting." —Michele Weiner-Davis, author of The Divorce Remedy
Sounds True, 9781683644071, 264pp.
Publication Date: February 18, 2020
About the Author
Terry Gaspard, MSW, LICSW, is a therapist in private practice and a popular blogger at gottman.com, the website for John Gottman's institute. Gaspard is the coauthor, with her daughter, of the highly praised Daughters of Divorce. Gaspard is also a regular contributor to Patheos, HuffPost, The Good Men Project, and DivorcedMoms. She lives in Rhode Island with her second husband and can be found online at movingpastdivorce.com.
or
Not Currently Available for Direct Purchase