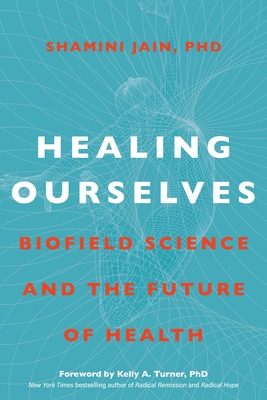 Healing Ourselves
Biofield Science and the Future of Health
Hardcover

* Individual store prices may vary.
Description
A leading mind-body researcher provides an invaluable resource of solid scientific evidence for consciousness-based healing—along with practices anyone can use.

Spontaneous remission, the placebo effect, and energy healing—these phenomena have baffled the medical community for decades. What do all these marvels tell us? "Our current models of medicine fall short of understanding the depths of our human healing potential," says Dr. Shamini Jain. "We are on the cusp of finally becoming awake to our human healing potential. A growing number of scientists are exploring a new path—a true expansion of science joined with understandings from ancient concepts of spirituality."

With Healing Ourselves, Dr. Jain presents a new vision of health and healing. Here she rejects the "either-or" thinking that has placed conventional medicine at odds with so-called alternative methods—offering an integrated path based on sound scientific evidence and personal empowerment. Join her to explore:

• Biofield science—peer-reviewed research on the inseparable relationship between consciousness and healing
• The placebo and beyond—what placebo research tells us about the power of consciousness to heal ourselves, whether we choose drugs, surgery, or holistic medicine
• Evidence—what strong, published research actually says about the healing power of holistic practices such as yoga, tai chi, meditation, and energy healing
• The Healing Keys—in-depth instruction with evidence-based recommendations and ancient spiritual practices that you can integrate into your life for healing yourself

Today more than ever, we realize that we must change the way we think about health care—and our ability to heal ourselves. "The good news is there is a way forward," teaches Dr. Jain. "The flame that lights the path burns brighter than the darkness of ignorance and suffering we have found ourselves in." With Healing Ourselves, this inspiring teacher shares a holistic model of health that we have known in our hearts, all along, to be true.
Praise For Healing Ourselves: Biofield Science and the Future of Health…
"Dr. Shamini Jain is a visionary scientist and evolutionary leader with the energy and heart of a healer. With Healing Ourselves, Dr. Jain masterfully synthesizes diverse wisdom streams, weaving together scientific discoveries, ancient knowledge, and practical keys for healing to inspire and empower us to ignite infinite healing potential for ourselves, each other, and the planet. If you want to expand your consciousness and know how to best heal yourself and others, read this book." —Deepak Chopra, MD

"Shamini is that rare integration of mystic and scientist who serves as a potent bridge in a time when the divide between grounded science and ungrounded spirituality has never been more polarized. When patients have tried everything, the news isn't good, and conventional medicine has run out of options for cure, a portal of possibility opens. This is the space Dr. Jain explores in Healing Ourselves." —Lissa Rankin, MD, New York Times bestselling author of Mind Over Medicine and founder of the Whole Health Medicine Institute

"Dr. Shamini Jain is a pioneering voice who has dared to take us beyond common paradigms to the frontiers of a new scientific perspective—one that includes all aspects of a human being: mind, body, and spirit. Healing Ourselves is grounded in research, thoughtfully written, and deeply inspiring. You will read it and have hope." —Emma Seppälä, PhD, author of The Happiness Track

"Shamini Jain, a peerless scientist and spiritual adept, shines a powerful searchlight on recent discoveries concerning biofields and their profound interactions with consciousness and the natural world. This beautifully crafted book is full of scientific insights described in plain language. This is where modern medicine and healing are headed." —Larry Dossey, MD, author of One Mind

"Between Shamini Jain's understanding of consciousness and the biofields that compose living beings, we are presented the keys to our being—and healing. Chock-full of research, this book yet leads us into the truth of the Oneness and our innate ability to realign our world, internally and externally. Yesterday's ancient wisdom becomes today's frontier of science and personal transformation, through Jain's intelligent and approachable presentation that shows how the powers of the universe—and Creation—are ours." —Cyndi Dale, author of 27 leading books on energy medicine

"Dr. Jain's authoritative review of the history, evidence, and practice of biofield science reminds us that there are answers to age-old questions about who and what we are, and that those answers—spanning both scientific and spiritual worlds—provide the keys to vibrant health and healing. I heartily recommend Healing Ourselves for its heartfelt wisdom and clarity." —Dean Radin, PhD, chief scientist at the Institute of Noetic Sciences and author of Real Magic

"Once in a while, there is a discovery in the biomedical sciences that opens an entirely new narrative and fundamentally reframes our understanding of the body. In Healing Ourselves, Dr. Shamini Jain shares such a groundbreaking paradigm. This rediscovery of the biofield within the context of Western science offers us a profound advancement: the biofield provides the long-needed linkage between the body, what we consider matter, and consciousness itself, which will lead to biomedicine ultimately surrendering its long-held firm grasp on materialism." —Paul J. Mills, professor of family medicine and public health, chief of the Behavioral Medicine Division, and director of the Center of Excellence for Research and Training in Integrative Health, University of California, San Diego

"Nature shows us how to heal. And if you want a full, nuanced, and up-to-date understanding of this simple yet profound concept, no single source will deliver it more effectively or more pleasurably than Healing Ourselves. Whether through clinical stories, scientific findings, lucid explanations of shifting paradigms, or personally transformative techniques, this book will inform you in all channels." —Donna Eden and David Feinstein, PhD, coauthors of Energy Medicine: How to Use Your Body's Energies for Optimum Health and Vitality and The Energies of Love

"The quality of your thoughts, beliefs, and consciousness produces a profound effect in your body. That's the message conveyed—in clear and convincing terms—by Healing Ourselves. While professionals will be intrigued by the solid science and inspiring conceptual framework, this is a straight-from-the-heart book that patients and their families will find deeply meaningful as well." —Dawson Church, PhD, award-winning author of Bliss Brain

"Dr. Shamini Jain is an academic, scientist, and spiritual seeker, and in Healing Ourselves she combines all these skills to offer a clear explanation of the human biofield and its effect on our well-being. Moving effortlessly between ancient wisdom and hard science, it's an engrossing read that explains with unusual clarity an emerging area of scientific study that is often misunderstood. I consider this a must-read for anyone who is interested in how consciousness and physicality intertwine to offer us a blueprint for health and abundance." —Jill Blakeway, DACM, author of Energy Medicine: The Science and Mystery of Healing

"Brilliant and inspired. Evidence-based and rooted in ancestral wisdom, this is the book I have been waiting for, bridging consciousness and physiology, bringing together spirituality and health." —Joe Tafur, MD, physician and curandero; author of The Fellowship of the River

"Dr. Jain artfully elevates our understanding of the human energy system and our potential to heal. Healing Ourselves goes where Western medicine is sure to someday follow and offers everyone a path to heal beyond what is offered by surgery and medication." —Mimi Guarneri, MD, FACC, president of the Academy of Integrative Health and Medicine

"I sincerely hope everyone reads this brilliant book. Shamini Jain has emerged as a leader in the quest for a more encompassing and effective biomedicine. And she is a fabulous storyteller. The stories she has chosen to tell will help many who are looking for alternatives, especially for people who have been told by the experts that there is nothing that can be done to help them. This book can make a big difference for many people." —James L. Oschman, PhD, author of Energy Medicine: The Scientific Basis

"Dr. Shamini Jain is a rare breed of scientist, artist, visionary, and mystic, and in this remarkable and timely book, she weaves together all of those perspectives into an illuminating look at what it means to be fundamentally human. Bringing together cutting-edge modern science, ancient wisdom, engaging stories, and common sense, Shamini shines a bright light on a promising way forward for medicine, science, and our own souls. Definitely highly recommended for anyone who wants to stay on the front of the wave in our current paradigm shift toward the awareness and acceptance of the human biofield!" —Eileen McKusick, author of Tuning the Human Biofield and Electric Body, Electric Health

"In Healing Ourselves, Dr. Shamini Jain takes us on a wonderful journey—both personal and scientific—through the most ancient of healing methods and their modern manifestations. A wonderful read that will open your mind to healing like no other book." —Wayne Jonas, MD, author of How Healing Works

"This book is a wonderful integration of Shamini Jain's personal journey, mind-body science, and Eastern spirituality, with an emphasis on the biofield, higher consciousness, and energy flow. Readers at all levels will enjoy it for its personal approach and ease in reading, as well as its grounding in scientific evidence with documentation. It is packed with numerous practical exercises and tips that empower readers to restore balance in their lives and unleash their self-healing potential." —Beverly Rubik, PhD, faculty of the College of Integrative Medicine and Health Sciences, Saybrook University, and president and founder of the Institute for Frontier Science

"A groundbreaking book on healing that bridges Eastern philosophy and Western science, written with a personal touch that makes it read like an adventure novel. Through rigorous scientific studies, Shamini Jain demonstrates not only that alternate healing methods do work but explores the mechanism behind them, delving into everything from quantum physics to yoga philosophy. With a whole section containing step-by-step practices for healing yourself and others, this book has something for everyone, from healers to scientists to philosophers. An important and timely book." —Anodea Judith, PhD, author of Eastern Body, Western Mind and Charge and the Energy Body

"It's not often that a book about your own life's work makes you smarter, but this book . . . well, Dr. Jain has put science and spirituality back together for us so that we can be smart and holy." —Rev. Rosalyn L. Bruyere, author of Wheels of Light and founder and director of Healing Light Center Church
Sounds True, 9781683644330, 320pp.
Publication Date: September 14, 2021
About the Author
Shamini Jain, PhD, is the founder and CEO of the Consciousness and Healing Initiative (CHI), a nonprofit collaborative that leads humanity to heal ourselves. Dr. Jain is an Ivy League-trained clinical psychologist and an award-winning research scientist in psychoneuroimmunology (PNI) and integrative medicine. She is a sought-after speaker and teacher in mind-body-spirit healing. Dr. Jain is also adjunct faculty at UC San Diego. For more, visit shaminijain.com.