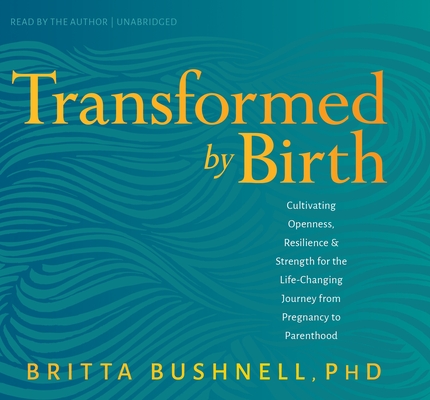 Transformed by Birth
Cultivating Openness, Resilience, and Strength for the Life Changing Journey from Pregnancy to Parenthood
CD-Audio

* Individual store prices may vary.
Other Editions of This Title:
Paperback (1/28/2020)
Description
"Transformed by Birth is the much-needed remedy for all of us striving to do motherhood 'right.'" —Ellie Knaus, founder and host of the Atomic Moms podcast

As expecting parents, you have access to more information than ever about the "right" approach to pregnancy and childbirth, and you're likely bombarded by a multitude of opinions about how to give birth. How do you navigate the oceans of information and opinions to discover what matters most to you personally while also preparing for the incredible transformation that can come from bringing a child into this world? With Transformed by Birth, unabridged and read by the author, Dr. Britta Bushnell has created the transformative, intelligent, and empowering pregnancy and childbirth guide you've been waiting for.

This audiobook embraces birth as a rite of passage in which you open to the unbidden, embody your own wisdom, and gain freedom from limiting beliefs.

Parents giving birth today do so within a society highly influenced by underlying ideals—including a need for control and certainty, vilification of pain, and reverence for intellectual knowledge and technology, among others. Dr. Bushnell brings clarity and awareness to these foundational ideals and offers daily practices, rituals, exercises, and more to help you cultivate resilience, power, and connection during this transformative time.

Childbirth is more than just having a baby. Transformed by Birth invites you to discover that childbirth is an experience that alters your knowing of who you are and lasts long after pregnancy and birth are over.
Praise For Transformed by Birth: Cultivating Openness, Resilience, and Strength for the Life Changing Journey from Pregnancy to Parenthood…
"Britta, you are a master at what you do." —P!nk, Grammy-winning singer-songwriter

"Master teacher, childbirth educator, and doula Britta Bushnell generously shares her most important revelations and strategies in preparing parents for childbirth, and in turn offers them a lifelong gift as they understand themselves anew." —Kimberly Ann Johnson, author of The Fourth Trimester: A Postpartum Guide to Healing Your Body, Balancing Your Emotions, and Restoring Your Vitality

"Britta taught me how to be a birth warrior and I can honestly say, I used Every. Single. Thing I learned in her class during the birth process. I truly don't know how I could have done it without her guidance and the strength of my fellow warrior mamas cheering me on in spirit." —Natalie Zea, actress, The Detour

"Britta is a gifted teacher, mother, and family advocate who is bringing her soulful passion into this moving offering. Transformed by Birth blends her deep understanding of transformational work and her decades supporting birthing families. This book is a gift to pregnant people everywhere." —Shiva Rea, world-renowned yoga teacher

"Having known Britta for decades, I can sincerely recommend the depths of this offering and know that many people will benefit from her wisdom and experience." —Seane Corn, internationally celebrated yoga teacher, author of Revolution of the Soul

"This book is a peace treaty to end the Mommy Wars!" —Jolie Jenkins, real mom and TV mom on Netflix's Alexa & Katie

"I have been a birth doula for over 17 years and have seen first-hand the life-changing transformation women and couples go through as they birth themselves as parents. Thank you, Britta, for writing such an important book! I will be referring this book as a must-read for all!" —Lori Bregman, author of The Mindful Mom-to-Be and Mamaste

"Britta Bushnell has created a unique book that switches the conversation from the minutia of what happens when you have a baby to the identity-changing transformation that takes place when you become a parent. Its pages are filled with simple yet magnificently profound tools to help you truly prepare for the changes that take place in the mythic space of birth, or as Britta poignantly notes, that place 'where you are no longer not a parent and not yet one either.'" —Adriana Lozada, AdvCD(DONA), seasoned doula and host of the Birthful podcast

"Transformed by Birth offers an unshakable, empathic approach to birth preparation that emphasizes the strengths of openness and resilience. Britta Bushnell's refreshingly original eight ideals for modern preparation guide thinking parents as they traverse two intertwined landscapes: their inner landscape against the backdrop of the medical environment. The book is easy to read, informative, thought-provoking, and uplifting." —Pam England, author of Birthing from Within and Ancient Map for Modern Birth, and founder of the childbirth training organization Birthing from Within

"Britta brings the most useful information in the most poetic and knowledgeable book. Everything expecting parents need to know in one book." —Ana Paula Markel, past president of DONA International, founder of BINI Birth

"As a midwife, I'm thrilled to finally have a book to confidently recommend for all of my pregnant and parenting clients! With Transformed by Birth, Britta Bushnell magically unravels the life-changing experience that is pregnancy, birth, and becoming a parent. This book will blow your heart open and leave you confidently on the threshold of transformation, ready for whatever comes your way as you grow your family." —Sara Howard, LM, CPM, IBCLC

"Amidst confusing and divergent opinions around the "right kind" of birth, this book provides a practical, holistic, and balanced view. While giving information and tools, it also invites the reader to connect with the bigger picture—the transformative power of bringing a child into the world. Britta Bushnell brings her vast experience as a childbirth educator as well as a mother, highlighting and empowering each birthparent's individual experience. Pragmatic yet nuanced, this book educates, expands, and supports each step along the journey from pregnancy to childbirth and beyond. A must read for anyone becoming a parent." —Michaela Boehm, relationship and intimacy expert, author of The Wild Woman's Way

"Britta, your words are so needed in the conversation around birth and parenting. My first response to reading this book is 'This is what I want every birthing person to hear.' Your words are full of truth spoken in compassion. I appreciate your honesty about all kinds of births and parenting experiences having the ability to transform a person and removing the shame from the 'non-ideal' birth outcome." —Sarah Obermeyer, CNM, PhD, WHNP-BC, IBCLC

"When you have an intuition or are aware that pregnancy and delivery may be a profound initiation, soul-changing as well as life-changing, reading Transformed by Birth provides insights into questions you didn't know you had, draws upon mythology which in the midst of labor may deepen the experience; and even long after, reading Britta Bushnell's book is likely to bring back the experience with new meaning." —Jean Shinoda Bolen, MD, Jungian analyst and author of Goddesses in Everywoman and Artemis: The Indomitable Spirit in Everywoman.

"Transformed by Birth is the much-needed remedy for all of us striving to do motherhood 'right.' Dr. Britta Bushnell delivers an empowering birthing guide for generations to come. This is the parenting book I have been waiting to read!" —Ellie Knaus, founder and host of the Atomic Moms podcast
Sounds True, 9781683644491
Publication Date: February 25, 2020
About the Author
Britta Bushnell, PhD, is a wife and mother, veteran childbirth educator, celebrated speaker, mythologist, and specialist in childbirth, couples, and parenting. For the last 20 years, Dr. Bushnell has worked with individuals and couples as they prepare for the life-changing experience of giving birth. Her work with parents has been enriched by her doctoral work in mythology and psychology, her years spent as a co-owner of Birthing from Within, as well as her dedicated study of solution-focused brief therapy, storytelling, and embodiment to help romantic partnerships thrive even during parenthood. For more, visit brittabushnell.com.
or
Not Currently Available for Direct Purchase