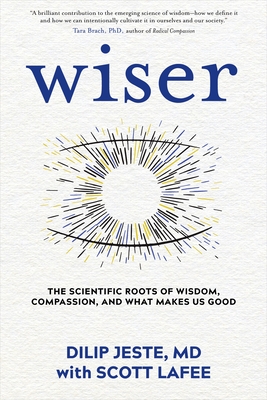 Wiser
The Scientific Roots of Wisdom, Compassion, and What Makes Us Good
Hardcover

* Individual store prices may vary.
Other Editions of This Title:
MP3 CD (5/15/2021)
Compact Disc (5/15/2021)
Description
From the field's pioneer, an exploration of the neurobiology and psychology of wisdom: what science says it is and how to nurture it within yourself—at any stage of your life.

What exactly does it mean to be "wise?" And is it possible to grow and even accelerate its unfolding?

For over two decades, Dr. Dilip Jeste has led the search for the biological and cognitive roots of wisdom. What's emerged from his work is that wisdom is a very real and deeply multilayered set of traits.


Across many cultures and centuries, he's found that wise people are compassionate and empathetic, aware of their gifts and blind spots, open-minded, resolute and calm amid uncertainty, altruistic decision-makers who learn from their experiences, able to see from many perspectives and "altitudes," and often blessed with a sense of adventure and humor.

"The modern rise in suicides, opioid abuse, loneliness, and internet addiction is damaging people's health and destroying the social fabric," Dr. Jeste reflects. But we all have the ability to nurture and grow every facet of wisdom to face these challenges and others more effectively.

If you seek to be a wiser person—with your family, at work, and in your community—this book will show you how, with the researcher who's launched and advanced this exciting new path to our highest human potential.
Praise For Wiser: The Scientific Roots of Wisdom, Compassion, and What Makes Us Good…
"Wiser is a brilliant contribution to the emerging science of wisdom—how we define it, research it, and how we can intentionally cultivate it in ourselves and our society. A timely and hope-giving book as our world faces challenges that require the deepening of our wisdom as a species." —Tara Brach, author of Radical Compassion

"The new science of wisdom is transforming the way we understand human potential and showing that the ancients were right: wisdom is real, wisdom is precious, and we can all be, yes, wiser. Drawing on cutting-edge neuroscience and a lifetime of research, Dilip Jeste brings the attributes of wisdom—compassion, self-reflection, humor, curiosity, and spirituality—to every page. He shows that wisdom can be developed and strengthened, and he explains how. A lot of books have made me smarter. This one made me better." —Jonathan Rauch, author of The Happiness Curve, senior fellow of Brookings Institution, and recipient of National Magazine Award

"Wiser is the readable summation and thoughtful culmination of the thought and work by Dr. Jeste on wisdom over many years. No medical scientist, to my knowledge, has been willing to tackle the expansive complexities of practical wisdom, what some may label as 'wisdom that matters,' as thoroughly as the author. Jeste takes us on a journey through the neurobiological foundations as well as the psychological and social components of practical wisdom. He artfully integrates the unique perspectives of his cultural background and a stellar career of scientific inquiry using Western methodologies. He has collaborated with and supported conversations among many scholars and has distilled these conversations into a basic handbook that will be of immense value to all who read the material, more importantly to those who are willing to grapple with this ever-expanding horizon of inquiry. That horizon is informed by science, the humanities, and wisdom itself." —Dan Blazer, MD, PhD, author of The Age of Melancholy and Freud vs. God, JP Gibbons professor emeritus of psychiatry and behavioral sciences, Duke University School of Medicine

"Much has been written about human tendencies to compete, with winner-take-all rewards. Yet none of us would survive alone. The true story about humankind involves cooperation, kindness, and compassion. This lesson appears to grow stronger with age. Dilip Jeste, with Scott LaFee, details the science behind the proclivities to be concerned for the welfare of others and the circumstances that enrich it. Read this definitive account of wisdom and be wiser for it." —Laura L. Carstensen, PhD, author of A Long Bright Future: An Action Plan for a Lifetime of Happiness, Health, and Financial Security; founding director, Stanford Center on Longevity; Fairleigh S. Dickinson Jr. professor in public policy and professor of psychology, Stanford University

"In Wiser, Jeste, with LaFee, has written a compelling new book about the scientific research that takes the notions of wisdom and morally grounded reasoning out of the realms of myth and philosophy and into the bright light of modern psychology and neuroscience. From defining wisdom as an aspect of human mind and brain to explaining its psychological components and how to become wiser, Jeste, with LaFee, has produced an important and exciting new book on the science of wisdom. This is a deeply engaging book that explains clearly the science of wisdom and provides practical suggestions for wiser reasoning grounded in solid research." —Howard C. Nusbaum, PhD, founding director, Center for Practical Wisdom, and Stella M. Rowley professor of psychology, University of Chicago

"We have never needed this book more than we need it now. It is the right book, at the right time, and for all the right reasons. Professor Dilip Jeste, with Scott LaFee, traces the scientific and sociocultural roots of wisdom, its cultivation, and its deep links to compassion and to lives well led. Not only medical and social scientists but also health and social policy makers and general readers will find insight and comfort in this volume. We need wisdom and courage for the facing of this hour. Wiser helps immensely." —Charles F. Reynolds III, MD, distinguished professor of psychiatry emeritus, University of Pittsburgh School of Medicine; recipient of Pardes Humanitarian Prize in Mental Health
Sounds True, 9781683644637, 336pp.
Publication Date: November 3, 2020
About the Author
Dilip Jeste, MD, is the senior associate dean for healthy aging and senior care, professor of psychiatry and neurosciences, and director of the Center for Healthy Aging at UC San Diego. He is past president of the American Psychiatric Association. A neuropsychiatrist specializing in geriatric issues, Jeste has spent more than 20 years studying aspects of healthy aging and the neurobiological roots of wisdom.

Scott LaFee is director of communications and media relations for UC San Diego Health, UC San Diego Health Sciences, and the UC San Diego School of Medicine. He was previously a science writer and editor at the San Diego Union-Tribune. He has been a contributor to New Scientist, People, and Businessweek.
or
Not Currently Available for Direct Purchase