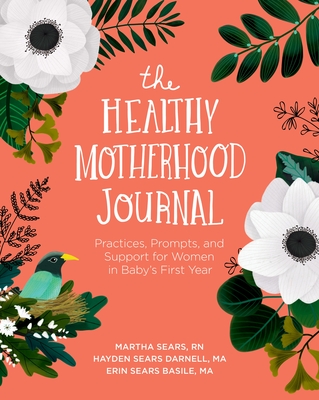 The Healthy Motherhood Journal
Practices, Prompts, and Support for Women in Baby's First Year
Paperback

* Individual store prices may vary.
Description
A beautiful journal to support new moms during the first year of baby's life

"Becoming a mother is one of the most profound transformations a woman will ever go through. The opportunity to open yourself up to spiritual, emotional, physical, and mental growth is right here in front of you. This journal invites you to embrace YOUR version of motherhood." —The Healthy Motherhood Journal

Bringing a new life into the world cracks your heart wide open. The feelings of bliss and unconditional love are real—and so are the feelings of fear, exhaustion, and overwhelm. With all the focus on your new baby, it's important to remember that you are transforming and growing, too.

This is why The Healthy Motherhood Journal is not your average baby book—it's a journal for you, the mom, during your first year with a new baby. Each chapter centers on a theme common to new motherhood: your new identity, co-parenting, your relationship with your body, and more. There are also self-care check-ins, nourishment tips, recipes, meditations, affirmations, and advice drawn from decades of experience.

Written by the mother and daughters of the Sears family, renowned for their work with attachment parenting, this journal will empower you to connect more deeply with yourself as you navigate your first year of motherhood—and all the complexities, joys, challenges, sacrifice, self-discovery, and fulfillment it brings.
Sounds True, 9781683644866, 160pp.
Publication Date: March 16, 2021
About the Author
Martha Sears, RN, is a registered nurse, former childbirth educator, La Leche League leader, and lactation consultant. With renowned pediatrician, William Sears, MD, Martha is the coauthor of more than 25 parenting books, drawing on her experience with their eight children (including Stephen, who has Down syndrome and Lauren, their adopted daughter). She contributes to the content of AskDrSears.com and is noted for her advice on how to handle the most common problems facing today's mothers with their changing lifestyles. Martha lives in Southern California and is blessed to spend tons of time with her 15 (for now) grandchildren. She enjoys reading, gardening, sailing, and ballroom dancing with her husband of 53 years.

Hayden Sears Darnell, MA, mother of three, is a certified health and nutrition coach who loves helping families and individuals on their journey toward better health. The oldest daughter of Dr. William and Martha Sears, she has worked with the Sears Family Pediatrics medical practice for over 15 years as Wellness Coordinator. She also contributes to the content of AskDrSears.com; has been a guest on TV shows and news stations sharing nutrition tips, healthy meal options, and the benefits of babywearing; and is excited to co-host the Dr. Sears Family Podcast. Hayden owns a Juice Plus+ virtual franchise and travels all over the world speaking about how to keep ourselves and our families healthy. She received her MA from Azusa Pacific University and resides in Southern California. Having homeschooled for 10 years, she now volunteers at her kids' schools and enjoys dancing, performing arts, and yoga.

Erin Sears Basile, MA, first-time mom, is a certified health and wellness coach, yoga teacher, fitness instructor, and published author. Through her own health transformation, she quickly caught the health and fitness bug and is honored to help others find their passion for health. She is a featured writer for AskDrSears.com and has been a guest on TV shows and podcasts including Hallmark's Home & Family, The Dr. Nandi Show, and Just Jenny. She holds an MA in music from Azusa Pacific University, as well as a Master Health Coach certification from the Dr. Sears Wellness Institute and multiple fitness certifications. In addition to fitness, she also teaches voice and piano lessons, owns a health and wellness coaching business, and is a published author of The Dr. Sears T5 Wellness Plan. She encourages and guides her students to live a joyful, connected life one day at a time.
or
Not Currently Available for Direct Purchase