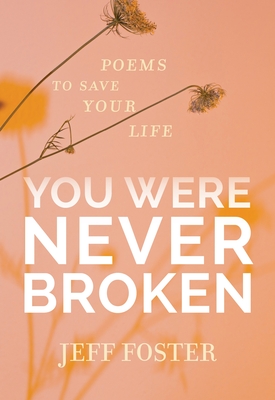 You Were Never Broken
Poems to Save Your Life
Paperback

* Individual store prices may vary.
Description
Poems for accepting all that you are—including those parts of yourself that you wish you could disown

"Give yourself permission
to rest, and be silent,
and do nothing.

Love this aloneness, friend.
Fall into it.
(Don't worry. You won't disappear. I am here to catch you.)

Invite warm, curious attention
deep inside your weary bones.

Until there is no loneliness,
only radical self-love." —Jeff Foster

"There was never anything wrong with me, and there is never anything wrong with you."

So writes spiritual teacher Jeff Foster, who has traveled through his share of darkness—but also knows the light that lies on the other side. In You Were Never Broken, he presents a collection of poetry that embraces the full spectrum of human experience, from the seemingly mundane to moments of transcendent realization. Each verse is an invitation to stop and meditate on a different facet of personal transformation.

Amid these verses, Foster provides his signature straight talk and accessible teachings on the value of stillness and silence, the pitfalls of the spiritual path, and what it means to surrender completely to the beauty of the present moment. For him, the winding path to self-acceptance started with nonjudgmental observation of his darkest thoughts—and here he shares his world-renowned expertise on how to begin your own journey.

For Foster, every moment contains infinite possibilities. With You Were Never Broken, you'll discover not just raw and inspirational poetry, but also a guide for completely surrendering to the beauty and possibility of the present moment.
Sounds True, 9781683645597, 224pp.
Publication Date: July 28, 2020
About the Author
Jeff Foster shares from his own awakened experience a way out of seeking fulfillment in the future and into the acceptance of "all this, here and now." He studied astrophysics at Cambridge University. Following a period of depression and physical illness, he embarked on an intensive spiritual search that came to an end with the discovery that life itself was what he had always been seeking.