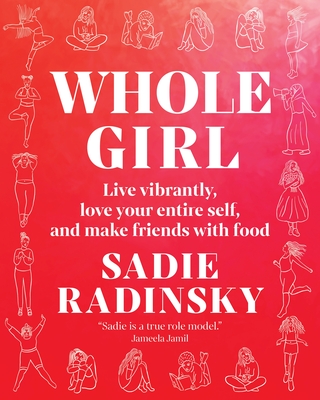 Whole Girl
Live Vibrantly, Love Your Entire Self, and Make Friends with Food
Hardcover

* Individual store prices may vary.
Description
As seen in the New York Times, Rachael Ray Show, E! Daily Pop, ABC TV (KATU), Justine, mindbodygreen, and Shape.

"Sadie's clearly the smartest person in the room, and she's just 19 … Sadie, you're brilliant." —Rachael Ray

"Approachable and engaging, Radinsky exudes best friend vibes … A useful, accessible self-help guide." —Kirkus Reviews

"[Sadie's] outlooks … are so refreshing and comforting in these troubled times when teens are up against so much terrible coercion to feel as though they aren't good enough. She's a true role model." —Jameela Jamil, actress (The Good Place), activist, founder of I Weigh

"Smile!" "Don't eat too much." "You're so bossy." Society constantly squelches young women and tells us all the ways that we're wrong. But we reject these limitations. We are all strong, different—and complex.

In this unique book, teen writer and recipe creator Sadie Radinsky offers practices, tips, and exercises to help young women embrace their whole selves. Each chapter welcomes a different mood (like mad, blue, wild, cozy) to empower all parts of their lives. The book includes:

• Tips and insights for navigating some of young women's biggest issues today
• 45 delicious gluten-free, Paleo treat recipes
• Well-being practices like getting enough sleep, exercise as self-love, and creating a good relationship with food
• Talks with experts and celebrities who share fresh advice
• Mindful Movements, from yoga to tree-climbing
Praise For Whole Girl: Live Vibrantly, Love Your Entire Self, and Make Friends with Food…
"A useful, accessible self-help guide." —Kirkus Reviews

"I have had the privilege and pleasure of being uplifted by Sadie's cooking and outlook on life over the past few years. Her outlooks on food, the teenage experience, and where our healthiest emotional priorities lie are so refreshing and comforting in these troubled times when teens are up against so much terrible coercion to feel as though they aren't good enough. Sadie has set out on a journey to feed their stomachs and their minds with her beautiful attitude and respect for all women everywhere. I'm glad she came into my life, and I hope she nourishes yours as she has mine. She's a true role model." —Jameela Jamil, actress (The Good Place), activist, and founder of I Weigh

"In a world full of folks with remarkable talent, every once in a while a literal star emerges . . . and by star I mean a beacon of inspiration, insight, and hope. Sadie Radinsky is at once beacon, star, and hope. She has tackled the tough topic of helping her peers come to a better place with themselves and building a better understanding of food. Whole Girl is an amazing resource for anyone, but it is critical reading for young women looking for healthy ways to navigate their lives, emotions, and our complex food world." —Robb Wolf, New York Times bestselling author of The Paleo Solution and Wired to Eat

"Sadie's book reads like a long, heartwarming, and uplifting conversation with a new friend—one you walk away from knowing yourself a little better. I'm so excited for young people to pick up this book, explore the world through new eyes, and forge an exploratory relationship with nourishment, both through her fantastic recipes and the journey of self-knowledge." —Stephanie Beatriz, actress (Brooklyn Nine-Nine, In the Heights)

"Whole Girl nourishes body, mind, and soul. In a world where food is commonly geared towards weight loss for young girls, Sadie created a book with no concept of 'loss' but rather what one can gain from a joyful, creative, and positive relationship with food." —Jade Pettyjohn, actress (Little Fires Everywhere, School of Rock)

"Sadie is an inspiration to all young women. Her work inspires all of us to take better care of ourselves and truly embrace a healthy relationship with food." —Kelly LeVeque, nutritionist and author of Body Love and Body Love Every Day

"Sadie wrote Whole Girl in a down-to-earth and authentic tone that makes it such a fun read. There's an amazing diversity of people interviewed to share their passions and lessons. After reading Whole Girl, I've learned how to be more mindful, listen to my gut, apply self-care tips, and be confident when handling different situations." —Mikaila Ulmer, founder and CEO of Me & the Bees Lemonade, Time magazine Top 30 Most Influential Teens, and author of Bee Fearless

"Sadie [is] one of the most inspiring young women I have ever crossed paths with. From her incredible palate to her beautiful imagery, Sadie is a visionary." —Nikki Reed, actress (The Twilight Saga) and writer

"Sadie Radinsky takes a joyful—and delicious!—approach to encouraging girls and young women to care for themselves as lovingly as they tend to others." —Lisa Damour, PhD, teen girl psychology expert and New York Times bestselling author of Untangled and Under Pressure

"Whole Girl is a book every girl, no matter what age or season of life they are in, should read. Being a celiac, as well as an actress in today's culture, I have had my own struggles with my relationship with food and self-love, and this book is the perfect balance of perspective, compassion, and real-life tools to find your most energetic, happy self. From the delicious feel-good recipes to the mindful movement exercises, I took so much away from this book. As you read, you can't help but feel how intentional and passionate Sadie is." —Brec Bassinger, actress (Stargirl, Bella and the Bulldogs)

"Sadie has the gumption, spunk, and awareness I wish I had at her age—or any age for that matter. She is the pinnacle of a person taking destiny into their own hands no matter what stage of life they are in, and for that, I love coming across her content. Now I am glad I have it all in one scrumptious book."—Holland Roden, actress (Teen Wolf)
Sounds True, 9781683645702, 224pp.
Publication Date: February 2, 2021
About the Author
Sadie Radinsky is a teenage blogger and recipe creator. Since age 12, she has touched the lives of girls and women worldwide with her award-winning website, where she shares Paleo treat recipes and advice for living an empowered life. She has published articles and recipes in national magazines and other platforms, including Paleo, Shape, Justine, mindbodygreen, and The Primal Kitchen Cookbook. For more, visit wholegirl.com.