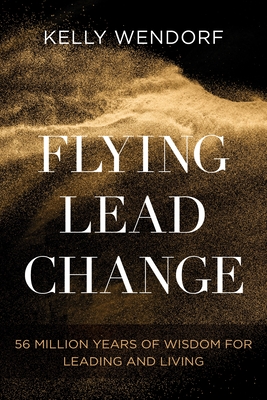 Flying Lead Change
56 Million Years of Wisdom for Leading and Living
Paperback

* Individual store prices may vary.
Other Editions of This Title:
Digital Audiobook (4/12/2021)
Compact Disc (4/13/2021)
MP3 CD (4/13/2021)
Description
For leaders at work, at home, and in our communities—an essential guide to nature-based leadership inspired by the wisdom of indigenous teachings and horses.

Is there a common element to the challenges and crises of our modern age? If so, it must be disconnection—from each other, our planet, and the sense that our lives have purpose and meaning. Where can we turn for answers? In Flying Lead Change, leadership teacher Kelly Wendorf offers a new approach to leading and living inspired by two profound sources of ancient wisdom: original peoples and Equus (the horse), grounded in evidence-based principles of neuroscience.

In her groundbreaking EQUUS training program, Wendorf teaches a way of leadership modeled on a 56 million-year-old system of the horse herd––a path that has allowed humans and horses alike to survive the kinds of global and societal threats we now face, such as climate change and mass extinction. Here she takes you step by step through this powerful approach, including:

• Listening—the starting point for all leadership, in which we suspend our biases and preferences
• Care—explore the ancient, indigenous understanding of care that is reciprocal, empathic, and beneficial to all
• Presence—meeting the here and now with vulnerability, openness, and a stable foundation
• Safety—how a masterful leader creates a sense of group resilience and strength by "leading from behind" for the welfare of all
• Connection—ways to move away from coercion and force to promote genuine communication and belonging
• Peace—creating group harmony right now through the surprising concepts of "congruence" and "tempo"
• Freedom—returning to our wild nature that is inherently free, unbridled, and unbroken
• Joy—moving beyond temporary happiness to a state of wholehearted engagement of life, whatever the circumstances

In horsemanship, a "flying lead change" allows a running horse to respond with breathtaking grace to changing conditions. "Collectively, we need a similar physics-defying maneuver," Wendorf writes. "This book is for the called—thought leaders, visionaries, parents, creatives, and all those who sense we are being asked to participate in humanity's 'flying change' through the way we live, love, and lead."
Praise For Flying Lead Change: 56 Million Years of Wisdom for Leading and Living…
"With compelling stories and deep insight into the shared nature of horses and humans, this beautifully written book teaches us how to change stride in mid-gallop as individuals with each other, and as a species with the earth. Soulful, practical, scientific, and spiritual—what a profound book!" —Rick Hanson, PhD, author of Neurodharma

"Kelly Wendorf offers an equine-inspired way of knowing and being in the world. A wise, wise work—about listening, leading, loving." —Richard Louv, author of Our Wild Calling and Last Child in the Woods

"As an assault team leader and officer in the Navy SEAL teams, I had constant access to world-class modern training and technology. But it was the ancient lessons—those of Spartans, samurai, and stoic philosophers—that guided my leadership journey to success on and off the battlefield. Flying Lead Change is no ordinary leadership book; it is an ancient lessons manual for how to lead and live well in any century." —Navy SEAL Commander Rorke T. Denver, New York Times bestselling author of Damn Few

"As someone who has spent their career working to create unstoppable cultures, I am thrilled that Kelly has written a book like Flying Lead Change. With an approach that focuses on principles from the equine world—care, connection, and joy—she has created a culture guide for leaders. When put into practice, these principles have the potential to not only impact teams and organizations, but families and communities as well. This book is such a gift!" —Ginger Hardage, former Senior VP of Culture and Communications for Southwest Airlines

"Flying Lead Change is unique and extraordinary. It integrates wisdom with the practical, inspiration with proven research, and laughter with tears. Contemporary leaders who heed the advice and guidance of ancient wisdom will gain essential advantages and be forever changed. It is the clear promise of this book." —Micki McMillan, MCC, CEO and founding partner of Blue Mesa Coaching

"After spending time with Kelly at the EQUUS ranch in Santa Fe, it comes as no surprise that she has written a book that's a true game changer for leaders. Flying Lead Change brings together the age-old wisdom of the natural world with the newest data on neuroscience. The result is a guide that is both inspiring and practical—a must-read for any leader who longs to create lasting change in their organization and discover lasting joy while doing so. Kelly's book will awaken your heart and mind to what it means to be truly human on the 'great wild ride of life.'" —Jayson Teagle, CEO of Collideoscope
Sounds True, 9781683645726, 272pp.
Publication Date: October 13, 2020
About the Author
Kelly Wendorf is a mother, an International Coach Federation Master Certified Coach (MCC) who specializes in transformative change, an author, a spiritual mentor, and a socially responsible entrepreneur. She is the Founding Partner of EQUUS, an innovative leadership development organization that she runs with her partner J. Scott Strachan. EQUUS uniquely combines neuroscience, systems theory, contemplative wisdom, attachment theory, somatic processes, indigenous knowledge, and nature-based intelligence in its coaching and experiential leadership development approach.

Kelly's work has been featured in such publications as Forbes, the Wall Street Journal Magazine, Vogue, and the Huffington Post, and has been the inspiration inside several award-winning documentaries. She lives in Santa Fe, New Mexico, with Scott, Molly the dog, two barn cats, and seven equines.

For more, visit equusinspired.com and kellywendorf.com.
or
Not Currently Available for Direct Purchase