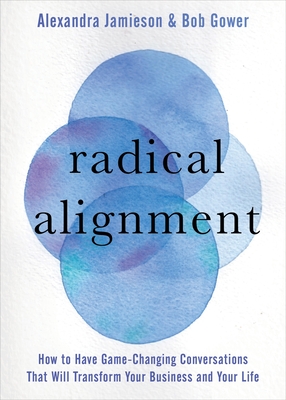 Radical Alignment
How to Have Game-Changing Conversations That Will Transform Your Business and Your Life
Hardcover

* Individual store prices may vary.
Description
Discover the Proven "Low Drama, High Joy" Method for Productive, Empathy-Based Communication and Collaboration.

Why do so many organizations, teams, couples, families, and groups who should be working together end up wasting energy on unproductive conflict? Even when everyone has the same general goals, what's often missing is a deeper alignment based on mutual trust, respect, and empathy. With Radical Alignment, top-level life and business coaches (and happily married couple) Alexandra Jamieson and Bob Gower share their potent method for helping groups to stop clashing and start working together—to jump from "we can't" to an enthusiastic "hell yes!"

The essential tool at the heart of Radical Alignment is the All-In Method: a four-step approach to communication designed to increase clarity, minimize miscommunication, honor each person's individuality, and build a shared sense of trust and respect for long-term success. With easy-to-follow instruction, Jamieson and Gower bring you:

• The Foundations of Great Communication—what works, what doesn't, and how to analyze the strengths and weaknesses of your own style
• The All-In Method—a step-by-step walk-through of this proven approach to getting into radical alignment with others
• The Method in Action—examples and exercises for using the All-In Method at work, at home, and in any situation
• Scripts, suggestions, guidance, and additional resources for making this a lifelong practice for greater connection and intimacy

"We believe passionately that the world needs more aligned teams in our businesses, organizations, communities, families, and intimate partnerships," write the authors. "This means we need people who are able to have powerful and clear exchanges that build better connections." Radical Alignment brings you a "low drama, high joy" technique to transform the way you collaborate and communicate in every area of your life.
Praise For Radical Alignment: How to Have Game-Changing Conversations That Will Transform Your Business and Your Life…
"Successful communication leads to intentional action, which can only happen with enrollment. This book offers you a breakthrough in finding all three." —Seth Godin, author of Leap First

"Radical Alignment offers a simple, straightforward process to start and engage in difficult conversations. Jamieson and Gower have created a structure that actually makes you want to begin the conversations we so often shy away from. By the end of the introduction, I was ready to jump in to the process with both feet. I would recommend this book to anyone looking for an accessible, pragmatic method to becoming a better communicator." —Ash Beckham, author of Step Up

"As a person who grew up in a household where healthy, collaborative communication was sorely lacking, I can't tell you how much I appreciate this book. As a result of my childhood, it took me decades to learn just the basics of productive conversation and communication in my personal and professional life. Enter Alex and Bob and their All-In Method, which has dramatically changed the way I have conversations forever! Radical Alignment walks you through their easy, step-by-step process for having powerful conversations and truly sets you up to become a master communicator. I highly recommend this book if you've struggled to feel heard or understood, and want a roadmap to deepen your connection with the people in your life." —Nicole Jardim, certified women's health coach, author of Fix Your Period, and cohost of The Period Party podcast

"If you need to have a difficult conversation, get on the same page, or decide whether or not to move forward with someone or something, this book provides a seamless roadmap so that everything that needs to be said is said and you can feel assured and aligned in your decisions." —Kate Northrup, bestselling author of Do Less

"In this marvelous, beautifully written, accessible, and deeply felt book, Alex Jamieson and Bob Gower offer a unique and nuanced perspective on what real conversations entail. In avoiding clichés, they broach a very difficult subject with startling honesty, insight, depth, and clarity. This book will make you ask soul-searching questions about any relationship you want or have. I highly recommend it to anyone who is tired of the ordinary and/or looking to take their relationships to the next level. And I would recommend it to anyone within an organization who is truly invested in meaningful collaboration." —Srini Pillay, MD, Harvard-trained psychiatrist, brain researcher, certified master executive coach, and author of Tinker Dabble Doodle Try: Unlock the Power of the Unfocused Mind

"Diversity, Equity, and Inclusion are about so much more than hiring and compensation. It's about changing the way teams and individuals interact so we are able to truly hear each other and benefit from the variety of perspectives at the table. Too often in my work I see leaders and organizations neglect this crucial aspect of DEI. In this accessible and readable book, Alex and Bob provide a simple set of tools that will help you and your team align and thrive." —Jennifer Brown, founder and CEO of Jennifer Brown Consulting and author of How to Be an Inclusive Leader

"Alex and Bob have incredible insight into the human mind and how different people communicate—so it's no surprise that their writing is incredibly clear and helpful. Their methodology for improving people's alignment at work and in life will change the way you think forever." —Shane Snow, bestselling author of Dream Teams

"So many of the challenges we face in our work—and personal lives—come down to people misunderstanding each other. Bob and Alex have created a powerful framework to help us bridge this divide." —Josh Seiden, author of Outcomes Over Output

"I sat down to read Radical Alignment this weekend, and am I ever glad. Bob Gower and Alex Jamieson have written a terrific guide for having hard conversations—digestible, usable, and welcoming. Radical Alignment provides a clean structure that ensures our messiest conversations can be productive." —Gary Bagley, executive director of New York Cares

"Magic happens when groups of people harness their intention and strengths for a common goal. And Radical Alignment helps you do just that." —Tina Roth Eisenberg, founder of CreativeMornings and CEO of Tattly

"The quality of your empathy directly correlates to the quality of information you can gather, and the resulting quality of decisions you make. Understanding people's challenges, intentions, and often conflicting goals will enable you to create high-performing teams and better collaborations. This book will show you the way." —Barry O'Reilly, business advisor, author of Unlearn and Lean Enterprise, and founder of ExecCamp
Sounds True, 9781683646051, 216pp.
Publication Date: August 11, 2020
About the Author
Alexandra Jamieson is a success coach for driven womxn who has been featured on The Oprah Winfrey Show, in Martha Stewart Living, and more. She was Elle's expert coach for January 2015 and was the co-creator of the OSCAR®-nominated Super Size Me (Best Documentary Feature, 2005). She teaches communication skills alongside her husband, Bob Gower. For more, visit alexandrajamieson.com.

Bob Gower helps organizations design and build future-ready systems. He is an authority on lean, agile, and responsive org design, and has worked with Ford, Spotify, GE, and many others. He teaches communication skills alongside his wife, Alexandra Jamieson. For more, visit bobgower.com.
or
Not Currently Available for Direct Purchase