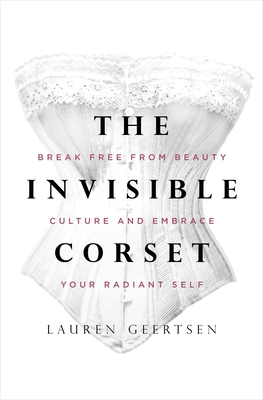 The Invisible Corset
Break Free from Beauty Culture and Embrace Your Radiant Self
Hardcover

* Individual store prices may vary.
Description
Learn to love your body—for real this time

Women in touch with the wisdom of their bodies are the single greatest threat to societal systems of domination, oppression, and control. We are also the greatest possibility to bring healing, peace, and restoration to our world. —Lauren Geertsen

No matter how much we try to tell ourselves to love our bodies and accept our flaws, most women can't quite get there. Even though we know the beauty standard is unrealistic, we secretly feel like it would be so much easier if our stomach were just a little flatter, or our skin a little smoother, or a million other little things. As a result, we sacrifice our health, heritage, sanity, and lives on the altar of beauty culture. Why is it so hard to feel confident about our bodies, or even just accept them?

Because willpower alone isn't enough to undo generations of brainwashing intended to repress women's confidence and power. In The Invisible Corset, Geertsen carefully illustrates the psychological gaslighting that leads women to internalize the belief that their appearance makes them not only unworthy of love, but incapable of fulfilling their actual destiny. By highlighting each restricting string of the invisible corset all women wear, Geertsen helps us reclaim our bodies for ourselves, discovering newfound confidence, power, joy, and pleasure as we do. You'll explore:

· How the invisible corset cuts you off from your body's wisdom and nature's intelligence—the true sources of your intuition, pleasure, and power
· How beauty culture is the most recent form of patriarchal oppression — and why women are both responsible and able to free ourselves
· Why the body positivity movement often makes self-criticism even worse
· The racist history of beauty culture, and how it still perpetuates racism today
· Journaling prompts, rituals, meditations, and other exercises to help unravel the toxic beliefs that keep the invisible corset in place
· A variety of practices to help you reconnect with your body—to tune into your intuition, set healthy boundaries, align with your True Self, and more

For any woman who is ready to go from struggle, discomfort, control, and shame to pleasure, confidence, freedom, and soul-fulfilling purpose, The Invisible Corset is an essential guide.
Praise For The Invisible Corset: Break Free from Beauty Culture and Embrace Your Radiant Self…
"All pain has a root cause, and the pain of a woman's disconnection from her own body is unparalleled. It's time to transform the Cartesian divide between material body and immaterial spirit and to recognize that our bodies express our souls and tell us about us. The Invisible Corset lifts the shackles of our conditioning and provides a manual for the revivification of the body through true love, not affected 'self-acceptance.' Give yourself the gift of healing the most important relationship in your entire life, starting here." —Kelly Brogan, MD, author of the New York Times bestseller A Mind of Your Own and Own Your Self

"For years, I fought my body and struggled with all the things it wasn't. I had a story in my head that if only I were a certain size or looked a certain way or had certain hair . . . then I would be happy. It wasn't until I shifted that filter, and realized I could be happy and at peace in my body just as it was, that everything changed. I made peace and made friends with my body, and all the physical shifts happened by default. But they were not the most important change. I felt calm in my skin, and that was priceless. In this book, Lauren beautifully explains the ways that culture gives us a false narrative of beauty with an unattainable standard, and gently guides you to finding peace." —Katie Wells, CTNC, MCHC, founder of wellnessmama.com


"Lauren is a provocateur in all the right ways. In The Invisible Corset, she exposes beauty culture and the body positive movement in a whole new light that will surprise, challenge, and ultimately empower women of all walks of life. Finally, she leaves women with tangible ways to delight in their true, enduring beauty within." —Genevieve Howland, founder of mamanatural.com and author of The Mama Natural Week-by-Week Guide to Pregnancy and Childbirth


"For every woman who has felt inadequate and that she hasn't measured up to society's arbitrary standards of beauty and size, Lauren Geertsen has written a powerful treatise on how to reclaim your just right to love the body you were given. She beautifully explores the powerful reaction to external control that is experienced by those who have developed a healthy ego. Beauty culture, as part of diet culture, attempts to control by telling us how to look and what to eat to attain this look. Rather than submitting to this control, the response is to defy the diet by breaking its rules. Unfortunately, the end result is to feel shame and despair by this 'failure,' rather than celebrating the rebellion displayed by your inner strength and autonomy. By looking at beauty culture as an oppressive social system, Geertsen joins the ranks of all those who are striving to change the world by creating social justice. The Invisible Corset will teach you to trust your inner wisdom and help you heal your relationship to your body. It will give you the grace and ease that come with rejecting beauty and diet culture and owning your right to self-love." —Elyse Resch, MS, RDN, CEDRD-S, Fiaedp, FADA, FAND, nutrition therapist, author of The Intuitive Eating Workbook for Teens, and coauthor of Intuitive Eating and The Intuitive Eating Workbook


"This is a great book that unpacks important issues, including the toxic beauty industry! Definitely recommend that you read it!" —Jennifer Rollin, MSW, LCSW-C, clinical psychotherapist and eating disorder specialist
Sounds True, 9781683646181, 240pp.
Publication Date: January 19, 2021
About the Author
Lauren Geertsen is a body connection coach who helps women heal their relationship with food and body image. In her previous work as a nutrition consultant, Lauren realized the underlying problem for her clients was distrust of their bodies, which results from wearing the invisible corset. She now helps clients around the world trust their bodies and step into their soul purpose. Her website, empoweredsustenance.com, has supported over 40 million readers with holistic recipes and resources.