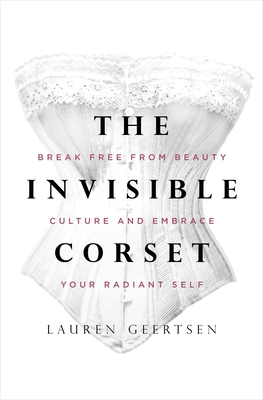 The Invisible Corset
Break Free from Beauty Culture and Embrace Your Radiant Self
Hardcover

* Individual store prices may vary.
Other Editions of This Title:
Digital Audiobook (1/18/2021)
Description
Learn to love your body—for real this time

Women in touch with the wisdom of their bodies are the single greatest threat to societal systems of domination, oppression, and control. We are also the greatest possibility to bring healing, peace, and restoration to our world. —Lauren Geertsen

No matter how much we try to tell ourselves to love our bodies and accept our flaws, most women can't quite get there. Even though we know the beauty standard is unrealistic, we secretly feel like it would be so much easier if our stomach were just a little flatter, or our skin a little smoother, or a million other little things. As a result, we sacrifice our health, heritage, sanity, and lives on the altar of beauty culture. Why is it so hard to feel confident about our bodies, or even just accept them?

Because willpower alone isn't enough to undo generations of brainwashing intended to repress women's confidence and power. In The Invisible Corset, Geertsen carefully illustrates the psychological gaslighting that leads women to internalize the belief that their appearance makes them not only unworthy of love, but incapable of fulfilling their actual destiny. By highlighting each restricting string of the invisible corset all women wear, Geertsen helps us reclaim our bodies for ourselves, discovering newfound confidence, power, joy, and pleasure as we do. You'll explore:

· How the invisible corset cuts you off from your body's wisdom and nature's intelligence—the true sources of your intuition, pleasure, and power
· How beauty culture is the most recent form of patriarchal oppression — and why women are both responsible and able to free ourselves
· Why the body positivity movement often makes self-criticism even worse
· The racist history of beauty culture, and how it still perpetuates racism today
· Journaling prompts, rituals, meditations, and other exercises to help unravel the toxic beliefs that keep the invisible corset in place
· A variety of practices to help you reconnect with your body—to tune into your intuition, set healthy boundaries, align with your True Self, and more

For any woman who is ready to go from struggle, discomfort, control, and shame to pleasure, confidence, freedom, and soul-fulfilling purpose, The Invisible Corset is an essential guide.
Praise For The Invisible Corset: Break Free from Beauty Culture and Embrace Your Radiant Self…
"The Invisible Corset will teach you to trust your inner wisdom and help you heal your relationship to your body. It will give you the grace and ease that come with rejecting beauty and diet culture and owning your right to self-love." —Elyse Resch, MS, RDN, CEDRD-S, coauthor of Intuitive Eating

"The Invisible Corset lifts the shackles of our conditioning and provides a manual for the revivification of the body through true love, not affected 'self-acceptance.' Give yourself the gift of healing the most important relationship in your entire life, starting here." —Dr. Kelly Brogan, MD, author of New York Times bestseller A Mind of Your Own and Own Your Self

"What a beautiful book. Lauren teaches reconnection and partnership with our body, in order to connect with its innate wisdom and break free from the abuse of toxic beauty culture. I felt myself breathing a little deeper, feeling a little more fully, and all my muscles slowly relaxing with every new chapter I read." —Caroline Dooner, author of The F*ck It Diet

"In a world where we are constantly bombarded with unrealistic standards of how to look and be, The Invisible Corset is a breath of fresh air. Lauren guides you to remove the invisible strings that keep you tied to a cycle of chasing unattainable beauty standards and helps you discover your path to self-love." —Dr. Jolene Brighten, NMD, bestselling author of Beyond the Pill

"The Invisible Corset is a gift to us all. Lauren's tools will empower you to let go of society's standards of beauty. She invites you to break up with shame and liberates you to find freedom in your own beauty that is unique to you. Her words will be tattooed on your heart and soul." —Dr. Morgan Francis, PsyD, body image therapist
Sounds True, 9781683646181, 240pp.
Publication Date: January 19, 2021
About the Author
Lauren Geertsen is a body connection coach who helps women heal their relationship with food and body image. In her previous work as a nutrition consultant, Lauren realized the underlying problem for her clients was distrust of their bodies, which results from wearing the invisible corset. She now helps clients around the world trust their bodies and step into their soul purpose. Her website, empoweredsustenance.com, has supported over 40 million readers with holistic recipes and resources.