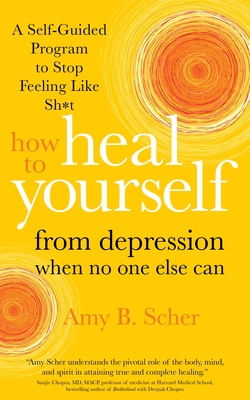 How to Heal Yourself from Depression When No One Else Can
A Self-Guided Program to Stop Feeling Like Sh*t
Paperback

* Individual store prices may vary.
Other Editions of This Title:
CD-Audio (4/6/2021)
Description
An accessible approach to helping anyone struggling with depression to reclaim a joyful life.

From feeling exhausted or blue to not being able to get out of bed, depression happens on a spectrum and can affect anyone. Our current approach of medicine and therapy doesn't always offer all the answers.


But according to Amy B. Scher, that's not as much of a mystery as you might think. If you've done everything to heal from depression but are still stuck, you're not alone.

Amy sees it as the literal depression of self—a side effect of being buried under our lives. It's not all in your head. It's not all in your body, either. It happens in the whole self. But just as depression happens in every part of you, healing does too.

Scher's bestselling books have been endorsed by prominent physicians and helped thousands of people overcome chronic illness, emotional challenges, and more.

With How to Heal Yourself from Depression When No One Else Can, she brings her proven approach of using energy therapy for releasing emotional stress and trauma to one of the most widespread mental health challenges of our time.
In this book, you'll:
• Learn how invisible emotions may be negatively affecting you
• Understand why it's okay to stop chasing that mountain of happiness we've been programmed to chase (spoiler alert: it doesn't even exist)
• Release stuck emotional baggage, even if you don't know what it is
• Use emotional healing techniques such as The Sweep to release subconscious beliefs and Thymus Test & Tap to clear stuck emotions from the body
• Learn how to release patterns like perfectionism, lack of boundaries, fear, and more that contribute to depression
• Get answers for your healing from your subconscious mind
• Finally end the cycle of depression and become the happiest, healthiest version of yourself


Amy has proven that working with the body's energy system for deep transformation is often effective when nothing else works.

Here she brings much-needed relief to anyone who wants to end the cycle of depression and rediscover the inherent wellness that resides in each of us.
Praise For How to Heal Yourself from Depression When No One Else Can: A Self-Guided Program to Stop Feeling Like Sh*t…
Praise for Amy B. Scher's Previous Books

This Is How I Save My Life

"Amy Scher is a brave warrior and a wonderful writer. She is a living example (very much living!) of what it looks like when a woman takes her health, her heart, and her destiny into her own hands. My hope is that this book will inspire many other women to do the same." —Elizabeth Gilbert, #1 New York Times bestselling author of Eat Pray Love and Big Magic

"A heartwarming and inspiring story that will change the way you look at life." —Vikas Swarup, New York Times bestselling author of Slumdog Millionaire

"Amy Scher goes to the edge of losing herself in mind, body, and spirit, and shows us that . . . sometimes it takes traveling to the other side of the globe to discover what was right in front of us all along." —Laura Munson, New York Times bestselling author of This Is Not the Story You Think It Is . . .

"A homecoming of healing, a human story of finding faith, wrapped in a blanket of humor and page-turning candor." —Kristen Noel, editor-in-chief of Best Self

"This is the rare book that is both breezy and deep. It speaks to the magic of international travel and how it can tempt and taunt you to expand into the very best version of yourself, or perhaps become someone entirely new." —Adam Skolnick, author of One Breath and over thirty Lonely Planet travel guides

"In her stunning new memoir, This Is How I Save My Life, the refrain 'we are the healing we've been waiting for' rings throughout . . . A beautiful testament to resilience that veers from the comical to the tragic." —Los Angeles Review of Books

How to Heal Yourself When No One Else Can

"[Amy Scher is] an inspiration, not just because she teaches us how to take healing into our own hands, but because she's living proof that it works." —Pam Grout, #1 New York Times bestselling author of E-Squared and E-Cubed

"Amy has seen the truth and can be a coach to all those who seek healing and authenticity. The potential resides in all of us, so read on, do not fear failure, and fulfill your potential while living an authentic life that you create and not one imposed by others." —Bernie Siegel, MD, author of A Book of Miracles and The Art of Healing

"Amy Scher takes you on a guided journey to resolve emotional, physical, and energetic blockages that get in the way of true healing. You will feel like you have a loving expert coach by your side along the way." —Heather Dane, coauthor with Louise Hay of Loving Yourself to Great Health

"Amy Scher is a voice of calm, reassuring wisdom. Her own triumph over illness is truly inspirational, but what really puts Amy in an inspirational category of her own is her warm, kind, down-to-earth, truly accessible approach." —Sara DiVello, bestselling author of Where in the OM Am I?

"Amy's story is awe-inspiring. Her book is full of wisdom and easy-to-implement techniques that have the power to help anyone reconnect their mind with their body and their heart with their soul and heal their entire lives. A really beautiful read." —Luminita D. Saviuc, author of 15 Things You Should Give Up to Be Happy

"How to Heal Yourself When No One Else Can is a comprehensive and user-friendly DIY manifesto that's the real deal. Amy guides readers toward authentic self-healing in a way that's easily accessible, honest, and relevant for today." —Chris Grosso, author of Indie Spiritualist

"Amy is a courageous pioneer in the field of mind-body-spirit healing. With proven, easy-to-follow techniques, you will gain insight into the root cause of pain, physical dysfunction, and illness and transform your health. . . . This book illuminates the path to wellness." —Sherrie Dillard, author of Develop Your Medical Intuition
Sounds True, 9781683646204, 320pp.
Publication Date: February 23, 2021
About the Author
Amy B. Scher is the bestselling author of How to Heal Yourself from Depression When No One Else Can and three other books about human-ing and healing. As an energy therapist, she helps people release emotional baggage to become their happiest, healthiest selves. Her work has been translated into 13 languages and has appeared on CNN and CBS, and in the Washington Post, the New York Daily News, Cosmopolitan, and more. Amy lives in New York City with her beautiful wife and bad cat. Most importantly, she lives by her self-created motto: When life kicks your ass, kick back. She can be found online at amybscher.com and youtube.com/amybscher.