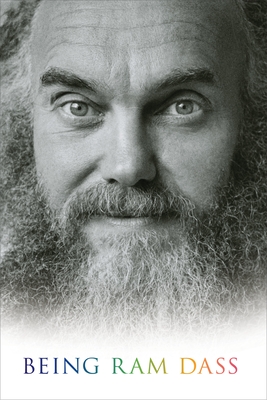 Being Ram Dass
Hardcover

* Individual store prices may vary.
Other Editions of This Title:
CD-Audio (2/16/2021)
Description
Set against a backdrop of nine decades of sweeping cultural change, Being Ram Dass shares this modern day luminary's journey from psychologist to renegade Harvard psychedelics researcher to beloved spiritual icon.

Perhaps no other teacher has sparked the fires of as many spiritual seekers in the West as Ram Dass. If you've ever embraced the phrase "be here now," practiced meditation or yoga, tried psychedelics, or supported anyone in a hospice, prison, or homeless center—then the story of Ram Dass is also part of your story.

From his birth in 1931 to his luminous later years, Ram Dass saw his life as just one incarnation of many. This memoir puts us in the passenger seat with the one time Harvard psychologist and lifelong risk-taker Richard Alpert, who loved to take friends on wild rides on his Harley and test nearly every boundary—inner or outer—that came his way.

Here, Ram Dass shares his life's odyssey in intimate detail: how he struggled with issues of self-identity and sexuality in his youth, pioneered psychedelic research, and opened the doorways to Eastern spiritual practices. In 1967 he trekked to India and met his guru, Neem Karoli Baba. He returned as a yogi and psychologist whose perspective changed millions.

Populated by a cast of luminaries ranging from Timothy Leary to Elisabeth Kübler-Ross, Allen Ginsberg to Sharon Salzberg, Aldous Huxley to Alan Watts—this intimate memoir chronicles Ram Dass's experience of the cultural and spiritual transformations that resonate with us to this day, a journey from the mind to the heart, from the ego to the soul.

Before, after, and along these waypoints, readers will encounter many other adventures and revelations—each ringing with the potential to awaken the universal, loving divine that links this beloved teacher to all of us.
Praise For Being Ram Dass…
"A comprehensive memoir from a famous but humble spiritual seeker." —Kirkus Reviews

"Being Ram Dass is a profound journey into the heart and soul of one of the world's most beloved spiritual leaders. Throughout, we are reminded that our intrinsically loving nature can never be tainted or destroyed." —Tara Brach, PhD, author of Radical Acceptance and Radical Compassion

"Ram Dass is one of the great spiritual masters of our time, who was at the same time extremely humble, approachable, and a quintessential storyteller! His stories were all inspiring, uplifting, and transforming. He also knew how to transcend all stories and find the highest truth in the pure knowing and love of just being. This book will be a joyful companion to anyone on the spiritual journey." —Deepak Chopra, MD, author of Total Meditation

"With his playful wit, luminous mind, and generous heart, Ram Dass lured generations of seekers into the life of the Soul. I am one of those lucky pilgrims. I met Ram Dass in the 1970s, when I was a teenager on fire with desire for God. Ram Dass pointed toward an array of sacred gates—Hinduism, Buddhism, Sufism, Christian mysticism, mystical Judaism—and beyond the traditions to what our Guru, Neem Karoli Baba, meant when he would say, "Sub ek" (All is One). This confluence of spiritual sources has permeated my life, giving rise to everything I do and am. This book, transmitted by Ram Dass in the final years of his life and beautifully transcribed by Rameshwar Das, is not only a thoroughly riveting read, but also a portal to that boundless wellspring of love." —Mirabai Starr, author of Caravan of No Despair and Wild Mercy

"Being Ram Dass is the profound story of one of the most inspiring souls of our times—a being who held the torch for all to follow. Lighting the way by acknowledging his own egoic journey, he moved beyond to embrace the divine and sacred in every moment. His humor and intellect inspired, while his actions have uplifted and continue to help so many. His deep love for everyone is his lasting legacy." —Stephan Rechtschaffen, MD, founder of Blue Spirit Costa Rica and Omega Institute

"As I was growing up and learning how to be a human being, Ram Dass—his books and his lectures—were my guideposts along the way. He was able to take what were to me complex Eastern religious philosophies and make them accessible. And then to meet and get to know him a bit—and to feel his true self and his kindness and humor and wisdom—was a gift." —Ben Cohen, founder of Ben & Jerry's Ice Cream

"What an utter delight and heart-bursting pleasure to immerse myself in Ram Dass's autobiography, Being Ram Dass. To be able to feel so much intimacy and connection with him this year is a like a healing balm for the uniquely challenging times." —Jamie Catto, director of Becoming Nobody film

"Ram Dass is no more. But he has left us a magnificent gift. Honest, touching, tender, and inspiring, his autobiography takes us on the journey of the making of an American saint. And what a journey it was! If you thought you knew Ram Dass, think again. And if you did not know him, get ready. This book will light up your soul." —Mark Epstein, MD, author of Thoughts Without a Thinker and The Trauma of Everyday Life
Sounds True, 9781683646280, 488pp.
Publication Date: January 12, 2021
About the Author
Ram Dass first went to India in 1967. He was still Dr. Richard Alpert, an already eminent Harvard psychologist and psychedelic pioneer with Dr.Timothy Leary. He continued his psychedelic research until that fateful Eastern trip in 1967, when he traveled to India. In India, he met his guru, Neem Karoli Baba, affectionately known as Maharaj-ji. Maharaj-ji gave Ram Dass his name, which means "servant of God." Everything changed then—his intense dharmic life started, and he became a pivotal influence on a culture that has reverberated with the words "Be Here Now" ever since.

Be Here Now, Ram Dass's monumentally influential and seminal work, still stands as the highly readable centerpiece of Western articulation of Eastern philosophy, and how to live joyously 100 percent of the time in the present, luminous or mundane. Be Here Now continues to be the instruction manual of choice for generations of spiritual seekers. Forty years later, it's still part of the timeless present. Being here now is still being here now. Ram Dass now resides on Maui, where he shares satsang, kirtan, and where he can amplify the healing process in the air and waters of Hawaii. His work continues to be a path of teaching and inspiration to so many. Ram Dass's spirit has been a guiding light for three generations, carrying along millions on the journey, helping free them from their bonds as he has worked his way through his own.
Anne Lamott
is the acclaimed writer of more than a dozen books of fiction, nonfiction, and collected essays. Her most recent book was
Small Victories: Spotting Improbable Moments of Grace
. Known for her honest, humorous approach to subjects such as faith and loss, Anne has received the Guggenheim Fellowship, taught writing at UC Davis, and was the subject of an Academy Award-winning documentary.