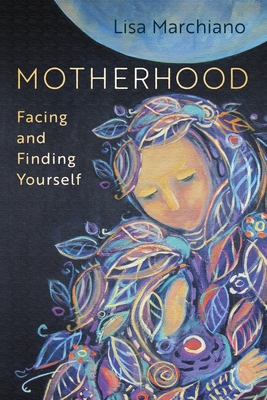 Motherhood
Facing and Finding Yourself
Paperback

* Individual store prices may vary.
Other Editions of This Title:
Digital Audiobook (5/24/2021)
MP3 CD (5/25/2021)
Compact Disc (5/25/2021)
Description
Join a respected Jungian analyst for a deep dive into the emotional and symbolic journey of motherhood.

Motherhood is the true hero's journey—which is to say that it can be as harrowing as it is joyful, and enlightening as it is exhausting. For Jungian psychoanalyst Lisa Marchiano, this journey is not just an adventure of diaper bags and parent-teacher conferences, but one of intense self-discovery.

In Motherhood, Marchiano draws from a deep well of Jungian analysis and symbolic research to present a collection of fairy tales, myths, and fables that evoke the spiritual arc of raising a child from infancy through adulthood. After all, this kind of storytelling has always been one of the most important conduits of humanity's collective wisdom—and Marchiano provides each tale alongside keen insights into the timeless archetypes they represent.

Balanced with real-life case stories from Lisa's own practice and in-depth questions for personal reflection, Motherhood explores how events like pregnancy, the calamities of childhood, and the empty-nest experience are invitations to an adventure into the wild frontier of your own soul. Here you will discover:

• How the challenges of motherhood send you on journeys into your innermost source
• Seeing the value of conflict with your child even while working to solve it
• "The dark passage" of confronting and dispelling the energy of childhood wounds
• "The thirteenth fairy"—how to recognize when we are resisting inconvenient or uncomfortable truths
• Understanding how anger, rage, and aggression arise in parental relationships
• Recognizing the ways that you have been taught to ignore your deepest instincts
• How to navigate the inevitable periods of grief that accompany your child's many life changes
• Why much of successful mothering requires surrendering your sense of control

With Lisa's gentle but straightforward guidance, you'll return from this inner journey in possession of the treasured knowledge needed to clarify your values, embrace your disowned parts, and claim the mantle of motherhood in the full bloom of your empowerment.
Praise For Motherhood: Facing and Finding Yourself…
"Motherhood is going to the top of my recommended reading list for new moms! Lisa Marchiano has written a book all women need to read as they step across the threshold into motherhood. Between the stories and poetic writing style, Motherhood wraps the reader up in a supportive embrace that holds you as you blossom, over and over again, into your authentic version of a mother." —Britta Bushnell, PhD, author of Transformed by Birth

"Motherhood is an ultimately complex journey—breathtakingly beautiful and achingly difficult in a single moment; Marchiano captures this essence beautifully in her new book. She helps us go deeply into ourselves as we explore what our own unique paths through motherhood have been while also uniting all mothers with the common ties that bind us. Truly a work I will return to time and time again." —Diana Spalding, MSN, CNM, author of The Motherly Guide to Becoming Mama, health and wellness director at Motherly

"This is the book my soul has been hungry for. It helped me reclaim the beauty and power in those shadowed parts of myself that populated the landscape of my mothering journey, no matter how hard I tried to vanquish them and how disappointed I was when I was unable to do so. Through richly woven tales and myths, wise reflections by a writer whose voice I immediately trusted, and insightful questions for self-inquiry, Motherhood offers a loving invitation, an odyssey, a joyful welcoming home. I cannot imagine a mother who would not experience an alchemical transmutation through her encounter with this brilliant guide." —Mirabai Starr, author of Caravan of No Despair and Wild Mercy

"This book shifted something inside of me. With an unflinching and deeply moving account of the maternal descent into the unknown, Lisa Marchiano offers her readers a map to healing through their own transformation. Motherhood feels like plunging into an abyss, and this book provides a container for an experience that can otherwise seem hopeless and unbearably lonely. Through a Jungian lens, Marchiano calls for a new way to think about our darkness—by engaging it, we can lift what was in shadow into the light. Remarkably, her exploration is at once wise and accessible. This is essential reading for those considering or experiencing motherhood, as well as for those who want insights into how they relate to their own mothers." —Avni Doshi, author of Burnt Sugar

"I have been waiting for someone to put into words the depths and heights that becoming a mother has brought into my life. When I picked up Lisa Marchiano's book Motherhood, I immediately sensed she was a kindred spirit who had traveled along some of the same roads I have in my journey as a mother and that my wait was over. Lisa's book is a beautiful, thoughtful look into how mothers grow up and into themselves along with their children. She does not shy away from the shadows found in becoming a mother and in dancing with them discovers medicine that brings us breadth and scope, not just as mothers but as humans." —Briana Saussy, author of Making Magic

"In Motherhood: Facing and Finding Yourself, Lisa Marchiano offers a brilliant, compassionate, and riveting deep dive into the varied aspects of motherhood and the self. Weaving case studies, fairy tales, and her own moving experiences, she takes a hero's journey into the depths of motherhood to return with gifts of wisdom, grace, and insight. Embracing the dark and the light, the joys and the sorrows, the hardships and the growth opportunities inherent in parenting, this book is an essential road map to one of life's most fraught and rewarding terrains. Compelling and fascinating reading for any student of Jung, motherhood, or the self." —Lisa Unger, New York Times bestselling author of Confessions on the 7:45

"Most books for mothers focus on parenting skills. Here at last is a wise and compassionate book about a mother's personal growth and psychological development. Jungian psychoanalyst Lisa Marchiano mines her parenting experience and those of her clients to explore how being a mother is a doorway to greater self-awareness. Lively, accessible, and warm, Motherhood draws on the inexhaustible well of myth, dream, and fairy tale to explore a mother's inner journey." —Linda Schierse Leonard, PhD, author of The Wounded Woman and On the Way to the Wedding

"The moment a bundle of joy arrives, a world of work and worry attend as well, and never leave. As the carrier and vehicle for life's continuation, the mother is called to daily sacrifice of her own needs on behalf of another's. Whipsawed between joy, pride, fatigue, anger, sorrow, and hope, she draws upon depths which she never knew within herself. The 'well' metaphor of this book is a reminder of not only the deep demands placed upon a woman with her own needs but also her profound resources upon which to draw. Motherhood offers women and men a new appreciation of the archetypal field from which such challenges and resources come. None of us would be here without someone making that timeless descent on our behalf." —James Hollis, PhD, Jungian analyst, bestselling author, former director of the Jung Society of Washington, DC

"Through her wise and life-enhancing reflections on the complex entanglements of motherhood, Lisa Marchiano offers an essential guide to navigating the deep, and often treacherous, waters of the archetypal feminine." —Sharon Blackie, MA, PhD

"There could be no better guide than Lisa Marchiano to the transformative adventure of parenting in all its joys, terrors, and opportunities to step beyond comfort into a deeper relationship with oneself and the world. This wise and fiercely compassionate book helped me understand the experiences of the mothers in my life and seems certain to become a dog-eared companion on my own journey as a father." —Oliver Burkeman, author of The Antidote
Sounds True, 9781683646662, 256pp.
Publication Date: May 25, 2021
About the Author
Lisa Marchiano, LCSW, is a clinical social worker, certified Jungian analyst, and a nationally certified psychoanalyst. She cohosts This Jungian Life, a podcast devoted to exploring current topics through the lens of depth psychology. She lives in Philadelphia. For more, see lisamarchiano.com.