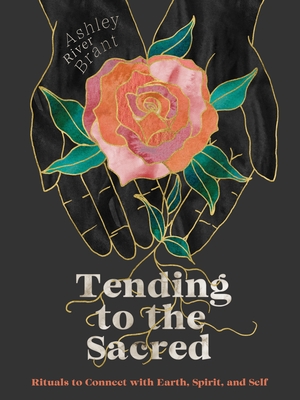 Tending to the Sacred
Rituals to Connect with Earth, Spirit, and Self
Hardcover

* Individual store prices may vary.
Description
Tap into your own healing power, and nourish your mind, body, and soul with 50 rituals for greater connection to life, love, and purpose.

What if every moment were a portal to the sacred? A pathway back to remembering your interconnectedness with the earth, the deep wells of wisdom within you, and your true spiritual sovereignty? In Tending to the Sacred, multidimensional artist and healer Ashley River Brant invites us to walk this path and step into our own sacred truth through the art of ritual.

"Ritual connects us to the otherworlds and the infinite potentials that exist in the unseen, and it opens us to our inner worlds and our true sovereign nature," Brant writes. "It is encoded in our DNA as an integral way of being—this book is just a pathway to remember."

Throughout Tending to the Sacred, Brant shares rituals and teachings to help you become more fully empowered and embodied in your life. You'll explore:

• The foundations of ritual—including the importance of intention, beliefs, and understanding energy
• Working with the elements—tuning in to the medicine of each element, from grounding with the earth to making ceremonial moon waters for strengthening intuition
• Recipes and instructions for working with plant medicine—create your own oils, essences, teas, and more
• Mantras, journal prompts, and guided visualizations—to bring you even deeper into the healing power of ritual
• Soul-activating illustrations—Brant's original spirit-infused artwork brings depth to each teaching
• Tending to yourself and spirit—rituals for healthy boundaries, creativity, working with your dreams, and more

Woven from an abundance of ancient wisdom, heart medicine, and creativity, Tending to the Sacred is a potent yet accessible guide for anyone who longs to strengthen your connection with spirit, embrace the earth's natural rhythms, and come home to your true nature.
Praise For Tending to the Sacred: Rituals to Connect with Earth, Spirit, and Self…
"Open, deep, and wild, Ashley is a multi-gifted creatress who inspires imagination in us all." —Deborah Hanekamp, healer and author of Ritual Baths: Be Your Own Healer

"Ashley River Brant's generous vulnerability flows freely in Tending to the Sacred. The profoundly heart-opening invitations present within offer gentle guidance toward cultivating deeper reverence in one's life. This book is a precious keepsake, as each page encourages you to slow down and marinate in its richness—a true Taurean gift to us all!" —Jeff Hinshaw, astrologer, tarot healer, and host of Cosmic Cousins podcast

"As I began reading Ashley's incredibly beautiful story, I had a sense as well as a vision of a woman appearing out of the mist. There are wildflowers all around us, and she, in the kindest of ways, is welcoming us along a path through nature. The sense is that nature is to be trusted and your nature is too. Ashley, I do believe, is a mystic. As I continued reading, I felt that she was introducing me to the natural spiritual world; I was being reminded that it's made of love, just as we are. This precious book will help you remember that ceremony is to be trusted. . . . I have this feeling in my heart that many souls will gravitate to this precious pearl of a book and that they'll remember the scent of the sacred. This incredibly sweet gift that Ashley has offered the world with tenderness through her writing is so deeply connected to the subtle realms. It is quite possibly the deeply gentle that can support the turning of the tides in a way that we are really needing. I feel blessed by the opportunity to receive the deeply nourishing medicine that is . . . Ashley's beautifully sculpted pearl of a book." —Liv Mokai Wheeler, international ritual facilitator and author of With the Love of the Ancients: My Spiritual Journey of Remembering

"Ashley is a humble and powerful guide creating breathtakingly lucid road maps for awakening to our eternal knowing." —Nicole Adriana Casanova, soul architect and creator of Love Letters to Earth Oracle Deck
Sounds True, 9781683646785, 296pp.
Publication Date: June 8, 2021
About the Author
Ashley River Brant is a multidimensional artist and feminine healer bringing her medicine through as the creator of Soul Tattoo®, a ceremonial intuitive tattooing modality, as well as with film photography, illustration, writing, as the host of Weaving Your Web podcast, and through her online courses. Ashley uses her gifts of mediumship and connections to the loving spirits of the natural world to offer a feminine voice of healing expression for collective transformation in all her work. Ashley's focus is to assist her clients, and all who are drawn to her work, in awakening to a new wave of feminine power, attuned to the mystery, honoring the creative and intuitive power within us all, and embodying it with grounded presence and purpose, so that we may all heal, open our hearts to the sacred, and align with our authentic expression and soul's true essence. Ashley will be releasing her first book and first oracle deck with Sounds True in 2021.