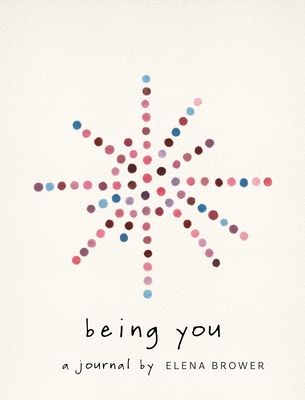 Being You
A Journal
Paperback

* Individual store prices may vary.
Description
A journal from yoga luminary and artist Elena Brower to open you to self-discovery, joy, and healing

Being You: A Journal takes you on an interactive journey of discovery, creative expression, and empowerment. Filled with prompts, thoughtful questions, lists, inspiring quotations, and beautiful art, this journal will help you embrace self-discovery, work through difficult feelings, and shape the life you want.

A celebration of joys, possibilities, and potential, Being You also embraces the questions, anxieties, and complexities of life. You'll learn to own your experience and authentically define the changes you want to see in yourself and in the world.
Praise For Being You: A Journal…
"What does it mean to become ourselves, deeply and wholly ourselves? Elena Brower offers us a magnificent toolbox, spacious, beautiful, elegant, for this most essential human work." —Dani Shapiro, New York Times bestselling author of Inheritance

"When the institutions around us fail, students and teachers must be more vigilant in seeking tender touch and rigorous conversations. Elena Brower is the most tenderly rigorous teacher and student of our time. Her work gives us a chance to revise internally and heal communally." —Kiese Laymon, author of Heavy and Long Division

"Being You is an antidote for these times, a healing space for reflection, an invitation to look inward and reconnect with ourselves." —Arianna Huffington, founder & CEO, Thrive Global

"Once again, Elena has created a sacred space for intimate reflection, personal healing, and deliberate transformation—Being You invites each of us to reimagine who we are, and provides us with the guidance needed to become the most authentic, genuine version of ourselves." —Meera Lee Patel, bestselling author of Start Where You Are, My Friend Fear, and Create Your Own Calm

"In a stunning follow-up to Practice You: A Journal, Elena Brower offers a soulful, guided invitation into your heart's longing. Using soft, delicious watercolors paired with poetic writing prompts, Being You is more than a journal—it's an invitation to create a living altar to your inner life." —Toko-pa Turner, author of Belonging: Remembering Ourselves Home

"In Being You, Elena offers artistry as a way to cultivate liberative distinction and healing. On these pages, we embody mindful practices for our time and all times." —Ruth King, author of Mindful of Race: Transforming Racism from the Inside Out

"Elena Brower is a light in the world whose beautiful work is an ongoing inspiration and source of strength. Having walked her own healing path, she understands that the power of yoga lies within, and begins anew with each day of practice. In a world of quick-fix spiritual solutions and self-proclaimed yoga masters, Elena is a rare and welcome exception. I recommend her world wholeheartedly." —Mark Matousek, bestselling author of When You're Falling, Dive: Lessons in the Art of Living

"Elena's created a sacred space for reflection and spiritual connection. Let her designs inspire you to turn inward." —Gabrielle Bernstein, #1 New York Times bestselling author of The Universe Has Your Back

"With her captivating art, Elena translates emotion directly onto the page. Together, her illustrations and words powerfully encapsulate illuminating teachings, providing readers with a space for healing, self-reflection, and inspiration." —Thelma Golden, director and chief curator of The Studio Museum in Harlem

"In Being You, Elena offers us the opportunity to go within and uncover the deepest and most profound ways we can cultivate internal healing and love. As we become mindful of the love that is a constant within us . . . we see it all around us. Thank you, Elena, for this gift." —Koya Webb, author of Let Your Fears Make You Fierce: How to Turn Common Obstacles into Seeds for Growth

"The powerful messaging in Being You strikes chords of recognition deep in my heart, amplified by Elena's evocative artwork. This journal is a portal to the most sacred healing within each of us." —Athena Calderone, founder of EyeSwoon, author of Cook Beautiful and Live Beautiful

"Being You is a magical tool for diving deep within. The potent artwork and energy on each page helps us face inner obstructions to instantly feel lighter, more free." —Melissa Wood-Tepperberg, wellness expert
Sounds True, 9781683647126, 152pp.
Publication Date: January 19, 2021
About the Author
Elena Brower is a mama, an author, a teacher, and an artist. Devoted to cultivating meditation as your most healing habit, she's created books and programs with Sounds True. Her yoga workbook Art of Attention has now been translated into six languages, and Practice You, her journal, is beloved globally. She's developed two audio programs with Sounds True, The Return Home and Grounded and Free.