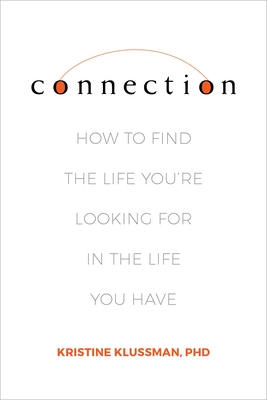 Connection
How to Find the Life You're Looking for in the Life You Have
Hardcover

* Individual store prices may vary.
Other Editions of This Title:
MP3 CD (4/27/2021)
Compact Disc (4/27/2021)
Description
Discover the Key to Lasting Happiness by Cultivating Authentic Connection in Everyday Life.

We are in the midst of an epidemic of loneliness. Though modern technology purports to "connect" us like never before, we live increasingly isolated and insulated lives, painfully disconnected from each other, from our values, and from ourselves. Indeed, almost 70 percent of Americans report they don't have a single person they can confide in.

Rooted in established scientific findings, as well as her own research and clinical experience, Harvard-trained psychologist and connection researcher Dr. Kristine Klussman's approach to well-being is simple and transformative. Klussman shows us that the way to achieve true happiness and fulfillment is not by striving toward them at all, but rather by cultivating connection in our everyday lives. As Klussman says, "Happiness is what we are all chasing, but connection, meaning, and a sense of purpose are the cravings that actually fulfill us and lead to enduring life satisfaction."

Connection brings readers an eye-opening and actionable guide that teaches how to nurture your own self-knowledge and integrity—and how to use that knowledge to shape a life rich with meaning and purpose. With Connection, you will discover how to connect with yourself and the world around you in deeper and more significant ways. Through experiential exercises and guided reflection, Klussman teaches readers how to live their best lives in alignment with their values, hopes, and dreams.

"The beauty of connection theory is that you really only have to remember one thing in order to increase your ability to effect meaningful change across multiple dimensions of your life," writes Klussman. "Make achieving authentic connection your goal." Connection will help you orient your life around your soul's deepest and most authentic truths. Join Dr. Kristine Klussman to discover the tranquility, comfort, and gratitude that arise when we are fully and consciously connected.
Praise For Connection: How to Find the Life You're Looking for in the Life You Have…
"This is one of the best books on personal growth I've ever read. With warm encouragement and easy, practical steps, Dr. Klussman brings us home to a natural connection, confidence, and ease. You can trust what she says since her path is grounded in science and she's walked it herself. Clear, brilliant, and so hopeful, this book is a gem." —Rick Hanson, PhD, author of Resilient

"In refreshingly skillfully ways, Kristine invites us into deep connection and well-being underneath all our busy, separate lives. This is a wise vision and a transformative way to awaken." —Jack Kornfield, author of A Path with Heart and cofounder of Spirit Rock Meditation Center

"I think it is a very important addition to our understanding of how and why people metabolize challenges differently. It offers an important perspective for doctors, nurses, therapists, teachers . . . everyone in helping professions." —Sylvia Boorstein, PhD, author of Happiness Is an Inside Job

"This book helps us answer the fundamental WHY question—Why do I get up in the morning?—and then guides us to authentically stay awake on purpose." —Richard Leider, author of The Power of Purpose and coauthor of Repacking Your Bags

"This is a remarkable handbook for transformation. Kristine offers life-changing insights on what true satisfaction looks and feels like. This message will light the way to the world we all want: a more just, sustainable, and meaningful future for all." —Lynne Twist, author of The Soul of Money

"The greatest pandemic in modern history is loneliness. We are so digitally 'connected' and yet many feel so disconnected within ourselves. This book is not just timely, it is essential. Kristine's unique approach of blending science, practice, and her own personal journey makes for a compelling read." —Philip McKernan, author of One Last Talk

"Ready for a clear roadmap to a meaningful life? Striving for a deeper connection to yourself and the world around you? Dr. Kristine Klussman has laid the path to get you there in her new book, Connection. Using her expansive experience and personal dedication to evolution, Klussman provides the keys to understanding yourself and how you fit, happily, into every day of your life." —Elizabeth Hamilton-Guarino, author of Percolate

"This is THE go-to guide for awakening the mind and body while cultivating emotional mastery, deep meaning, and a profound sense of purpose fulfillment in every area of life. Kristine's support and in-depth protocols offered throughout the Connection program are not only tried-and-true strategies proven effective in countless clinical sessions and community practice—they're clearly designed to be accessible and likewise activating for anyone and everyone ready to awaken into greater connection with themselves and with all of life." —Sydney Campos, spiritual healer and author of The Empath Experience

"Self-awareness, acceptance, and alignment set the foundation for peace and joy. In this book, Dr. Kristine Klussman presents a beautiful roadmap to get you there." —Shannon Kaiser, author of The Self-Love Experiment and Joy Seeker

"Kristine Klussman has written a very important book. No, actually, it's a critical guide to help us navigate these unprecedented times of disconnection. Her book, all about connection, points out how the lack of it is negatively impacting every single area of life that matters to us on every level—physical, emotional, psychological, and spiritual—and shows us how to shift things in the right direction. I'll be recommending this book to everyone." —Karen Jones, relationship coach and author of Men Are Great
Sounds True, 9781683647157, 224pp.
Publication Date: April 13, 2021
About the Author
Kristine Klussman, PhD, is a Harvard-trained positive health psychology researcher, clinician, and community organizer dedicated to helping individuals more effectively solve societal problems by emphasizing personal accountability and transformation. She is the founder of the Purpose Project (as well as its research arm, Connection Lab), a nonprofit think tank committed to the scientific research, exploration, education, and practice of authentic connection. She lives in the San Francisco Bay Area. For more, see kristineklussman.com.
or
Not Currently Available for Direct Purchase