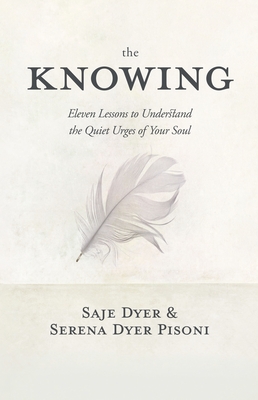 The Knowing
11 Lessons to Understand the Quiet Urges of Your Soul
Hardcover

* Individual store prices may vary.
Other Editions of This Title:
Paperback (5/1/2024)
Description
The daughters of beloved teacher Wayne Dyer share their ever-evolving understanding of their father's timeless teachings.

"This book is our song for our father and for everyone, because we're all born with a Knowing—an inner compass, the quiet urgings of our soul that guide us. It is through giving love, offering kindness, and paying attention that we can return to our Knowing."
—Saje Dyer and Serena Dyer Pisoni

To millions of readers around the world, Dr. Wayne Dyer was the beloved "Father of Motivation"—but to Serena, Saje, and their six siblings, he was simply "Dad." When he died suddenly in 2015, the sisters were blindsided by grief and felt unprepared to navigate life's challenges and conflicts without his guidance.

The experience launched them on an adventure from loss to understanding as they came to realize and metabolize their father's teachings with a new urgency, intimacy, and power as they applied them to their lives. As their journey unfolded, they realized their father's wisdom—"The Knowing"—was embedded in their DNA … as it is for all of us.

"We didn't discover The Knowing," write the authors. "We simply returned to it."

In The Knowing, Saje and Serena share how they recommitted to the teachings of their father and, in doing so, created their own evolution of his principles that they teach today. They share the 11 lessons that cracked them open and sparked their own spiritual journey, including:

• Parented in Pure Love—the joys, surprises, and gifts of growing up in the Dyer family
• How the Soul Remembers—how to become a host for miracles instead of a hostage to circumstance
• Take Your Shoes Off—bringing stillness to the mind to open your heart to guidance
• The Geometry of Forgiveness—change your life and the lives around you with a simple prayer
• Especially Love—how to always return to love, kindness, and receptivity

The Knowing is a book for seekers young and old, for fans of Wayne Dyer's work and newcomers alike. Here is a profound and loving guide to lead you back—in crisis, in joy, or in this present moment—to the wellspring of wisdom that always dwells within.
Praise For The Knowing: 11 Lessons to Understand the Quiet Urges of Your Soul…
"The Knowing is a profound book that will strengthen your spiritual faith. Serena and Saje remind us that choosing to perceive the world through the lens of love is the gentle approach to life. I'm deeply proud of their commitment to being the voice for their father, channeling his wisdom in their own unique ways." —Gabrielle Bernstein, #1 New York Times bestselling author of The Universe Has Your Back

"Returning to the inspirational teachings of their father, Dr. Wayne Dyer, after his death, Serena Dyer Pisoni and Saje Dyer share a deep personal story using poignant reflections integrated with the wisdom and spiritual understanding they received from their parents. This launched them on a journey back to 'the Knowing,' which brought a deep connection and a realization that this knowing was always present. Rich and rewarding; a must read." —Anita Moorjani, New York Times bestselling author of Dying to Be Me and What if This Is Heaven

"This book is a testament to the power of love. Serena and Saje have so eloquently embodied their father's teachings and have made them relevant and accessible to today's spiritual seeker. As a father myself, I can't help but feel pride on behalf of my dear friend Wayne Dyer to see his daughters' beautiful approach to stepping into his shoes." —Tony Robbins, #1 New York Times bestselling author of Money and Unshakeable
Sounds True, 9781683647171, 280pp.
Publication Date: May 11, 2021
About the Author
Serena Dyer Pisoni is the author of Don't Die with Your Music Still in You: My Experience Growing Up with Spiritual Parents, which was featured on oprah.com, The Bonnie Hunt Show, and The Manifest-Station. She has been a contributor to HuffPost and Positively Positive. For more, visit serenadyer.com.

Saje Dyer is the author of Good-bye, Bumps!: Talking to What's Bugging You and was a featured speaker in the 2014 Game Changer Global Summit. For more, visit sajedyer.com.
or
Not Currently Available for Direct Purchase