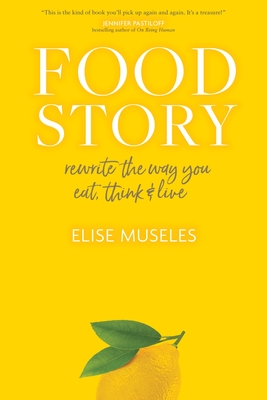 Food Story
Rewrite the Way You Eat, Think, and Live
Hardcover

* Individual store prices may vary.
Description
"In Food Story, Elise Museles shows you how to heal your relationship with food, make nourishing choices, and feel 'in charge' of your health and your life." —Mark Hyman, MD, New York Times bestselling author of The Pegan Diet and head of strategy and innovation at the Cleveland Clinic Center for Functional Medicine

Finding peace with food isn't about eating more kale, drinking more water, or doing more yoga. It's about unlocking your food story, your inner narrative about what you eat and why you eat what you do.

When it comes to food, everyone has a story. The way you feel about food, think about food, deprive yourself or overindulge, the specific things you crave … There's always a story behind it. Your food story is a big swirl of many things: how you were raised, the messages you received from influential people and absorbed from the media, your positive memories and your painful memories about food. All of it comes together to create thoughts and patterns that directly impact your health and happiness.

In Food Story, certified eating psychology expert and health coach Elise Museles offers you a way out of all the stress and confusion with food, and leads you to a more joyful and relaxed way to eat, think, and live. By understanding your food story, how it formed, and how it drives your choices, you'll say goodbye to guilt and shame as you release the disempowering stories looping inside your mind. You'll finally allow food to help you live your best life—not control it.

Food Story is a permission slip to love yourself, filled with juicy questions for reflection, practical tools for cultivating confidence, and grounding rituals for tuning in to your body's true needs and desires. Plus, you'll discover a fun, science-backed way to look at food with over 35 luscious recipes divided by mood. Whether it's happy, focused, radiant, strong, comforted, sensual, or calm, there are nutrients (and recipes!) to bring on that feeling!

With Food Story, you'll find all the ingredients you need to banish negative self-talk, reclaim your power, and transform your relationship with food—and yourself—for good.
Praise For Food Story: Rewrite the Way You Eat, Think, and Live…
"Food Story offers a roadmap to help quiet your inner a$$hole and reclaim your personal power. Elise guides you toward a new chapter in your relationship with yourself through food. This new paradigm is messy and beautiful, and it allows you to be fully human. It's the kind of book you'll pick up again and again, like your most trusted friend who never bullsh*ts you. This book is a treasure." —Jennifer Pastiloff, bestselling author of On Being Human

"Elise Museles has done something that few health experts have accomplished—she's created a powerful book about food and personal growth that's inspiring, practical, and full of soul. I consider this a must-have for anyone wanting to find healing and wholeness when it comes to their relationship with food." —Marc David, founder of the Institute for the Psychology of Eating and author of Nourishing Wisdom and The Slow Down Diet

"In Food Story, Elise Museles shows you how to heal your relationship with food, make nourishing choices, and feel 'in charge' of your health and your life." —Mark Hyman, MD, New York Times bestselling author of The Pegan Diet and head of strategy and innovation at the Cleveland Clinic Center for Functional Medicine

"I love this book because understanding your food story and feeling empowered to write it yourself is key to proper self-nourishment. Elise guides readers with warmth and compassion, as well as high-yield, actionable information and rituals." —Drew Ramsey, MD, founder of the Brain Food Clinic, and assistant clinical professor of psychiatry at Columbia University

"If you're looking for an authentic, practical, and delicious guide to rewriting your relationship to food, you've found it! Food Story delivers it all, and Elise makes it effortless and accessible. I want some of what she's having!" —Robynne Chutkan, MD, FASGE, founder of the Digestive Center for Wellness and author of Gutbliss, The Microbiome Solution, and The Bloat Cure

"Elise is compassionate, deeply insightful, and passionate as she helps us reframe our personal relationship with food in this beautiful, empowering guide." —Kimberly Snyder, New York Times bestselling author, celebrity nutritionist, and founder of Solluna

"In Food Story, Elise shows you that grocery shopping can be fun, cooking can be simple, and eating can be deeply nourishing—both physically and emotionally." —Frank Lipman, MD, functional medicine pioneer and author of The New Rules of Aging Well and Better Sleep, Better You

"What's more delicious than the recipes in this book? The experience of finally having a loving, nourishing, and balanced relationship with food itself. Through her own story of vulnerability, honesty, and unmatched expertise, Elise Museles has written the ultimate guide to cherishing food and cherishing yourself." —Jessica Zweig, bestselling author of Be. and founder of SimplyBe. Agency

"I'm endlessly inspired by Elise's contagious passion and enthusiasm for eating psychology and how we can transform perfectionism and self-deprivation into simplicity, self-love, and peace, beginning with our plates." —Victoria Erickson, author of Edge of Wonder and Rhythms and Roads

"Ever wish you could turn the page on your eating habits and end up in a happier, healthier relationship with food (and I mean a long-term relationship, not a one-night stand)? Elise Museles show you how to write your new food story and replace stress, cravings, and guilt with a sense of satisfaction and accomplishment." —Kenneth A. Cook, president of Environmental Working Group

"Finally, a book that helps you address your whole story and changes your entire relationship with food. Elise shows us how to rewire ourselves to eat and live with joy. I highly recommend this book to anyone who is ready to transform food anxiety and guilt and become a happier, healthier person." —Amy B. Scher, author of How To Heal Yourself From Depression When No One Else Can

"Something magical happens when we pick up a pen and write out our stories. Elise Museles has created a blueprint for releasing old narratives that keep us stuck and frustrated, resulting in fresh energy and a sense of personal power in this delicious offering. Food Story will move you into a beautiful, novel way of living, where stress is no longer a dominant character and ease and joy play starring roles." —Linda Sivertsen, award-winning author of Generation Green and host of the Beautiful Writers Podcast

"Food Story is an empowering book that takes us back to basics so that we can truly thrive. Elise offers essential multi-generational wisdom on how we can create healthy food habits for ourselves and, as parents, help build habits toward raising healthy adults." —Colleen Wachob, co-founder and co-CEO of mindbodygreen

"As registered dietitians, we see the negative effects of fad diets on a regular basis, as they leave people emotionally unsupported and feeling like they've failed. Elise delivers tools that allow people to forge their own paths to wellness and create positive, lasting effects. We love the tone Elise sets of embracing your food story as a jumping-off point for the positive growth to come. We need more messages like Elise's to encourage healthful eating through positivity, self-love, and a respect for the power of our relationship with food." —Stephanie Clarke, MS, RD, and Willow Jarosh, MS, RD, coauthors of Healthy, Happy Pregnancy Cookbook

"Elise is a breath of fresh air! Her uplifting spirit has inspired thousands of women to take care of themselves and eat whole, nourishing foods. Her ability to have a positive outlook and shine her bright light is extraordinary, and I know she will lift up thousands of others with this incredible new book." —Amie Valpone, bestselling author of Eating Clean

"Elise reflects on and demonstrates the importance of creating a healthy and happy food story that is individualized. Sometimes we have to disconnect from the emotional aspect of the past and release the negative memories tied around our old stories in order to move forward positively in mental, physical, and emotional health. Food Story does exactly that." —Erica Reid, bestselling author of The Thriving Child and Shut Up and Cook!, and founder and creator of nécessité
Sounds True, 9781683647195, 328pp.
Publication Date: October 26, 2021
About the Author
Elise Museles holds four certificates in holistic health and integrative healing. She is on the Environmental Working Group board of directors and has been a National Institutes of Health (NIH) grant recipient for five years in a row. A frequent podcast guest, she is host of the popular Once Upon a Food Story podcast. Her work has been featured in O, The Oprah Magazine, Forbes, Health, Self, ELLE, Well+Good, The Chalkboard, mindbodygreen, and other outlets. For more, visit elisemuseles.com.
or
Not Currently Available for Direct Purchase