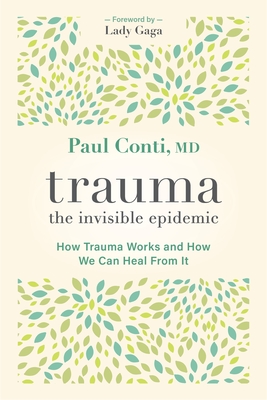 Trauma
The Invisible Epidemic: How Trauma Works and How We Can Heal From It
Paperback

* Individual store prices may vary.
Description
A Journey Toward Understanding, Active Treatment, and Societal Prevention of Trauma

Imagine, if you will, a disease—one that has only subtle outward symptoms but can hijack your entire body without notice, one that transfers easily between parent and child, one that can last a lifetime if untreated. According to Dr. Paul Conti, this is exactly how society should conceptualize trauma: as an out-of-control epidemic with a potentially fatal prognosis.

In Trauma: The Invisible Epidemic, Dr. Conti examines the most recent research, clinical best practices, and dozens of real-life stories to present a deeper and more urgent view of trauma. Not only does Dr. Conti explain how trauma affects the body and mind, he also demonstrates that trauma is transmissible among close family and friends, as well as across generations and within vast demographic groups.

With all this in mind, Trauma: The Invisible Epidemic proposes a course of treatment for the seemingly untreatable. Here, Dr. Conti traces a step-by-step series of concrete changes that we can make both as individuals and as a society to alleviate trauma's effects and prevent further traumatization in the future.

You will discover:

• The different post-trauma syndromes, how they are classified, and their common symptoms
• An examination of how for-profit health care systems can inhibit diagnosis and treatment of trauma
• How social crises and political turmoil encourage the spread of group trauma
• Methods for confronting and managing your fears as they arise in the moment
• How trauma disrupts mental processes such as memory, emotional regulation, and logical decision-making
• The argument for a renewed humanist social commitment to mental health and wellness

It's only when we understand how a disease spreads and is sustained that we are able to create its ultimate cure. With Trauma: The Invisible Epidemic, Dr. Conti reveals that what we once considered a lifelong, unbeatable mental illness is both treatable and preventable.
Praise For Trauma: The Invisible Epidemic: How Trauma Works and How We Can Heal From It…
"Trauma: The Invisible Epidemic will be a game changer. It provides not only the wisdom and intelligence of the author—an experienced professional in the worlds of psychiatry and sociology—but unlike other intellectual books written about trauma, Paul's offers a multitude of solutions. These practical responses to trauma address everything from physical and mental health to encouraging self-care and correcting unhealthy behaviors. Trauma affects countless individuals and families, and Paul's book is carefully thought out and explained in ways that are understandable to everyone. Wisdom and patience prevail in his unique outlook on a subject that has been largely ignored by doctors for years. It's a must-read for professionals as well as anyone who has experienced trauma or other psychological stressors." —Tommy Hilfiger, entrepreneur, author, and philanthropist

"Dr. Conti is a physician and psychiatrist, and a person who has been through a lot, too. This gives him a unique perspective on how people function and how traumas can change us, specifically how traumas lead us to think and act differently without understanding why. Dr. Conti explains how trauma interacts with the way our brains work and how trauma is affected by certain aspects of society, and he does so with vivid illustrations of real people and their lives. But this book doesn't just stop there. Dr. Conti also provides real solutions—solutions people can use for themselves and their loved ones, and solutions to help make the world a kinder and safer place." —Kim Kardashian, actress, producer, and businesswoman

"Paul Conti is one of the most unique and thoughtful physicians I have ever met. His approach to psychiatry is interactive both with the patient and with the referring physician. I have a large, successful concierge practice in New York and am often asked to see patients with complicated medical issues. Of all of the consultants I refer patients to, Paul is the most effective. Any time I have a patient with a complicated medical history and many previous evaluations, I reach out to Paul, who has taught me to look for and find the underlying trauma in their lives. Paul, my patients and I thank you for teaching me to be a better physician." —Bernard Kruger, MD, oncologist and cofounder of Sollis Health

"After reading Paul Conti's excellent book, Trauma: The Invisible Epidemic, I now understand that trauma exists in all of us. Sometimes we remember it, but even when we can't, it remembers us, keeping us from living our lives fully. Until we can identify it and bring it to the light, we exist with fears, anxieties, and masks that keep us from living in the light. Paul Conti's book helps us identify the trauma(s) we have endured in our lives and helps us move toward healing—no small task in today's traumatic world." —Carole Bayer Sager, Golden Globe– and Academy Award–winning lyricist, singer, and songwriter

"I've known Paul Conti for nearly 25 years, and over the course of that time I have been privileged to witness, and benefit from, both his brilliance and his insight into the human condition. Paul has lived through terrible tragedies and, as such, can speak to the important subject of trauma as both a clinical expert and a regular person who has suffered and struggled as so many of us have. Paul's impact on my own life, and the lives of many of my patients, has been greater than I could ever explain on the back of a book jacket." —Peter Attia, MD, physician, consultant, and cofounder of Zero
Sounds True, 9781683647355, 200pp.
Publication Date: October 5, 2021
About the Author
Paul Conti, MD, is a graduate of Stanford University School of Medicine. He completed his psychiatry training at Stanford and at Harvard, where he was appointed chief resident. He then served on the medical faculty at Harvard before moving to Portland, Oregon, and founding a clinic. Dr. Conti serves patients and clients throughout the United States and internationally, including the executive leadership of large corporations. He specializes in complex assessment and problem-solving, as well as both health and performance optimization. For more, see pacificpremiergroup.com.

Lady Gaga is an Academy Award winner, a two-time Golden Globe winner, and an eleven-time Grammy Award winner. She has amassed an outstanding 35 million global album sales, 32 billion streams, and 275 million in song consumption, making her one of the bestselling musicians of all time. She has also been a trailblazer in fashion, beauty, and philanthropy. In 2012, Lady Gaga launched Born This Way Foundation, a nonprofit organization dedicated to empowering youth, embracing differences, and inspiring kindness and bravery. She is also an outspoken activist, philanthropist, and supporter of many important issues including mental health issues, LGBTQ+ rights, HIV/AIDS awareness, and body image issues.