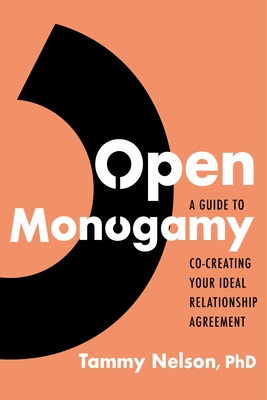 Open Monogamy
A Guide to Co-Creating Your Ideal Relationship Agreement
Paperback

* Individual store prices may vary.
Other Editions of This Title:
MP3 CD (12/14/2021)
Compact Disc (12/14/2021)
Description
Dr. Tammy Nelson is a relationship revolutionary. Her rethinking of monogamy—as a practice, a continuum, and a flexible concept—is on point, actionable, and nothing less than a significant cultural shift.
—Wednesday Martin, PhD, New York Times bestselling author of Primates of Park Avenue and Untrue

Love is eternal—but in an age when we live longer, communicate differently, and value gender equality, is it any wonder so many people are looking for new ways to support lasting, loving partnerships? "Monogamy is no longer a simple concept," says Dr. Tammy Nelson. "More couples every year are experimenting with open relationships and newer, more flexible versions of commitment … yet few of us have been prepared with the skills we need to make those agreements work."

Open Monogamy is a practical guide for people who wish to explore new directions in their relationships—to bring in excitement, variety, and fresh experiences without sacrificing trust, security, and respect. Through solo and partner exercises and real-life stories from people across the spectrum of relationship styles, you'll explore:

• The changing face of relationships—why the time to explore new visions of love has arrived
• Can open monogamy work for you? Self-assessment tools to find your place on the "monogamy continuum"
• Essential skills for having honest conversations about attraction and desire
• Exercises to remove shame and suspicion about open relationships
• How to create agreements—traditional or otherwise—that are fulfilling, exhilarating, and built to last

Dr. Nelson's 30 years of experience as a relationship and sex therapist have shown her that relationships can flourish even when the old idea of monogamy fails. "You want to love each other with fairness and integrity because that's what you signed up for, and honesty aligns with your shared values … But you also want more. You want answers. The bad news? There is no one right way to do this. The good news? You can have anything you want."

If you've ever wondered how to try an open relationship or polyamory, Open Monogamy gives you the tools you need to create a commitment agreement as unique as your love.
Praise For Open Monogamy: A Guide to Co-Creating Your Ideal Relationship Agreement…
"Open monogamy is the #1 topic on so many of my patients' minds and is fast redefining what it means to be a couple. Whether you're curious, contemplating, or creating an open monogamy plan, I can think of no one better than Tammy Nelson to guide you every step of the way through the peaks and valleys of your journey." —Ian Kerner, PhD, LMFT, New York Times bestselling author of She Comes First

"Tammy Nelson has provided us with a hopeful, practical, and realistic guide to creating honest, values-led, flexible relationship agreements. With exercises, conversation guides, and stories from real life and the therapy room, she illuminates infinite possibilities for crafting unique and flexible forms of monogamy." —Martha Kauppi, LMFT, CST-S, author of Polyamory: A Clinical Toolkit for Therapists (and Their Clients)

"Dr. Tammy Nelson's newest book, Open Monogamy, updates conceptions of monogamy to include the many different ways people relate today. With wit and compassion, and informed by decades of experience, Nelson guides readers through a deep consideration of how to build their ideal relationship. Open Monogamy provides thoughtful and useful guidance that is easy to understand and refreshingly free of judgment." —Dr. Elisabeth Sheff, author of The Polyamorists Next Door, Stories from the Polycule, When Someone You Love Is Polyamorous, and Children in Polyamorous Families

"When you agree to become monogamous, you agree to exile the parts of you that want something more or different than what your partner can offer. Many are willing to make this sacrifice in return for the sense of security that comes from restricting their partner's access to others. That restricting itself, however, can jeopardize relationships because those exiled parts don't disappear and, instead, may grow in influence over time.

"In this well-written and researched book, Tammy Nelson offers her years of experience helping couples navigate the turbulent waters of reappraising their commitments and potentially opening their relationships. Her sage advice is comprehensive, covering the pleasures as well as the pitfalls of taking such steps, and individualized—'opening' has many meanings and includes a spectrum of behaviors. If you are considering such a move, you won't find better guidance!" —Richard Schwartz, PhD, developer of the Internal Family Systems model and author of No Bad Parts

"Open Monogamy provides a unique, creative road map for expanding your relationship in a healthy and honest way. Drawing on the experience of real couples, it provides expert advice and concrete exercises to help you live a life of passion while being true to yourself and those you love." —Janis Abrahms Spring, PhD, author of After the Affair and How Can I Forgive You?

"Dr. Tammy Nelson is not just a brilliant sex and relationship educator, sought-after international speaker, and extraordinary author but also a forward-thinking thought leader in today's sexual revolution. In Open Monogamy, she guides and supports you and your partner to make the rules on your terms so you can stay together in a committed and healthy way while exploring other options in the bedroom, instead of just fantasizing about it. She makes this delicate conversation shameless. I love learning from Dr. Tammy and so will you!" —Dr. Sherry Ross, author of She-ology and She-ology: The She-quel and cohost of the television series Lady Parts

"Dr. Tammy Nelson is a relationship revolutionary. Her rethinking of monogamy—as a practice, a continuum, and a flexible concept—is on point, actionable, and nothing less than a significant cultural shift. With Open Monogamy, she is back to blow minds and enhance partnerships." —Wednesday Martin, PhD, New York Times bestselling author of Primates of Park Avenue and Untrue
Sounds True, 9781683647461, 232pp.
Publication Date: December 14, 2021
About the Author
Tammy Nelson, PhD, is a licensed psychotherapist, Board Certified Sexologist, Certified Sex Therapist, and Certified Imago Relationship Therapist. She is a TEDx speaker and the host of The Trouble with Sex podcast. Her books include Getting the Sex You Want and The New Monogamy. She is executive director of the Integrative Sex Therapy Institute and has been a featured expert in the New York Times Magazine and the Washington Post, on CNN, and more.

For more, visit drtammynelson.com.