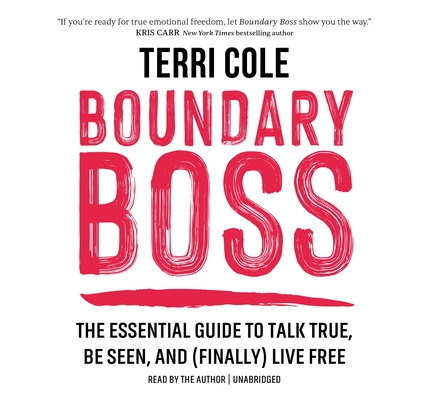 Boundary Boss
The Essential Guide to Talk True, Be Seen, and (Finally) Live Free
CD-Audio

* Individual store prices may vary.
Other Editions of This Title:
Hardcover (4/20/2021)
Paperback (5/9/2023)
Description
Break Free From Over-Functioning, Over-Delivering, People-Pleasing, and Ignoring Your Own Needs So You Can Finally Live the Life You Deserve!

Most of us were never taught how to effectively express our preferences, desires or deal-breakers. Instead, we hide our feelings behind passive-aggressive behavior, deny our own truths, or push our emotions down until we get depressed or so frustrated that we explode, potentially destroying hard-won trust and relationships.

The most successful and satisfied people on the planet have one thing in common: the ability to create and communicate clear, healthy boundaries. This ability is, hands down, the biggest game changer when it comes to creating a healthy, happy, self-determined life.

In Boundary Boss, psychotherapist Terri Cole reveals a specific set of skills that can help you stop abandoning yourself for the sake of others (without guilt or drama) and get empowered to consciously take control of every aspect of your emotional, spiritual, physical, personal, and professional life.

Since becoming a Boundary Boss is a process, Cole also offers actionable strategies, scripts, and techniques that can be used in the moment, whenever you need them. You will learn:

• How to recognize when your boundaries have been violated and what to do next
• How your unique "Boundary Blueprint" is unconsciously driving your boundary behaviors, and strategies to redesign it
• Powerful boundary scripts so in the moment you will know what to say
• How to manage "Boundary Destroyers"—including emotional manipulators, narcissists, and other toxic personalities
• Where you fall on the spectrum of codependency and how to create healthy, balanced relationships

This book is for women who are exhausted from over-giving, overdoing, and even over-feeling. If you're getting it all done but at the expense of yourself, give yourself the gift of Boundary Boss.
Praise For Boundary Boss: The Essential Guide to Talk True, Be Seen, and (Finally) Live Free…
"This powerful book is a clear path to deep healing work. If you're ready for true emotional freedom, let Boundary Boss show you the way. And thank you, Terri Cole! Your brilliant (and often hilarious!) guidance is a blessing to us all." —Kris Carr, New York Times bestselling author

"This is a crash course in communication integrity––with so many clear and comforting techniques. Terri is a straight-talking psychotherapist who knows how to get us from unhealthy compromise to loving engagement." —Danielle LaPorte, creator of The Desire Map and Heart Centered

"Terri helps to make boundary setting tangible with practical steps to being a boundary boss. Her raw and relatable take on boundaries is a breath of fresh air. She presents with clear guidelines on how to take boundaries to the next level." —Mariel Buqué, PhD, trauma psychologist

"With Boundary Boss, Terri Cole, powerhouse healer and transformational therapist, serves up the psychologically savvy medicine that you need to step out of destructive habits, stop people-pleasing, and set your soul free." —Gabrielle Bernstein, #1 New York Times bestselling author of The Universe Has Your Back

"If you struggle with boundaries and are in need of a compass, seek no more! Terri Cole's exquisitely interesting, articulate, and profoundly practical Boundary Boss will rock your world. Her book masterfully engages the reader's heart and mind, while affirming and empowering their decisions to rise above their lifelong boundary-setting limitations." —Ross Rosenberg, M.Ed., LCPC, CADC, CSAT, author of The Human Magnet Syndrome

"In a brilliant balance of stories, instruction, and opportunities to reflect, assess, and practice what we're learning, Terri Cole has written the book on boundaries we've all needed for-friggin'-ever. Somehow she also managed to deliver it in a super-loving, straight-to-the-point style that makes this deep and delicate topic easy to digest and apply. Five Stars." —Elizabeth DiAlto, founder of the Institute for EMBODIED Living and Wild Soul Movement

"Terri Cole's advice is game-changing! After having her on my Off the Gram podcast, I went home and broke up with a toxic friend, then wrote about it in my own book! Terri is the ultimate boundary boss and communication queen and in this powerful book, she shows us how to become the same. The world needs this book right now!" —Meaghan B Murphy, content chief for Woman's Day magazine, author of Your Fully Charged Life

"Riddle me this: How can you possibly chase your dreams if you're bogged down by people-pleasing, codependent, and time-wasting tendencies of overworking and overfunctioning? Spoiler alert: You can't. If you're ready to create and live a life on YOUR terms, Boundary Boss is about to become your roadmap." —Amy Porterfield, entrepreneur and host of The Online Marketing Made Easy Podcast

"Most people don't think about clear boundaries until they are violated. And then we feel stuck in our relationships. But imagine what your life would look like if someone had schooled you at an early age on the importance of boundaries and how to establish them? Terri Cole is that someone—and in Boundary Boss, she masterfully reveals how to find your most authentic voice, step into your power, and own your impact. You'll feel like you're being counseled by a dear, wise friend who truly has your back. This brilliant book is a must-read!" —davidji, author of Sacred Powers
Sounds True, 9781683647560
Publication Date: April 27, 2021
About the Author
Terri Cole, MSW, LCSW, is a licensed psychotherapist and global leading expert in female empowerment. For two decades, Terri has worked with some of the world's most well-known personalities, from international pop stars to Fortune 500 CEOs. Terri has a gift for making complex psychological concepts accessible and then actionable, so that clients and students achieve sustainable change—that is, true transformation. She empowers over 250,000 people weekly through her blog; social media platform; signature courses, Real Love Revolution™ and Boundary Bootcamp™; and popular podcast, The Terri Cole Show. Learn more about her work at terricole.com.
or
Not Currently Available for Direct Purchase