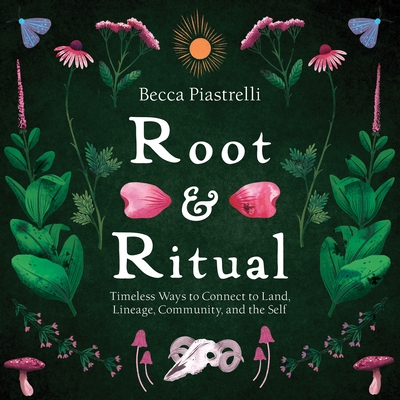 Root and Ritual
Timeless Ways to Connect to Land, Lineage, Community, and the Self
Hardcover

* Individual store prices may vary.
Other Editions of This Title:
CD-Audio (12/14/2021)
Description
A beautifully illustrated guide for connecting with the earth, your ancestors, and your communities as you come home to your whole self

Despite our best efforts, our modern world leaves so many of us feeling isolated, unworthy, and alone. We're unrooted from the land, untethered from our lineages, disconnected from our communities, and separated from our deepest sense of self.

In Root and Ritual, Becca Piastrelli offers a pathway back to connection and wholeness through rituals, recipes, and ancestral wisdom. "Though we live in a radically different-looking world, the needs of our bodies and spirits are the same as the ancestors we came from."

Divided into four parts—Land, Lineage, Community, and Self—this book takes you on a journey for engaging more deeply with your life:

- Part 1 introduces practices for reconnecting with the land, including seasonal recipes, crafting with plants, and tending your home
- In Part 2, you'll learn to reclaim the gifts of your lineage as you understand past harms and explore the traditional folklore, foods, and arts of those who came before
- Part 3 centers around community, helping you cultivate sisterhood and celebrate meaningful rites of passage
- In Part 4, you'll return to yourself as you open your intuition, tune in to your body, and awaken the wild woman within

A rich and dynamic treasure chest of timeless teachings, Root and Ritual is a beautiful guide for knowing who you are—and that you belong here.
Praise For Root and Ritual: Timeless Ways to Connect to Land, Lineage, Community, and the Self…
"...a powerful self-help book, filled with insightful discussions of what it means to connect to one's surroundings." —Foreword Reviews

"Root and Ritual is a brilliantly written book exploring the ancestral traditions that help women reconnect to their power, the land, and the important role they have held in cultures as spiritual leaders and healers. Becca Piastrelli helps women to reconnect to their birthright of rituals, healing knowledge, and instructions on how to survive challenging times. This is an important book for the times we live in." —Sandra Ingerman, MA, author of Walking in Light and The Book of Ceremony

"This book will find you grabbing a soft blanket and warm cup of tea and curling up on the couch as you follow Becca's wise, loving voice into the deepest parts of yourself. Through land, lineage, community, and self, you might suddenly find yourself in an enchanted, lush land, the rhythmic call of her words unavoidably breathing life into the dreams of your heart. Beware! Only read this book if you are ready for your longing to take deeper root in your life. You just might find dirt under your fingernails; sticky concoctions brewing in Mason jars; smoke thickly matted into your hair; and eyes, ears, and whole body opening to something that you can feel but perhaps not see. In short, this book could make you deeply joyful to be alive." —Elle Luna, artist, designer, and author of The Crossroads of Should and Must

"It's so easy nowadays to feel disconnected from ourselves and each other. In Root and Ritual, Becca Piastrelli offers us a way to find connection in every area of our lives, from our natural environment to our relationships. The delightful illustrations and detailed instruction for every ritual and recipe make this treasure of a text accessible to all. And I am particularly moved by Ms. Piastrelli's guidance in honoring different cultures while celebrating their traditions." —Rebekah Borucki, mother, author, and publisher

"This book is my bible for earth-based rituals and cultivating true belongingness in myself and the world. I will be holding this one close and coming back to it again and again." —Majo Molfino, author of Break the Good Girl Myth

"Root and Ritual is the book our disconnected and lonely culture needs. It is magical and practical, otherworldly and grounded, nurturing and nourishing. Becca's words, rituals, and guidance in this book feel like being held in a warm embrace by an old friend. Her sage wisdom provides us a way to intentionally return to the land we live on, the people we're connected with, the lineage we've come from, and the true self many of us have lost sight of." —Lisa Olivera, author of Already Enough

"Belonging is a healing balm for the loneliest parts of our beings and a beacon, compassionately guiding us toward the rich lives we long for. In illuminating the difference between ownership and stewardship, Becca Piastrelli gently provides a powerful reframe for our relationship with the land beneath our feet, our homes, the communities we belong to, and our bodies. Deeply resonant and powerfully nostalgic." —Mara Glatzel, author of Needy

"A beautiful and important reminder of the healing that tradition, ritual, and community can bring to our lives, despite their erasure in our current cultural context. An invitation to welcome back our innate wildness and embrace what our souls are truly longing for, this book will touch many souls." —Erica Feldmann, author of HausMagick
Sounds True, 9781683647720, 248pp.
Publication Date: November 16, 2021
About the Author
Becca Piastrelli writes about her life experiences, facilitates women's gatherings both virtually and in person, and is the host of the Belonging podcast. She teaches and speaks on the nature of belonging and runs retreats to help women reconnect with their rooted sense of self. She lives in the San Francisco Bay Area with her husband, child, two cats, and five chickens, where she gardens, cooks, mothers, and gathers with the ebb and flow of the seasons. You can learn more about her at beccapiastrelli.com.