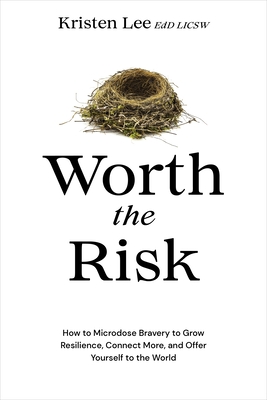 Worth the Risk
How to Microdose Bravery to Grow Resilience, Connect More, and Offer Yourself to the World
Hardcover

* Individual store prices may vary.
Description
Discover the rewards of strategic risk-taking—an award-winning behavioral scientist shares a practical guide on using small, intentional acts of courage to build resilience, confidence, and connection.

We're bombarded by messages about how dangerous the world is—from both real and fake news. Yet when we hunker down and try to live in a bubble of safety, we can cut ourselves off from the richness and joy life has to offer. In Worth the Risk, Dr. Kristen Lee shows us that by "microdosing" small acts of bravery and connection, we can regain the self-confidence and resilience we need to live full and meaningful lives. "We are hardwired for risk-taking," she says. "As we become more comfortable with the uncomfortable, our nervous system changes to support us in experiencing a bold, adventurous, colorful life."

In each chapter of Worth the Risk, Lee provides a solid dose of brain science combined with practical actions to build confidence and sustain yourself through challenges. With a blend of stories, composite sketches, science, ancient wisdom, behavioral science, and practical exercises, you'll explore:

• What is courage? Debunking the myths and discovering the power of everyday acts of bravery
• Why feeling overwhelmed doesn't make you a "snowflake"
• Tools for understanding and regulating your emotions, anxieties, and habits of avoidance
• Healing practices and guidance to increase your resilience to trauma, acute stress, and PTSD
• Insights and strategies for navigating the unique challenges of our polarized, media-saturated culture
• How to own your "Personal Legend" and become an active liberator—for yourself and others

Risks are a part of life—and "playing it safe" can end up diminishing the very qualities that allow us to adapt, create, and serve our purpose in life. Worth the Risk guides you through a powerful approach to taking small, values-aligned chances that increase your ability to thrive. "You are not your trauma, labels, fears, or raw emotions," Lee writes. "You are wired for resilience. Your human spirit is indomitable."
Praise For Worth the Risk: How to Microdose Bravery to Grow Resilience, Connect More, and Offer Yourself to the World…
"A bold blend of science, story, humor, and wisdom that helps us reimagine fear and embody courage, creativity, and positive contribution. A must read for anyone wanting to shine brighter without burning out." —Scott Barry Kaufman, PhD, author of Transcend and host of The Psychology Podcast

"With great candor, spirit, and expertise, Kristen Lee shows us that small acts of courage aren't small at all. A must read for anyone willing to get more comfortable with the uncomfortable and live with the aliveness the world needs to be better and brighter." —Agapi Stassinopoulos, author of Wake Up to the Joy of You

"What's scarce in the world isn't smart people or people with good ideas, but brave people willing to show up and do the work of cocreating a better world. This wonderful, entertaining, and ridiculously practical book shows how becoming more brave can be a fun, imminently doable adventure, not a road to terror or burnout. Read it, microdose bravery, and start finishing the bridge to your 'what is' life." —Charlie Gilkey, author of Start Finishing: How to Go From Idea to Done

"Every chapter is a therapy session that teaches in elegant but easily understandable language several logical but pragmatic strategies to increase your resilience. And once you start reading the book, you can't put it down." —Dilip V. Jeste, MD, author of Wiser and senior associate dean for Healthy Aging and Senior Care, University of California, San Diego

"A brilliant fusion of science and story that reminds us we are never alone, that courage is always within reach." —Alison Malmon, founder and director of Active Minds

"Worth the Risk stands out from the pack. Dr. Lee's writing distinguishes itself, sparkling with originality. And her own courage and sense of urgency are certain to inspire, comfort, and motivate." —David Van Nuys, PhD, host of the Shrink Rap Radio podcast

"This book is the gateway drug to building your courage. Dr. Kris cuts through the BS of self-help with a detailed how-to list of creating a courageous life filled with thrilling creative risk-taking. From looking in to speaking out, she shows us that we can microdose courage in an effort to make a beeline toward a life of (possibly messy but meaningful) energy, passion, and purpose." —Katie Goodman, award-winning comedian and author of Improvisation for the Spirit

"Witty, honest, and grounded in science without a whiff of pretentiousness." —Carol Pelletier Radford, bestselling author of Teaching with Light
Sounds True, 9781683648505, 264pp.
Publication Date: June 14, 2022
About the Author
Kristen Lee, EdD, LICSW, is an award-winning behavioral science and leadership professor, clinician, researcher, activist, comedian, author of Reset and Mentalligence, and host of Crackin' Up: Where Therapy Meets Comedy. She has over two decades of clinical experience in mental health and thirteen years of teaching and leadership roles in higher education, focusing on underserved populations. She leads the Behavior Science program at Northeastern University.

For more, visit kristenlee.com.