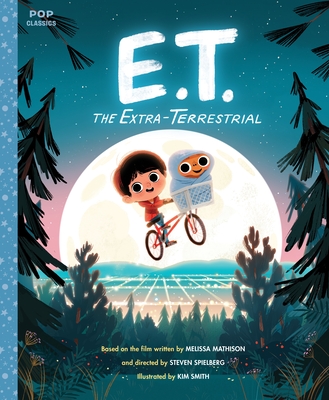 E.T. the Extra-Terrestrial (Hardcover)
The Classic Illustrated Storybook (Pop Classic Picture Books)
Quirk Books, 9781683690108, 40pp.
Publication Date: October 31, 2017
Description
Steven Spielberg's classic sci-fi story of interplanetary friendship makes a perfect picture book for the whole family. When E.T. the Extra-Terrestrial was released in theaters thirty-five years ago, its bittersweet story enchanted millions and the film surpassed Star Wars to become the highest-grossing movie of all time. Now the cinematic blockbuster is transformed into an illustrated storybook, with colorful, adorable drawings by Kim Smith. Here is a story you can't help but love: After E.T. is stranded on Earth, he takes refuge with Elliott, a boy in need of a friend. Together they find a way to help E.T. get back home. Along the way, both child and alien learn important lessons about courage, friendship, and the power of imagination. This is the perfect read-along story for children, their parents, and E.T. fans across the universe.
About the Author
Kim Smith is an illustrator from Calgary, Alberta. She has illustrated several children's books including Over the River & Through the Wood: A Holiday Adventure (Sterling, 2015) Home Alone: The Classic Illustrated Storybook (Quirk Books, 2015). Her recent books include The X-Files: Earth Children are Weird (Quirk Books, 2017), The Great Puppy Invasion (Houghton Mifflin Harcourt, 2017) and E.T. the Extra-Terrestrial: The Classic Illustrated Storybook (Quirk Books, 2017). Kim lives in Calgary with her dog, Whisky, and husband, Eric. Visit Kim online at kimillustration.com.
Advertisement