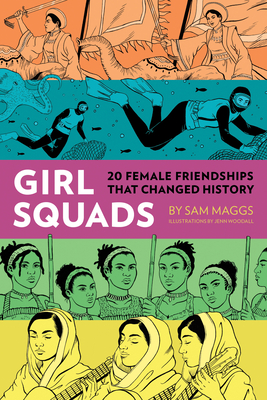 Girl Squads (Hardcover)
20 Female Friendships That Changed History
Quirk Books, 9781683690726, 272pp.
Publication Date: October 2, 2018
* Individual store prices may vary.
Description
A fun and feisty tour of famous girl BFFs from history who stuck together and changed the world.

Spanning art, science, politics, activism, and even sports, these girl squads show just how essential female friendship has been throughout history and throughout the world. In this hilarious and heartfelt book, geek girl Sam Maggs takes you on a tour of some of history's most famous female BFFs, including:

   • Anne Bonny and Mary Read, the infamous lady pirates who sailed the seven seas and plundered with the best of the men
   • Jeanne Manon Roland and Sophie Grandchamp, Parisian socialites who landed front-row seats (from prison) to the French Revolution
   • Sharon and Shirley Firth, the First Nations twin sisters who would go on to become Olympic skiiers and break barriers in the sport
   • The Edinburgh Seven, the band of pals who fought to become the first women admitted to medical school in the United Kingdom
   • The Zohra Orchestra, the ensemble from Afghanistan who defied laws, danger, and threats to become the nation's first all-female musical group

Fun, feisty, and delightful to read—with empowering illustrations by artist Jenn Woodall—it's the perfect gift for your bestfriend.
About the Author
Sam Maggs is a best-selling writer of books, comics, and video games. She's a Senior Writer for Insomniac Games; the author of The Fangirl's Guide to the Galaxy, Wonder Women, and Girl Squads (Oct. 2018), all published by Quirk Books and distributed by Penguin Random House; a contributor to BioWare's highly-anticipated forthcoming game Anthem; and she's written for comics like Star Trek and Jem & The Holograms. A Canadian in Los Angeles, she misses Coffee Crisp and bagged milk.

Jenn Woodall is an illustrator and comics creator whose work has been featured in multiple comics anthologies. She lives in Toronto.
Praise For Girl Squads: 20 Female Friendships That Changed History…
"Maggs writes with a sly sense of humor and irreverence that keeps the text from ever feeling dry or dull. [Girl Squads] is upbeat and positive, itself a 'journey of lady solidarity' bound to educate and inspire readers of any gender."—Shelf Awareness for Readers

"An impressively researched and fascinating compendium of history's greatest gal pals."—Booklist 

"[Girl Squads is] exactly the book you need if you're a history buff with a decidedly feminist streak."—Bustle

Praise for Wonder Women:
 
"Wonder Women isn't just filled with extraordinary tales of female scientists and inventors – though there are plenty of them – [Maggs] also includes sections on espionage and adventure, fields not traditionally associated with STEM."—Entertainment Weekly
 
"We could all stand to learn more about women in STEM fields, and Maggs, whose book The Fangirl's Guide to the Galaxy is a gem, is just the writer to lead the way."—Bustle 

"Both thorough and easy to digest. . . . Maggs writes the descriptions of the women and their achievements in such a way that you're inspired to take the ball and keep running."—Nerdist 

"If you know a feminist, punk-rocking preteen who's as concerned with body piercings as she is with book reports, pick up a copy of Maggs's Wonder Women . . . a compelling collection of profiles highlighting history's forgotten women of science, adventure, and espionage."—The Village Voice

"Whether you want to know about suffragists, awesome historical lady ninjas, or the other butt kicking, trailblazing smarties in between, Wonder Women will have something for you!"—Amy Poehler's Smart Girls


Praise for The Fangirl's Guide to the Galaxy:

"Read it cover to cover, and then make sure you share it with all the young girl geeks you know."—Brit + Co
 
"A handy handbook for being an empowering and happy girl geek."—Sweety High

"A great homage to anything and everything fandom, especially for those new to the genre."—Reading Eagle 

"If you or someone else in your life could do with an inclusive, funny, super smart, and sweet introduction to the world of female geeks, look no further."—The Mary Sue

"Through and through, Maggs manages to talk about feminism, fangirling, cons, lingo, and the general idea that you should be yourself, and do that unapologetically, with a great deal of lightheartedness and fun."—The Frisky