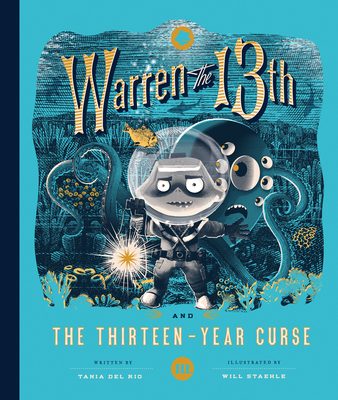 Warren the 13th and the Thirteen-Year Curse
A Novel
Hardcover

* Individual store prices may vary.
Description
Warren the 13th sets sail on his final adventure in this lushly illustrated middle grade series in the spirit of Edward Gorey and Lemony Snicket.

In this final story of Warren's thrilling adventures, the young manager is adjusting to the demands of running a floating hotel and is planning his thirteenth birthday party. But then disaster strikes! The Warren Hotel is shipwrecked on a strange island, and Sketchy is kidnapped!

Warren and his crew of friends set off on a daring rescue mission across the high seas, where they meet a delightful new cast of characters that includes wizened pirates, a sea witch, and a talking clam. As Warren pursues his many-tentacled friend's kidnappers, he will learn the truth of Sketchy's mysterious origins—as well as one final secret of his beloved Warren Hotel.

Once again, readers can expect mesmerizing illustrations on every page, along with plenty of riddles, puzzles, and adventure galore!
Praise For Warren the 13th and the Thirteen-Year Curse: A Novel…
"Fans of spooky hotels, mysteries, treasure, and magic curses will race through this three-book series."—Time for Kids

"With welcome frequency, forgiveness, loyalty and love careen onto the pages and are sweetly tested...there is an affirmation of friendship and fidelity that readers fortunate enough to open these books will applaud."—New York Journal of Books

"If your tweens are looking for an adventure unlike any other, this puzzle-packed book is a must-have for their library."—Kiwi Magazine

"Our son has never in his life been hooked on a book more than with Warren the 13th."—Dad Suggests

"Beautifully illustrated...The colors are simple, but the details are captivating."—Neatorama

Praise for Warren the 13th and the All-Seeing Eye
"An engaging mystery to unravel, with a few nice twists and surprises along the way. . . . It's a fair bet that for many the main attraction of Warren the 13th and the All-Seeing Eye will be Staehle's lavish illustrations."—New York Times Book Review

"A whimsical mystery with a lot of heart and spine-tingling illustrations, this novel will circulate as soon as children open it."—School Library Journal, Starred Review
 
"The riveting story had interesting characters, riddles, and lots of drama. Readers will get caught up in the mystery and will want to keep turning pages to find out what happens next."—Nicolas Curry, Kid Reporter for Time for Kids
 
"Beautifully and amusingly designed and illustrated, featuring a plot filled with twists and riddles, this clever tale of mysterious goings-on at a run-down hotel proves to be an unlikely winner."—Common Sense Media, 4 out 5 stars
 
"An adventure with echoes of classic children's titles like Raskin's The Westing Game and Dahl's The Witches. . . . Stylish, exciting, funny, and just slightly macabre, this entertaining novel bodes well for Warren's future adventures."—Publishers Weekly

Praise for Warren the 13th and the Whispering Woods
"Del Rio delivers another rollicking adventure with this sequel...Staehle's abundant etchinglike illustrations play on the story's humor and drama, resulting in a mystery that is fresh and imaginative."—Booklist
 
"This skillfully executed novel filled with magic and humor is a high-quality offering for reluctant readers and fans of Lemony Snicket."—School Library Journal  

"In a double-columned narrative festooned throughout with macabre green-and-black illustrations that thicken the Gothic air considerably…dismal turns abound…. Another entry in the 'unfortunate events' genre, kitted out with atmospheric art, unusual book design, and a wonderfully homely protagonist."–Kirkus Reviews
Quirk Books, 9781683690900, 224pp.
Publication Date: March 24, 2020
About the Author
Tania del Rio is the author of the Warren the 13th series. A professional comic book writer and artist, her clients include Archie Comics, Dark Horse, and Marvel. She is best known for her work writing and drawing a 42-issue run of Sabrina the Teenage Witch. She lives in Los Angeles. Will Staehle is the illustrator and designer of the Warren the 13th series, plus dozens of award-winning book jackets. Print magazine named him one of the Top Twenty under Thirty New Visual Artists. He lives in Seattle, WA.