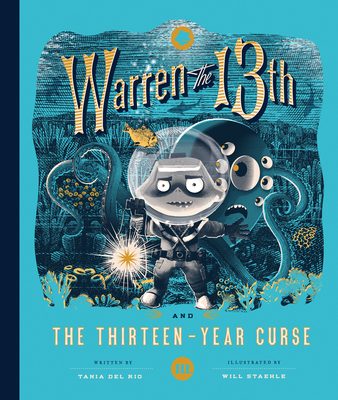 Warren the 13th and the Thirteen-Year Curse (Hardcover)
A Novel
Quirk Books, 9781683690900, 224pp.
Publication Date: March 24, 2020
* Individual store prices may vary.
Description
An illustrated middle-grade fiction series with Gothic and Victorian overtones featuring the misadventures of a cursed 12-year-old bellhop trying to save his family's hotel from the clutches of evil.

At the end of the second book in the Warren the 13th series, the Warren Hotel had transformed into a giant ship and set sail for the open seas! When Warren the 13th and the 13-Year Curse opens, Warren is adjusting to the demands of running a floating hotel and is planning his 13th birthday party when disaster strikes--the hotel is shipwrecked on a strange island. To make matters worse, his octopus-like friend Sketchy is kidnapped by a traveling circus! Warren and his friends must solve a series of riddles to find the next location of the circus and rescue their friend before it's too late. Along the way, they meet a delightful new cast of characters, including elderly pirates, a sea witch, a talking clam, and a giant sea monster. As Warren pursues Sketchy's kidnappers, he will learn the truth of his friend's mysterious origins--as well as one final secret of the Warren Hotel.
About the Author
Tania Del Rio is a professional comic book writer and artist who has spent the last 15 years writing and illustrating primarily for a young audience. Her clients include Archie Comics, Dark Horse, and Marvel, and she is best known for her work writing and drawing a 42-issue run of Sabrina the Teenage Witch, which AOL Comics Alliance described as "one of the best and most underrated all ages comics of the last 10 years." She is also the author of Diary of a Girl Next Door: Betty (Archie Comics, 2014).

Will Staehle is the designer behind Stars and Swipes (Quirk, 2014) and Hugs and Misses (Quirk, 2014). He was Art Director for HarperCollins Publishers in NY, the VP of Design at JibJab in LA, and has been labeled as one of the Top Twenty Under Thirty New Visual Artists by Print magazine, and an Art Director's Club Young Gun. Currently, Will resides in Seattle, WA--where he runs Unusual Co. and uses his design and illustration background to create bold covers, stylized posters, quirky websites, and minicomics to ensure that he gets as little sleep as possible.
Praise For Warren the 13th and the Thirteen-Year Curse: A Novel…
Praise for Warren the 13th and the All-Seeing Eye 
"An engaging mystery to unravel, with a few nice twists and surprises along the way. . . . It's a fair bet that for many the main attraction of Warren the 13th and the All-Seeing Eye will be Staehle's lavish illustrations."—New York Times Book Review
 
"A whimsical mystery with a lot of heart and spine-tingling illustrations, this novel will circulate as soon as children open it."—School Library Journal, Starred Review
 
"The riveting story had interesting characters, riddles, and lots of drama. Readers will get caught up in the mystery and will want to keep turning pages to find out what happens next."—Nicolas Curry, Kid Reporter for Time for Kids
 
"Beautifully and amusingly designed and illustrated, featuring a plot filled with twists and riddles, this clever tale of mysterious goings-on at a run-down hotel proves to be an unlikely winner."—Common Sense Media, 4 out 5 stars
 
"An adventure with echoes of classic children's titles like Raskin's The Westing Game and Dahl's The Witches. . . . Stylish, exciting, funny, and just slightly macabre, this entertaining novel bodes well for Warren's future adventures."—Publishers Weekly

Praise for Warren the 13th and the Whispering Woods
"Del Rio delivers another rollicking adventure with this sequel...Staehle's abundant etchinglike illustrations play on the story's humor and drama, resulting in a mystery that is fresh and imaginative."—Booklist
 
"This skillfully executed novel filled with magic and humor is a high-quality offering for reluctant readers and fans of Lemony Snicket."—School Library Journal  

"In a double-columned narrative festooned throughout with macabre green-and-black illustrations that thicken the Gothic air considerably…dismal turns abound…. Another entry in the 'unfortunate events' genre, kitted out with atmospheric art, unusual book design, and a wonderfully homely protagonist."–Kirkus Reviews