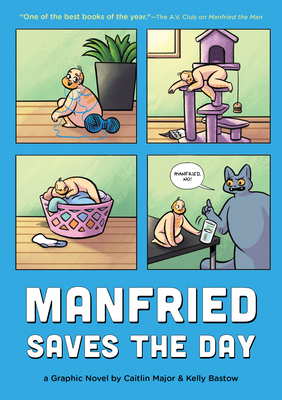 Manfried Saves the Day (Paperback)
A Graphic Novel by Caitlin Major and Kelly Bastow
Quirk Books, 9781683691082, 224pp.
Publication Date: May 14, 2019
* Individual store prices may vary.
Description
Things are finally looking up for average tomcat Steve Catson and his pet man Manfried. But when the local man shelter is short of funds, Steve's purrfriend Henrietta has to find a solution or close the shelter down forever. Can Manfried save the day? Or is he too busy fighting with his new roommate Garfield, a stray man Steve adopted?

Get ready for an all-new adventure starring web-comic sensation Manfried, the crabby but lovable pet man of slacker tomcat Steve Catson. Things seem to be looking up for them: Steve has a new job making comics and a burgeoning romance with his purrfriend Henrietta. Manfried is making new friends at the local man shelter, helping stray men become socialized so they can find new homes. But when a literal fat cat arrives to develop the neighborhood and shut down Henrietta's man shelter, the stress pushes Steve and Henrietta apart. Meanwhile Manfried is none too happy about sharing his home with a younger, cuter, friendlier rival for Steve's attention: a stray man named Garfield. Can Steve and Henrietta resolve their differences and raise the cash to save the shelter...and is entering Manfried into the Manflower Man Show the best way to do it? Fans and newbies alike will find plenty to enjoy in this funny, topsy-turvy cat tale based on the popular Manfried the Man tumblr.
About the Author
Caitlin Major is a Toronto-based comics writer and illustrator. Her webcomics include Home Sick, Peach Plum Pear, Yer a Witch Milly, and The Spirit and the Spider. Caitlin works as an animation compositor at Skyship Entertainment, an animation studio in Toronto that specializes in kids' programming, whose content on YouTube has over 10 million subscribers.

Kelly Bastow is a comics creator and commercial illustrator. She illustrated Quirk Books' The Fangirl's Guide to the Galaxy and has drawn for the comics Lumberjanes, Adventure Time, and Capture Creatures. She self-published the graphic novel Wax and Wane (coloring by Caitlin Major), and her 2017 autobiographical comic, Year Long Summer, was nominated for an Ignatz Award.
Praise For Manfried Saves the Day: A Graphic Novel by Caitlin Major and Kelly Bastow…
Praise for Manfried the Man:
Named a "Best Comics of 2018" by A.V. Club

"A must read for pet owners of any stripe."—A.V. Club 

"A simple tale of affection, devotion, and worry...though its narrative beats are familiar, that makes them no less adorable."—Vulture

"There's something in this story that can resonate with everyone - even if you're more of a dog person."—Newsarama

"Unexpectedly touching."—The Comics Beat

"Anyone who loves their pets as much as (or more than) they do other humans will happily read it cover to cover."—Philadelphia Life

"A delightful twist on the human/cat relationship."—Library Journal

"An entertaining and often laugh-out-loud twist on reality."—Foreword Reviews

"A surprisingly sweet story about companionship."—Publishers Weekly