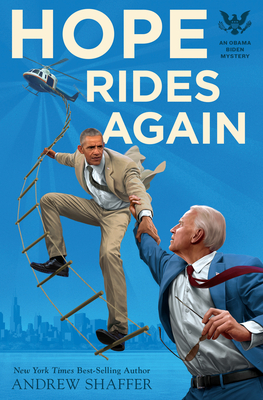 Hope Rides Again
An Obama Biden Mystery (Obama Biden Mysteries #2)
Paperback

* Individual store prices may vary.
Other Editions of This Title:
MP3 CD (10/15/2019)
Compact Disc (9/1/2020)
Library Binding, Large Print (8/7/2019)
Description
In the sequel to the New York Times best-selling novel Hope Never Dies, Obama and Biden reprise their roles as BFFs-turned-detectives as they chase Obama's stolen cell phone through the streets of Chicago—and right into a vast conspiracy.

Following a long but successful book tour, Joe Biden has one more stop before he can return home: Chicago. His old pal Barack Obama has invited him to meet a wealthy benefactor whose endorsement could turn the tide for Joe if he decides to run for president.

The two friends barely have time to catch up before another mystery lands in their laps: Obama's prized Blackberry is stolen. When their number-one suspect winds up full of lead on the South Side, the police are content to write it off as just another gangland shooting. But Joe and Obama smell a rat . . .

Set against the backdrop of a raucous city on St. Patrick's Day, Joe and Obama race to find the shooter, only to uncover a vast conspiracy that goes deeper than the waters of Lake Michigan—which is exactly where they'll spend the rest of their retirement if they're not careful.
Praise For Hope Rides Again: An Obama Biden Mystery (Obama Biden Mysteries #2)…
A 2019 Goodreads Choice Awards Finalist

"Enjoyably ludicrous."—Politico

"If you're pining for the previous administration and craving an escapist summer read, Andrew Shaffer has the cure for what ails you."—Los Angeles Times

"This spirited, cheeky tale is everything you want from the Obama Biden Mystery series."—B&N Reads

"Sequels are often notoriously disappointing. How lucky, then, that Hope Rides Again isn't."—The Anniston Star

"If you're looking for something enjoyable and slightly out there, this is definitely a book to try."—Yakima Herald-Republic

"Like its predecessor...[Hope Rides Again] is ridiculously insane and inventive."—BookTrib

"Many of the politically aware may soon have nostalgic fondness for humor like this."—LEO Weekly

"The game is afoot for Joe and Barry. This is fun, escapist fiction with enough details...to stay grounded in a kind of reality."—Booklist

"Once again, Shaffer convincingly portrays his unusual leads as action heroes."—Publishers Weekly

"Another action-packed mystery rife with close calls."—Shelf Awareness for Readers

Praise for Hope Never Dies:
An Official Summer Read of Publishers Weekly and The Interrobang 
A 2018 Goodreads Choice Award Finalist

"[Hope Never Dies is] a roughly 300-page work of political fanfiction, an escapist fantasy that will likely appeal to liberals pining for the previous administration, longing for the Obama-Biden team to emerge from political retirement as action heroes. But it's also at times a surprisingly earnest story about estranged friends who are reunited under strange circumstances."—Alexandra Alter, New York Times

"It's a giddy premise, a bit of Resistance wish-fulfillment for those who'd like to see Biden and Obama trading one-liners and cracking skulls."—New Yorker

"While readers are sure to get a kick out of the codenames and inside jokes used playfully throughout, Hope Never Dies is an intriguing saga that doesn't sacrifice momentum for winks and nods."—Entertainment Weekly
 
"It's easy to imagine that if these fist-bumping brothers were ever to become a modern Sherlock and Watson, the world might be a better, more interesting place."—USA Today, ★★★ out of four 
 
"Obama and Biden are the ultimate crime-fighting team in Hope Never Dies."—Washington Post
Quirk Books, 9781683691228, 288pp.
Publication Date: July 9, 2019
About the Author
Andrew Shaffer is the New York Times best-selling author of Quirk's Obama/Biden Mystery series, the satirical thriller The Day of the Donald: Trump Trumps America, and the Goodreads Choice semifinalist Fifty Shames of Earl Grey: A Parody, among other humorous fiction and nonfiction books for HarperCollins and Penguin Random House. He lives in Kentucky with his wife, the author Tiffany Reisz.
1. Why do you think that the fondness for Barack Obama and Joe Biden's "bromance" has persisted after their tenure in office?
2. Do you feel that Obama and Biden's voices were authentic to the men themselves? Why or why not?
3. What moments made you laugh?
4. What crime fighting duos from literature and pop culture do you think Obama and Biden best emulate?
5. Why do you think the author chose Chicago's gun violence crisis as the framing for this mystery?
6. What can our government officials learn from Obama and Biden's friendship?
7. Did you feel that this book was an escape from the current political climate?
8. Do you think that seeing elected officials portrayed as larger-than-life heroes could inspire readers to get more involved in politics?
9. What other political pairs would you like to see team up to solve a mystery?
10. There are quite a few famous cameos in Hope Rides Again. Which one was your favorite and why?