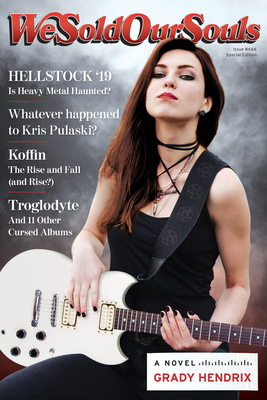 We Sold Our Souls
A Novel
Paperback

* Individual store prices may vary.
Other Editions of This Title:
Digital Audiobook (9/17/2018)
Paperback (6/14/2022)
Hardcover (9/18/2018)
MP3 CD (9/18/2018)
Compact Disc (9/18/2018)
Compact Disc (9/18/2018)
Description
From the New York Times best-selling author of The Southern Book Club's Guide to Slaying Vampires comes a hard-rocking, spine-tingling horror novel about a washed-up guitarist of a '90s heavy metal band who embarks on an epic road-trip across America and deep into the web of a sinister conspiracy.

Every morning, Kris Pulaski wakes up in hell. In the 1990s she was lead guitarist of Dürt Würk, a heavy-metal band on the brink of breakout success until lead singer Terry Hunt embarked on a solo career and rocketed to stardom, leaving his bandmates to rot in obscurity.

Now Kris works as night manager of a Best Western; she's tired, broke, and unhappy. Then one day everything changes—a shocking act of violence turns her life upside down, and she begins to suspect that Terry sabotaged more than just the band. Kris hits the road, hoping to reunite Dürt Würk and confront the man who ruined her life. Her journey will take her from the Pennsylvania rust belt to a celebrity rehab center to a satanic music festival. A furious power ballad about never giving up, We Sold Our Souls is an epic journey into the heart of a conspiracy-crazed, pill-popping, paranoid country that seems to have lost its very soul.
Praise For We Sold Our Souls: A Novel…
Nominated for the 2018 Shirley Jackson Award for Best Novel 
A 2019 Locus Award finalist for Best Horror Novel
An NPR Pop Culture Happy Hour Pick
An io9 2018 Fall Preview Pick
A 2018 Goodreads Choice Award Finalist

"A good, creepy, music-tinged thriller."—CNET

"The quintessential horror-metal novel for our times."—Los Angeles Review of Books

"Kickass, horrifying, and smart as hell. It certainly earns my two horns up."—Dread Central

"An addictive read for the metalhead and horror hound alike."—Bloody Disgusting 

"Hendrix is an indie horror legend, and We Sold Our Souls is one of his best."—Book Riot

"Wild and fun, genuinely terrifying in places, and also somehow heartfelt."—Tor.com

"Hendrix's horror chops are nigh-unassailable at this point."—B&N Sci-Fi & Fantasy blog

"A fast-paced ride, firmly rooted in the pulp horror tradition…Hendrix's darkest novel yet will leave readers begging for an encore."—Booklist, starred review

"Enthralling and intense...The plot goes 0 to 100 real quick, and once it does, you won't want to put the book down."—Sean Curry, UC San Diego Bookstore bookseller, in the San Diego Union-Tribune

"If you see me in the wild and I'm reading a book that was written by Grady Hendrix, interrupt me at your own peril."—Sarah Gailey, Hugo-Award winning author of Magic for Liars

More praise for Grady Hendrix:
"National treasure Grady Hendrix follows his classic account of a haunted IKEA-like furniture showroom, Horrorstor (2014), with a nostalgia-soaked ghost story, My Best Friend's Exorcism."—The Wall Street Journal, on My Best Friend's Exorcism

"Pure, demented delight."—The New York Times Book Review, on Paperbacks from Hell

"Horrorstör delivers a crisp terror-tale...[and] Hendrix strikes a nice balance between comedy and horror."—The Washington Post, on Horrorstör

"Terrific... Sharply written... [My Best Friend's Exorcism] makes a convincing case for [Hendrix's] powers as a sharp observer of human behavior."—The A.V. Club, on My Best Friend's Exorcism

"A true appreciation of the genre."—Los Angeles Times, on Paperbacks from Hell

"Campy. Heartfelt. Horrifying."—Minnesota Public Radio, on My Best Friend's Exorcism

"An inventive, hilarious haunted house tale."—Bustle, on Horrorstör
 
"Clever, heartfelt, and get-under-your-skin unnerving."—Fangoria, on My Best Friend's Exorcism
Quirk Books, 9781683691242, 336pp.
Publication Date: June 25, 2019
About the Author
Grady Hendrix is an award-winning and New York Times best-selling novelist and screenwriter living in New York City. He is the author of Horrorstör, My Best Friend's Exorcism (which is being adapted into a feature film by Amazon Studios), We Sold Our Souls, The Southern Book Club's Guide to Slaying Vampires, and The Final Girl Support Group. Grady also authored the Bram Stoker Award–winning nonfiction book Paperbacks from Hell and These Fists Break Bricks: How Kung Fu Movies Swept America and Changed the World.
1. Before reading this book, how much did you know about the music industry generally and heavy metal in particular? Did you learn anything new about either of these subjects?
2. How do the author's depictions of Kris Pulaski playing her guitar function as a storytelling device?
3. How did the culture of heavy metal influence the way that characters deal with or react to the situations in which they find themselves?
4. In what ways are Kris and Melanie Gutiérrez similar? In what ways are they different? Why do you think Melanie chose to help Kris?
5. The two characters whose opinions most strongly clash with those of Terry Hunt are women. Why do you think the author chose to put female characters in opposition to Terry?
6. Why did Melanie want to move to Los Angeles? Can you relate to any of her reasons?
7. The chapters are interrupted by excerpts of radio interviews and commercials and news articles. What purpose did these selections serve? Do you think they enhanced the story?
8. Lyrics from Dürt Würk's songs appear throughout the book. Did the inclusion of song lyrics change your perspective on the narrative? Did you feel like you could "hear" Dürt Würk's music as you read?
9. We learn that Kris experienced traumatic events in the time prior to the start of the novel. What effect do you think these experiences had on her and on her decision making?
10. How did you feel about the author's choice to associate mundane things like UPS delivery drivers and contractual disputes with the sinister forces behind Terry's success?
or
Not Currently Available for Direct Purchase