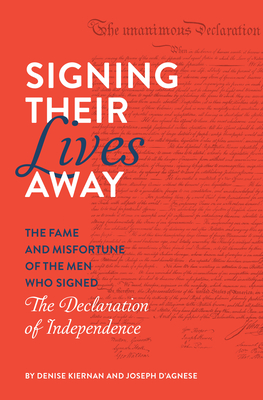 Signing Their Lives Away
The Fame and Misfortune of the Men Who Signed the Declaration of Independence
Paperback

* Individual store prices may vary.
Description
An entertaining and essential collection of stories about the surprising and strange fates of the fifty-six Founding Fathers who signed the Declaration of Independence.

In the summer of 1776, a group of 56 men risked their lives and livelihood to defy King George III and sign the Declaration of Independence—yet how many of them do we remember? Signing Their Lives Away introduces readers to the eclectic group of statesmen, soldiers, slaveholders, and scoundrels who signed this historic document—and the many strange fates that awaited them. To wit:

• The Signer Who Was Poisoned By His Nephew
• The Signer Who Was Killed In a Duel
• The Signer Who Went to Prison
• The Signer Who Was Lost at Sea
• The Signer Who Achieved Fame as a Brewer

Complete with portraits of every signatory, Signing Their Lives Away provides an entertaining and enlightening narrative for students, history buffs, politicos, and Hamilton fans alike.
Praise For Signing Their Lives Away: The Fame and Misfortune of the Men Who Signed the Declaration of Independence…
Featured history title in Reader's Digest's "Best of America" issue, 2009

"Kiernan and D'Agnese . . . succeed in stripping away preconceived notions of the more famous signers, and bringing out something of interest about the other, less well known ones."—Library Journal

"Astonishing individual portraits of all the signers."—School Library Journal, starred review

"Signing Their Lives Away is told in a brisk entertaining fashion."—McClatchy Newspapers
Quirk Books, 9781683691266, 304pp.
Publication Date: April 30, 2019
About the Author
Denise Kiernan is a journalist, producer, and the New York Times best-selling author of the narrative nonfiction books, The Last Castle and The Girls of Atomic City. Joseph D'Agnese is a journalist, author and ghostwriter who has written for both adults and children. With his wife, Denise Kiernan, he has authored several books on U.S. history, including Signing Their Lives Away, Signing Their Rights Away, and Stuff Every American Should Know. They live in North Carolina.