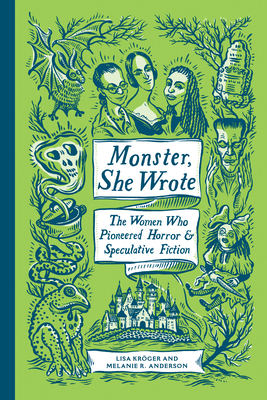 Monster, She Wrote
The Women Who Pioneered Horror and Speculative Fiction
Hardcover

* Individual store prices may vary.
Description
Meet the women writers who defied convention to craft some of literature's strangest tales, from Frankenstein to The Haunting of Hill House and beyond.
 
Frankenstein was just the beginning: horror stories and other weird fiction wouldn't exist without the women who created it. From Gothic ghost stories to psychological horror to science fiction, women have been primary architects of speculative literature of all sorts. And their own life stories are as intriguing as their fiction. Everyone knows about Mary Shelley, creator of Frankenstein, who was rumored to keep her late husband's heart in her desk drawer. But have you heard of Margaret "Mad Madge" Cavendish, who wrote a science-fiction epic 150 years earlier (and liked to wear topless gowns to the theater)? If you know the astounding work of Shirley Jackson, whose novel The Haunting of Hill House was reinvented as a Netflix series, then try the psychological hauntings of Violet Paget, who was openly involved in long-term romantic relationships with women in the Victorian era. You'll meet celebrated icons (Ann Radcliffe, V. C. Andrews), forgotten wordsmiths (Eli Colter, Ruby Jean Jensen), and today's vanguard (Helen Oyeyemi). Curated reading lists point you to their most spine-chilling tales.

Part biography, part reader's guide, the engaging write-ups and detailed reading lists will introduce you to more than a hundred authors and over two hundred of their mysterious and spooky novels, novellas, and stories.
Praise For Monster, She Wrote: The Women Who Pioneered Horror and Speculative Fiction…
2019 Bram Stoker Award® Winner for Superior Achievement in Non-Fiction
2020 Locus Award Winner for Non-Fiction
A 2019 Booklist Editors' Choice in Arts and Literature

"I was elated when Monster, She Wrote arrived in my mailbox. It is a book I have been waiting to read for a long time...Lisa Kröger and Melanie R. Anderson deserve a standing ovation."—Danielle Trussoni for The New York Times Book Review

"Inspired not only in the way it explores what the off-kilter, the monstrous and the half-known has meant to women for centuries but also in how it illuminates the often unusual lives of the women who crafted these dark worlds."—BookPage

"Your necronomicon for all women writing horror."—Book Riot

"The curatorial quality of a literary anthology, the historical rigor of an academic text, and the pleasure of a picture book."—Tor.com

"Kröger and Anderson write in consistently engaging prose and display depth and breadth in their knowledge of literary matters. Besides demonstrating great synthetic acuity, they provide the fruits of original scholarship."—Locus

"A great gift for anyone fascinated with genre writing."—SFX Magazine

"Straddling the divide between highly useful reference and compulsively readable stories about the writing lives of the women of horror, this book will keep you up all night (one way or another)."—Booklist, starred review

"A perfect way to find your next spooky story."—Tulsa World

"It's like if you've ever spent a night hopping from Wikipedia entry to Wikipedia entry...because you're just devouring entry after entry...It's so entertaining."—BookRiot

"Presented in a breezy, conversational style that makes it easy to gobble up whole sections at a time...Anyone from casual fans to horror historians will benefit from reading this important book."—Cemetery Dance

"This biographical index will reawaken readers' admiration for established virtuosos of literary terror and inspire curiosity in lesser-known specialists in fictitious fear."—Publishers Weekly

"An engrossing, eye-opening encyclopedia on the pioneering women who went against convention and broke down barriers to mold the horror fiction genre, thereby inspiring generations of writers and even filmmakers with their works."—Geeks of Doom

"Unique, fascinating, informative...an extraordinary and unreservedly recommended addition to personal, community, college, and university library."—Midwest Book Review
Quirk Books, 9781683691389, 320pp.
Publication Date: September 17, 2019
About the Author
Lisa Kröger holds a PhD in English. Her short fiction has appeared in Cemetery Dance magazine and Lost Highways: Dark Fictions from the Road (Crystal Lake Publishing, 2018). She's an adjunct instructor of English at the University of Southern Mississippi, Gulf Coast. She co-hosts the Know Fear Podcast (knowfearcast.com).

Melanie R. Anderson is an assistant professor of English at Delta State University in Cleveland, MS. Her book Spectrality in the Novels of Toni Morrison (Tennessee Press, 2013) was a winner of the 2014 South Central MLA Book Prize. She co-hosts the Know Fear Podcast (knowfearcast.com).