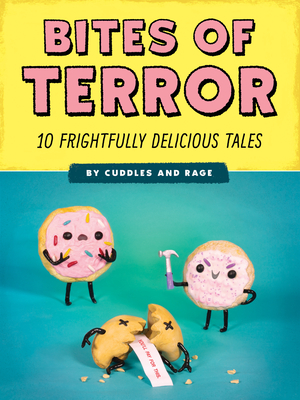 Bites of Terror (Paperback)
Ten Frightfully Delicious Tales
Quirk Books, 9781683691648, 144pp.
Publication Date: March 24, 2020
* Individual store prices may vary.
Description
Tuck into these darkly funny horror stories served as an utterly unforgettable graphic novel of hand-sculpted dioramas.

An ice cream cone accepts a dangerous wish from a sinister birthday cupcake. A quarantined strawberry tries to evade a mold infection. A widowed watermelon attempts to regrow her chopped-up husband from seed. Enter the cute and disturbing world of Bites of Terror, and find out what horrors your favorite foods face in this gleefully macabre anthology. Told in a comics format, with photographs instead of illustrations, the book's ten stories feature characters that look real enough to eat and settings full of fascinating details. But be wary of your host and storyteller, the Cake Creeper—he's one confection who makes sure everyone gets their just deserts.
About the Author
Liz Reed and Jimmy Reed are the husband-and-wife team behind Cuddles and Rage, a world of disturbingly cute stories. What began as a webcomic featuring doodles and dioramas of anthropomorphic food has grown to include books, animation, and product design. Their work has been featured by Nerdist, the Washington Post, NPR, HelloGiggles, and SparkLife, and they've created content for Netflix, TLC, Science Channel, and AwesomeCon. They live and work in the DC area.
Praise For Bites of Terror: Ten Frightfully Delicious Tales…
"A genre blend carefully considered, and seemingly designed for the movies weirdos that skulk the darkest corners of eBay on the hunt for out-of-print DVDs and even the more sordid VHS. It deals in the grim of humanity but never loses itself to its misery."—Film School Rejects