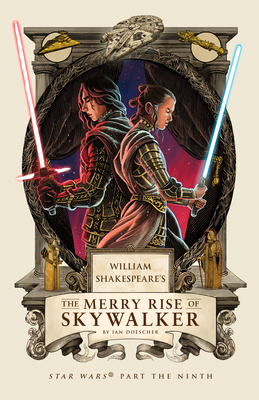 William Shakespeare's The Merry Rise of Skywalker
Star Wars Part the Ninth (William Shakespeare's Star Wars #9)
Hardcover

* Individual store prices may vary.
Description
Complete your collection of the William Shakespeare's Star Wars® series and experience the blockbuster finale to the Star Wars® saga in a brand-new way, here reimagined as though it had been penned by the Bard of Avon.

As our story opens, a sea of troubles threatens the valiant Resistance, who are pursued by the sound and fury of the vile First Order. Can Rey, Poe, Finn, Rose, BB-8, Chewbacca, and their allies overcome such toil and trouble? Shall Kylo Ren be proven fortune's fool or master of his fate? What will become of the House of Skywalker? And is all well that ends well?

Authentic meter, stage directions, reimagined movie scenes and dialogue, and hidden Easter eggs will entertain and impress fans of Star Wars® and Shakespeare alike. Every scene and character from the film appears in the book, along with twenty woodcut-style illustrations that depict an Elizabethan version of the Star Wars® galaxy.
Praise For William Shakespeare's The Merry Rise of Skywalker: Star Wars Part the Ninth (William Shakespeare's Star Wars #9)…
"Truly a unique treat."—GeekDad

"A brilliant look into the soul of these iconic Star Wars characters...beautifully well-written, humorous, and is an insightful critic of the mythology we know and love...the perfect capstone to the work of this modern-day literary genius."—Coffee with Kenobi, 5 stars

"An entertaining jaunt...provides much-needed catharsis at the end of an epic saga."—What the Force?, 5 stars

Praise for the William Shakespeare's Star Wars® Series:

"Reverent, clever and a novel way for fans to re-immerse themselves in their beloved franchise."—New York Times, on the series

"A quirky addition to the genre-busting canon."—Entertainment Weekly, on William Shakespeare's Star Wars

"A great gift for every geek you know, no matter what their passion."—Huffington Post, on William Shakespeare's Star Wars

"Enormous fun."—A.V. Club, on William Shakespeare's The Empire Striketh Back

"The writing's quite good; elaborate Elizabethan woodcuts. . .are just icing on the cake."—The Wall Street Journal, on William Shakespeare's The Tragedy of the Sith's Revenge

"At last, the mother of all mashups is upon us."—CNET.com, on William Shakespeare's Star Wars

"With movie Easter eggs aplenty, Bard babes and Star Wars lovers will be equally enthused."—Brit + Co, on William Shakespeare's The Force Doth Awaken

"Each page proves that the English language is a playground, and Ian Doescher uses every opportunity to the fullest."—Sweety High, on William Shakespeare's Jedi the Last

"The book is so brilliant you'll wonder why someone didn't think of it sooner."—Paste Magazine, on William Shakespeare's Star Wars

"As Shakespeare would say, you might think, this be madness, yet there is a method in 't."—Newsday, on William Shakespeare's Star Wars
Quirk Books, 9781683691891, 176pp.
Publication Date: July 28, 2020
About the Author
Ian Doescher is the New York Times best-selling author of the William Shakespeare's Star Wars® series, the Pop Shakespeare series, and MacTrump. He has written for Marvel Comics and is a contributing author to the story collection Star Wars: From a Certain Point of View. He lives in Portland, Oregon, with his family. Visit him at IanDoescher.com.