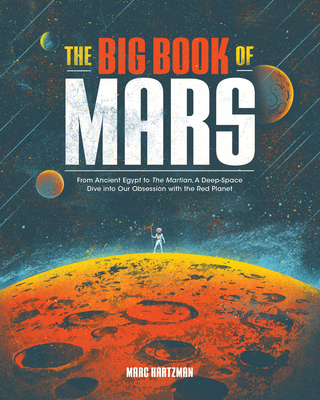 The Big Book of Mars
From Ancient Egypt to The Martian, A Deep-Space Dive into Our Obsession with the Red Planet
Paperback

* Individual store prices may vary.
Other Editions of This Title:
Digital Audiobook (9/14/2020)
Description
The most comprehensive look at our relationship with Mars—yesterday, today, and tomorrow—through history, archival images, pop culture ephemera, and interviews with NASA scientists

Mars has been a source of fascination and speculation ever since the ancient Egyptians observed its blood-red hue and named it for their god of war and plague. But it wasn't until the 19th century when "canals" were observed on the surface of the Red Planet, suggesting the presence of water, that scientists, novelists, filmmakers, and entrepreneurs became obsessed with the question of whether there's life on Mars. 

Since then, Mars has fully invaded pop culture, inspiring its own day of the week (Tuesday), an iconic Looney Tunes character, and many novels and movies, from Ray Bradbury's Martian Chronicles to The Martian. It's this cultural familiarity with the fourth planet that continues to inspire advancements in Mars exploration, from NASA's launch of the Mars rover Perseverance to Elon Musk's quest to launch a manned mission to Mars through SpaceX by 2024. Perhaps, one day, we'll be able to answer the questions our ancestors asked when they looked up at the night sky millennia ago.
Praise For The Big Book of Mars: From Ancient Egypt to The Martian, A Deep-Space Dive into Our Obsession with the Red Planet…
"A very well researched, hilariously written, & beautifully illustrated account of Mars & its exploration in human culture. Some serious fun! Hartzman did Mars history a great service."—Dr. Pascal Lee, co-founder and chairman of the Mars Institute and planetary scientist at the SETI Institute

"Hartzman clearly enjoyed researching and writing The Big Book of Mars as much as we've had reading it...you'll learn a lot of very surprising things about our centuries-old relationship with the Red Planet and have a lot of fun in the process."—How it Works, 5 star review

"The Big Book of Mars makes for an excellent coffee table type of book. It's simple, well-written, and way more entertaining than I expected. A perfect entry-point to get you started learning about the planet."—Little Astronomy

"A fascinating pop history."—The Florida Times-Union

"[The Big Book of Mars] is both easy and incredibly fun to read. It is the kind of book that makes you want to put it down every few sentences to share a weird or interesting fact you just learned with whoever happens to be nearby, and I highly recommend it."—GeekMom

"Expertly written, organized and presented, The Big Book of Mars is an inherently fascinating and engaging read from first page to last."—Midwest Book Review

"A gorgeous book with something for everyone...each page is brimming with facts and details as well as beautiful images, posters, and photos from past to present."—San Francisco Book Review

"A must-have...smorgasbord of Martian-related weirdness."—Weird Universe

Quirk Books, 9781683692096, 256pp.
Publication Date: July 7, 2020
About the Author
Marc Hartzman is "one of America's leading connoisseurs of the bizarre" (ABCNews.com) and has written books about sideshow performers, Oliver Cromwell's head, weird things on eBay, and unorthodox messages from God. Hartzman's work has also appeared in Mental Floss, Bizarre, and HuffPost/AOL Weird News. He's discussed oddities on CNN, MSNBC, Ripley's Radio, and the Travel Channel's Mysteries at the Museum. More of his love for the unusual can be found on his site WeirdHistorian.com. Hartzman works in advertising and lives in New Rochelle with his wife Liz and their two beautiful Earthling girls.