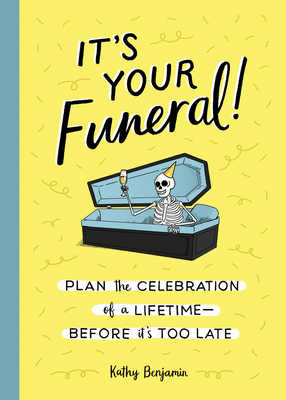 It's Your Funeral!
Plan the Celebration of a Lifetime--Before It's Too Late
Hardcover

* Individual store prices may vary.
Description
You can't attend your own funeral. But you can have a blast planning it!
 
Death is scary—but planning your funeral doesn't have to be! It's Your Funeral! will help demystify death, decrease your anxiety, and put the fun back in funeral, whether that means a drunken bacchanal or a somber reflection on just how great you were. Every stage of the legacy planning process is considered, from a burial outfit to a funeral theme. Practical and cheeky questions alike are answered, including:

   • What is the most eco-friendly burial method?
   • Can I write my own obituary?
   • Can my body be shot into space after I die?
   • How can I manage my digital legacy?

Offering a plethora of curious facts, strange stories, and inspiration to help you think outside the coffin, It's Your Funeral! includes worksheets that will ensure your wishes are recorded for posterity. Planning for death should be the time of your life, so let's get started!
Praise For It's Your Funeral!: Plan the Celebration of a Lifetime--Before It's Too Late…
2022 Imadjinn Award Finalist

"Benjamin exposes readers to death in a light, humorous, and practical way."—Chicago Tribune

"Kathy Benjamin puts the fun in funerals by making readers chuckle, kind of in a shoulder-nudging way that lets us know it's okay if we don't necessarily want crying beside our crypts."—PostBulletin.com

"This illuminating, brisk guide breathes vibrant life into a topic many would rather avoid."—Publishers Weekly

"Just the right touch of macabre....helpful, introspective, and fun."—Library Journal

"A complete, non-depressing reference to end-of-life planning that every household should have and every person should read."—BookTrib

"Laugh-out-loud funny."—GeekMom, 5/5 stars

"[A] concise but comprehensive guide with charm, wit and more than a little absurdity. It's the rare book that I'd recommend even to someone who hates the subject matter (in fact, I'd argue that's precisely who needs it the most)."—Jason Pargin, former executive editor of Cracked.com and author of John Dies at the End

"Fact-packed and funny, It's Your Funeral! is essential reading for these changing times."—Florence Isaacs, author of Do I Have to Wear Black to a Funeral?

"Glib and slightly irreverent, this quirky tome is packed with useful nuggets for planning one's final send off. With breezy writing and helpful planning guides, It's Your Funeral! makes the task of funeral planning seem less daunting, and dare I say a bit of fun."—Todd Harra, undertaker and author of Mortuary Confidential

"Dying seems bad—which is why I never really planned to do it—but Kathy's hilarious and informative book proves that it doesn't have to be. I laughed, I learned and I even started coming up with basic plans for my own funeral including a funeral cake (which, Kathy's right, should be a thing). I'm still not entirely sold on the *idea* of dying, but I at least feel better equipped to handle it on a logistical level."—Daniel O'Brien, writer on Last Week Tonight

Quirk Books, 9781683692584, 176pp.
Publication Date: August 17, 2021
About the Author
Kathy Benjamin's writing has received more than 100 million hits across some of the most popular humor and trivia websites in the world, including Mental Floss, Cracked, Grunge, The Smoking Jacket, and Uproxx. Kathy is also the author of Funerals to Die For: The Craziest, Creepiest, and Most Bizarre Funeral Traditions and Practices Ever.