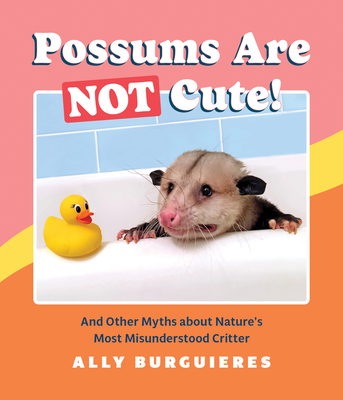 Possums Are Not Cute!
And Other Myths about Nature's Most Misunderstood Critter
Hardcover

* Individual store prices may vary.
Description
Possums may steal your garbage…but with this book, they'll also steal your heart!

Possums are more than the ugly-cute icons of the internet. These so-called trash animals and pointy kitties are not only relatable avatars for anxious but resilient people everywhere, but nature's secret clean-up crew.
 
Organized around common myths that have given possums a bad reputation, this fun and offbeat book reveals the truth about possums through dozens of adorable photos, informative illustrations, and fascinating facts.  Did you know that…
 

  •  Possums protect people and pets from disease! A single possum can eat up to 4,000 ticks per week!
  •  Possums excel at interspecies friendships, often sleeping in other animals' dens.
  •  Possums are shy creatures: when they "play dead," they are actually fainting from anxiety!
 
Written by wildlife rehabber and possum advocate Ally Burguieres, known for her popular Instagram account @ItsMeSesame, this accessible and giftable guide explains why possums deserve our admiration and offers tips on how we can protect and advocate for these magical marsupials.
Praise For Possums Are Not Cute!: And Other Myths about Nature's Most Misunderstood Critter…
"Humorous, motivational, and well-written...a quick, wonderful read for adults and perfect to show to children so they too can appreciate these misperceived, yet darling animals."—Geeks of Doom

"A fun, informative, and unreservedly recommended addition to school and community library Pets/Wildlife collections."—Midwest Book Review

"A gift that'll make your animal lover roar."—Seattle Gay News
Quirk Books, 9781683692997, 128pp.
Publication Date: May 10, 2022
About the Author
Ally Burguieres is a wildlife rehabber, possum ambassador, and the human behind the viral @ItsMeSesame Instagram account, home of the internet's most beloved possums. When she's not wrangling her posse of rescue possums, she work as an artist and manages two boutiques and an art gallery in New Orleans.