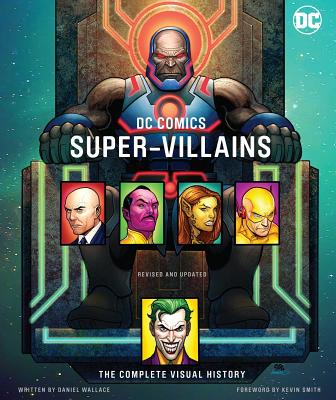 DC Comics Super-Villains (Paperback)
Insight Comics, 9781683830122, 160pp.
Publication Date: August 8, 2017
Other Editions of This Title:
Hardcover (10/7/2014)
* Individual store prices may vary.
Description
Discover the origins, secrets, and nefarious schemes of the most powerful and corrupt villains in the DC Universe in this lavishly illustrated visual history, now available in paperback for the first time.

As any comics fan knows, a Super Hero is nothing without a worthy foe to battle. For every Batman there has to be a super-villain like the Joker, and for every Superman a Lex Luthor.

This deluxe book celebrates nearly eighty years of compellingly corrupt characters from the DC Universe's remarkable gallery of super-villains. From the Penguin to Harley Quinn and Doomsday to General Zod, DC Comics: Super-Villains explores the story of these beloved baddies through new interviews with acclaimed writers and artists, including Jim Lee, Mike Carlin, Dan DiDio, and Chuck Dixon. Charting the dynamic way in which DC Comics evildoers have evolved throughout the years, the book brings together the very best super-villain art from the DC Comics archives. Also featuring a foreword by filmmaker and comic book writer Kevin Smith, and an exclusive cover illustrated by acclaimed artist Frank Cho, DC Comics: Super-Villains is the ultimate celebration of the nefarious DC Comics characters that fans love to hate.

DC Comics: Super-Villains is now available in paperback.
About the Author
Kevin Smith (@ThatKevinSmith) is the fat guy who got thrown off the plane. He also made Clerks once. He currently lives in Los Angeles, California.

Phil Jimenez (FB & Twitter: @Philjimeneznyc) is a Wizard, Diamond, and Inkpot Award-winning writer and artist who has worked for DC Comics and Marvel Comics for the past two decades. Best known for his work on New X-Men, Astonishing X-Men, Wonder Woman, Infinite Crisis, Otherworld, The Amazing Spider-Man, and most recently, the Fables spin-off Fairest, Jimenez has also worked in film (Spider-Man), television (Heroes), and print media (TV Guide, Elle). He has created large-scale artworks for schools and museums, including Chicago's Museum of Science and Industry; has lectured at universities and the Library of Congress on the topic of identity and diversity in entertainment; and has mentored young designers at the Cooper-Hewitt, Smithsonian Design Museum. Considered the most prominent gay creator in mainstream comics (Entertainment Weekly, Out), Jimenez also teaches life drawing at the School of Visual Arts in New York City.
or
Not Currently Available for Direct Purchase