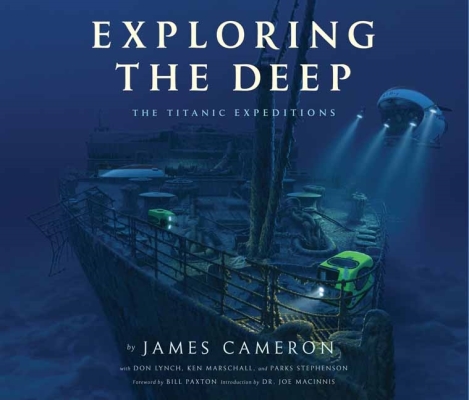 Exploring the Deep (Paperback)
Insight Editions, 9781683830146, 252pp.
Publication Date: November 14, 2017
Other Editions of This Title:
Hardcover (6/4/2013)
Hardcover (10/29/2013)
* Individual store prices may vary.
Description
This remarkable account of James Cameron's expeditions to the sunken Titanic includes his dive journal, personal photographs, and maps from his many explorations of the wreck.

Having undertaken more than thirty dives to the wreck of Titanic, acclaimed director James Cameron has probably gained more firsthand insight into the sinking of the ship than any person alive today. Now, more than one hundred years after the tragedy, Exploring the Deep provides a thrilling account of Cameron's remarkable expeditions and the incredible technological innovations that made them possible. Capturing all the excitement, danger, and wonder of these pioneering expeditions, Exploring the Deep also examines the legacy of Cameron's explorations and the considerable impact they have made on our understanding of the disaster.

Showcasing a treasure trove of images captured inside previously unreachable areas of the wreck, Exploring the Deep is a dazzling visual chronicle of Cameron's expeditions that will enthrall experts and casual readers alike. Also featuring Cameron's exclusive dive journal and visual elements, including maps and personal photographs, this book is an emotional and evocative examination of the wreck from one of the most exciting figures in both filmmaking and exploration.

Bolstered by contributions from three of the world's foremost Titanic experts, Don Lynch, Ken Marschall, and Parks Stephenson, Exploring the Deep is the definitive book on Cameron's expeditions and the last word on a historical event that continues to shock and beguile.
About the Author
JAMES CAMERON is an Oscar®-winning film director, celebrated explorer, and the visionary behind record-setting blockbuster movies such as Titanic, Avatar, and Terminator 2: Judgment Day. Cameron's passion for diving and exploration has led him to embark on a number of trailblazing deep-sea expeditions, including more than thirty dives to Titanic. Cameron made history when he undertook the first-ever solo dive to the Mariana Trench in 2012.

DON LYNCH has researched Titanic and her passengers and crew for four decades. Official historian for the Titanic Historical Society, Inc., he authored the books Ghosts of the Abyss and the New York Times best-selling Titanic: An Illustrated History. Lynch was the chief historical advisor for James Cameron's blockbuster movie, Titanic, and has participated in two of Cameron's expeditions to the wreck. He lives in Los Angeles.

KEN MARSCHALL is a renowned artist who has been painting Titanic since he was sixteen. Since then, his vast familiarity with the ship's structural details has led to involvement in numerous Titanic projects, from model kits to motion pictures and the illustration of many books. The visual historian for James Cameron's Titanic movie, Ken later accompanied the director on two Titanic expeditions and dived to the wreck six times. He lives in Southern California.

PARKS STEPHENSON first worked with James Cameron during the filming of Ghosts of the Abyss in 2002, studying the underwater footage and creating the first-ever accurate computer-generated imagery of Titanic's Marconi and Silent rooms. He also joined Cameron's 2005 expedition for the Discovery Channel program Last Mysteries of the Titanic and made his first dive to the wreck. He lives in Los Angeles.

BILL PAXTON is an acclaimed actor and longtime friend of James Cameron known for roles in movies such as Titanic, Aliens, Apollo 13, Twister, and True Lies. He also accompanied Cameron on his 2001 expedition, making a total of four dives to the wreck of Titanic.

DR. JOE MACINNIS is a physician-scientist, deep-sea explorer, and author. He has worked with James Cameron on three expeditions that formed the basis for the documentaries Aliens of the Deep, Last Mysteries of the Titanic, and Deepsea Challenge. His latest book is Deep Leadership: Essential Insights from High-Risk Environments.