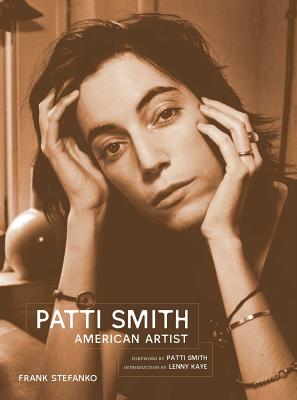 Patti Smith (Paperback)
American Artist
Insight Editions, 9781683830153, 164pp.
Publication Date: June 20, 2017
Other Editions of This Title:
Hardcover (10/24/2006)
* Individual store prices may vary.
Description
A stunning collection of photographs from Frank Stefanko featuring the Godmother of Punk herself, iconic musician and author Patti Smith.

"There I was sitting in a booth at the co-op of Glassboro State College, a bucolic school in the farmlands of South Jersey. . . Suddenly, the double doors of the co-op swung open and standing there in the vacuum created was an incredible apparition, a vision in a white leather coat with long, jet-black hair flowing down her back. She moseyed in like the bad guy walking into a saloon in an old western movie. This was the first time I set eyes on Patti Smith, and I was captivated."

So begins Frank Stefanko's wonderfully personal photographic tale of his friendship and artistic collaboration with Patti Smith. Stefanko's photographs and his warm, personal recollections show us an amazing young woman, long before she became Patti Smith, the cultural icon. Through images and words, we follow her search for a unique voice—from the early days of the Chelsea Hotel to spoken word at the St. Mark's Poetry Project to the release of her seminal album, Horses, and so much more.

These photographs, along with the Stefanko's first-hand account, capture an incredible era from the mid-1960s to the late- 1970s when a whole new genre of music and art was being born. Prior to the release of this collection, many of these stunning portraits had never before been published. They appear here in high-quality quadratone reproduction, highlighting Stefanko's artistry and his uncanny ability to capture his subject's inner spirit. Memorabilia from Smith's personal collection adds to this rare and intimate look at the emergence of one of America's most respected artists.

With an opening poem from Patti Smith that sets an evocative mood, an introduction by Lenny Kaye, Smith's longtime guitarist, and a compelling afterword by editor Chris Murray, this book sets the reader on a journey from small-town New Jersey and highlights the enigmatic artist's triumphant career.
About the Author
Author of Days of Hopes and Dreams: An Intimate Portrait of Bruce Springsteen, Frank Stefanko is a fine-art photographer whose work graces the album covers of Bruce Springsteen's Darkness on the Edge of Town and The River. Stefanko's portfolio includes vintage and contemporary photographs of The Rolling Stones, Rod Stewart, Janis Joplin, Frank Zappa and the Mothers of Invention, Bette Midler, Johnny Winters, as well as Bruce and Patti. Frank Stefanko grew up near the working class neighborhood of Bruce Springsteen, and was first introduced to the performer in 1978 by their mutual friend Patti Smith. He lives in New Jersey.

Guitarist, composer and writer Lenny Kaye was a member of the Patti Smith Group, and has been Smith's most frequent collaborator. He is also the co-author of Waylon Jennings' autobiography, Waylon: An Autobiography.

Patti Smith is a musician, singer, and poet. On July 10, 2005, Smith was named a Commander of the Order of Arts and Letters by the French Ministry, honored for her influence on rock and roll and her appreciation for Arthur Rimbaud.