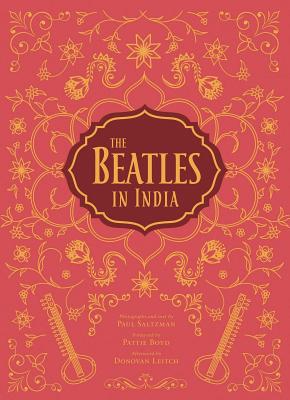 The Beatles in India
Hardcover

* Individual store prices may vary.
Other Editions of This Title:
Hardcover (10/1/2006)
Hardcover (10/1/2006)
Description
In 1968, the Beatles went to Rishikesh, India, studied transcendental meditation, and wrote music. These intimate photos are the only record of their time in this sacred retreat.

This new edition of The Beatles in India brings intimate images of the group, taken at an ashram in Rishikesh, India, to a wider audience than ever before. No photographers or press were allowed at Maharishi Mahesh Yogi's ashram in the foothills of the Himalayas, but the Beatles had no objection to fellow visitor Paul Saltzman freely snapping pictures during their time there. This unprecedented access resulted in an extensive collection of intimate photos of the world's most beloved rock band during one of their most serene and productive periods, only two years before the official dissolution of the group.

Containing a wide-ranging narrative by Saltzman—about everything from the story of how "Dear Prudence" came to be to George Harrison's description of the first time he picked up a sitar—this unique and exclusive exploration of one of the Beatles' most tender and bittersweet periods is a must-have for all fans of the legendary rock group.
Insight Editions, 9781683831457, 104pp.
Publication Date: February 13, 2018
About the Author
Paul Saltzman is an international award–winning film director, writer, and producer of over three hundred dramas and documentaries. He is the founder and CEO of the nonprofit organization Moving Beyond Justice. Before meeting and photographing the Beatles, he produced Leonard Cohen concerts, attended many folk and rock performances, and danced a lot. He lives in Toronto, where he plays ice hockey several times a week.

Pattie Boyd is a British photographer and author who achieved world fame during the 1960s as one of the greatest rock and roll muses of all time. Born in England in 1944, she pursued a successful modeling career before marrying the Beatles band member George Harrison. Later in life, she became involved with and married Eric Clapton, inspiring legendary songs such as "Layla" and "Wonderful Tonight." As part of the rock and roll elite of the '60s and '70s, Boyd took countless stunning portraits of some of the most well-known artists of the 20th century. Her photographs of Harrison, Clapton, and other rock icons have been featured in various exhibitions throughout the world. Her memoir, Wonderful Tonight, debuted at the top of the New York Times bestseller list in 2007.

Donovan Leitch was born in Glasgow, Scotland. His Celtic roots and his father Donald's love of poetry and literature have been a constant influence on his life and his music. He became a wandering minstrel, writing his own unique lyrics, and soon became an internationally acclaimed solo performer. His music would eventually reach a whole generation during the revolutionary Sixties with songs such as Catch the Wind, Universal Solider, Sunshine Superman, Mellow Yellow, Hurdy Gurdy Man, and Season of the Witch. In 2003 he was awarded an honorary Doctorate of Letters by the University of Hertfordshire and he continues to influence the poetry and lyrics of our times.

Tim B. Wride is the founding Director of the No Strings Foundation, a nonprofit organization providing direct assistance to photographers. Prior to this, Wride was Curator of Photography at the Los Angeles County Museum of Art (LACMA). During his twelve-year tenure, he curated over twenty-five permanent collection focus exhibitions as well as numerous larger exhibitions, including "Retail Fictions: The Commercial Photography of Ralph Bartholomew" (1997); "Shifting Tides: Cuban Photography after the Revolutions" (2001); "Donald Blumberg" (2002); and "Trajectories: The Photographic Work of Robbert Flick" (2004). He is the author of the catalogues that accompanied these and other exhibitions.