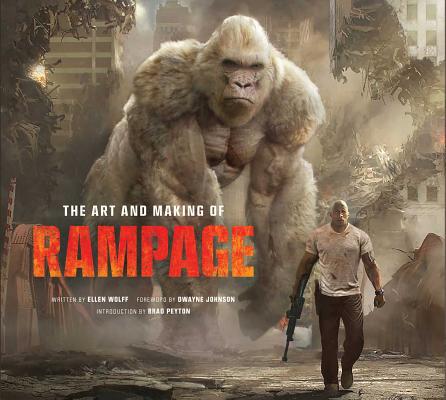 The Art and Making of Rampage (Hardcover)
Insight Editions, 9781683832102, 156pp.
Publication Date: April 10, 2018
* Individual store prices may vary.
Description
The Art and Making of Rampage offers an exclusive behind-the-scenes look at this action-packed movie starring Dwayne Johnson and directed by Brad Peyton.

Global megastar Dwayne Johnson headlines the action adventure Rampage, directed by Brad Peyton.

Primatologist Davis Okoye (Johnson) shares an unshakable bond with George, the extraordinarily intelligent, silverback gorilla who has been in his care since birth. But a rogue genetic experiment gone awry mutates this gentle ape into a raging creature of enormous size. To make matters worse, it's soon discovered there are other similarly altered animals. As these newly created alpha predators tear across North America, destroying everything in their path, Okoye teams with a discredited genetic engineer to secure an antidote, fighting his way through an ever-changing battlefield, not only to halt a global catastrophe but to save the fearsome creature that was once his friend.

The Art and Making of Rampage explores the creation of this blockbuster movie and provides an extraordinary behind-the-scenes look at the amazing design and concept art that brought this thrilling movie to life. Exclusive interviews with the cast and crew provide a closer look at the making of this action-packed movie.

Filled with remarkable images and fascinating details, The Art and Making of Rampage is the ultimate guide for all fans.
About the Author
BRAD PEYTON is a producer and director marking his third collaboration directing Dwayne Johnson with Rampage, following the 2015 blockbuster San Andreas, which grossed $473 million worldwide, and the hit film Journey 2: The Mysterious Island, which grossed nearly $335 million globally.

Dwayne Johnson's films have earned over $3 billion worldwide, including San Andreas, the Fast and Furious franchise, and Baywatch, which he also produced through his Seven Bucks production company, as well as HBO's hit series Ballers. Johnson first gained recognition as charismatic wrestler The Rock, chronicled in his best-selling autobiography The Rock Speaks.

Ellen Wolff is a Southern California-based writer who specializes in the arts of animation and visual effects. She began her education in these areas working with the legendary computer animation innovator Robert Abel, and subsequently worked with multi-Oscar-winning visual effects artist Richard Edlund. Her writings on the evolution of digital technology, animation, and visual effects have appeared in many publications including Variety, Animation Magazine, Millimeter, Film & Video, and CG Artist. The subjects of her interviews have included industry leaders like Steven Spielberg, George Lucas, and John Lasseter. She is the author of The Art of The Jungle Book.