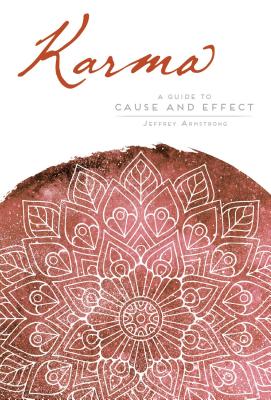 Karma (Paperback)
A Guide to Cause and Effect
Mandala Publishing, 9781683833802, 112pp.
Publication Date: August 7, 2018
Other Editions of This Title:
Hardcover (6/22/2007)
* Individual store prices may vary.
Description
Combining the ancient wisdom of the Vedic tradition and the point of view of the modern spiritual seeker, Karma illustrates how to find meaning and purpose in a life that can at times feel random and out of control.

In this compelling and in-depth introduction to the ancient Hindu concept of karma, spiritual teacher and award-winning author Jeffrey Armstrong explores reincarnation, the deeper mysteries of the soul, the laws of nature, and the ways in which cause and effect influence our lives.

Moving beyond Western perceptions of science and luck, Armstrong explores the mystical balance of the universe. These long-secret laws of karma, excavated from the ancient wisdom of India, offer a means to deepen one's spiritual vision and reveal the profoundly interconnected nature of all that exists.

The Mandala Wisdom Series is an introductory collection on Eastern wisdom and spirituality, providing readers with the tools to enhance their health and well-being.
About the Author
Jeffrey Armstrong, founder of the Vedic Academy of Sciences & Arts, is an award-winning author of numerous books on Vedic knowledge, including Spiritual Teachings of the Avatar. Armstrong is an ayurvedic astrologer, philosopher, practitioner, and teacher of the Vedas for over forty years, with degrees in psychology, history and comparative religions, and literature. He also had a successful career as an executive in Silicon Valley and as corporate speaker for Fortune 500 companies before turning to teaching the philosophy and lifestyle of yoga full time. He lives in Vancouver, BC.