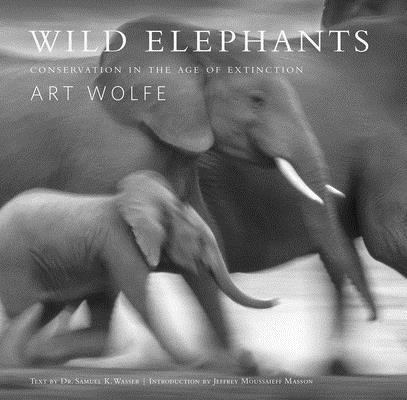 Wild Elephants
Conservation in the Age of Extinction
Hardcover

* Individual store prices may vary.
Description
In Wild Elephants, Art Wolfe seeks to capture on camera just what makes elephants so special and so worth saving.

Legendary for their size and intelligence, elephants are one of the most charismatic of megafauna. That they are under siege from poachers is no secret, and the rapidity of their declining numbers is horrifying. However, amidst the steady stream of bad news, all is not lost. Ivory prices are declining, global education seems to be succeeding, and recent government crackdowns are beginning to stem the flow of illegal ivory.

While Wild Elephants features photographs of both African and Asian species, the emphasis is on the African savanna or bush elephant. Samuel Wasser's informative text focuses on his current groundbreaking research on the impacts of the illegal trade in elephant ivory along with legal culling practices as a means of population control of this highly intelligent, tightly knit social species.

Wild Elephants is a celebration of these wondrous gentle giants, of the renewed efforts countries are taking to protect their natural heritage, and of what we can do to empower local populations to safeguard the survival of a magnificent species.
Praise For Wild Elephants: Conservation in the Age of Extinction…
"This is a marriage of fine art and conservation photography at its finest."


— Sierra Magazine
Earth Aware Editions, 9781683833826, 240pp.
Publication Date: October 29, 2019
About the Author
Throughout his career, Dr. Samuel Wasser has participated in conservation programs around the world and is acknowledged worldwide as a pioneer of noninvasive wildlife monitoring methods. He is the director of the Center for Conservation Biology and holds the endowed chair in Conservation Biology at the University of Washington. In 2018, the Animal Welfare Institute awarded Dr. Wasser the prestigious Schweitzer Medal for his groundbreaking work.

Over the course of his forty-year career, award-winning photographer Art Wolfe has worked on every continent and in hundreds of locations. His stunning images interpret and record the world's fast-disappearing natural treasures and are a lasting inspiration to those who seek to preserve them all. Wolfe's photographs are recognized throughout the world for their mastery of color, composition, and perspective. His photographic mission is multifaceted—art, wildlife advocacy, and journalism all inform his work. He lives in Seattle.

JEFFREY MOUSSAIEFF MASSON is the author of twenty-nine books, most of which are about the emotional lives of animals. His first book, When Elephants Weep, was an international bestseller, as was Dogs Never Lie About Love. He lives in Sydney, Australia with his wife Leila, a pediatrician.