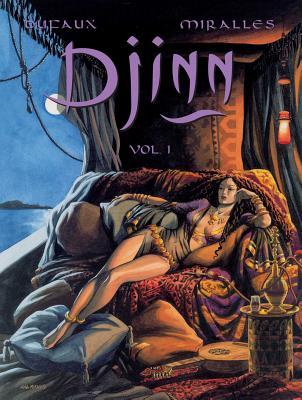 Djinn, Vol. 1 (Paperback)
Insight Comics, 9781683835363, 104pp.
Publication Date: October 30, 2018
* Individual store prices may vary.
Description
Kim Nelson has heard the legend of Jade, a powerful djinn, a spirit with the ability to seduce any human heart—but Kim isn't interested in legends. She's just looking for her grandmother.

Fifty years ago, Jade served the Black Sultan as part of the Imperial Harem, but Jade was no ordinary harem girl—she was the sultan's favorite. Rumored to be a djinn from the Ottoman Empire, she had the power to manipulate men's hearts, subtly alter their convictions, and even affect the course of an entire war. The legends also say that Jade, and Jade alone, knew where the Black Sultan hid his treasure . . . a treasure that no one has ever managed to unearth.

Now, fifty years later, Kim Nelson is reliving the life of her ancestor Jade in modern Istanbul, hoping to find answers that have been lost to history. It will be a long journey, a journey that will change her life forever.
About the Author
Jean Dufaux is a prolific Franco-Belgian comic book writer who has been creating comics for over 40 years. Dufaux has produced a massive body of work comprised of over 200 titles that have been wildly successful, selling millions of copies and garnering numerous prizes and awards. His works have been published around the world in a dozen or so countries and translated into multiple languages.

Ana Miralles started her career as a comic illustrator in 1982 and has since been published in multiple magazines across Europe. Her work has won awards in several countries such as Spain, Portugal, Italy, and France, including a Prix Haxtur award for her work on Djinn.